Springtime used to mean Painted Lady Butterflies migrating through our alpine town. Last year springtime was baby donkeys grazing on the spring grass, wild lavender belly flowers on the Pacific Crest Trail and beavertail prickly pear cactus ripe with purple tart fruit. You knew it was officially springtime in Big Bear Lake, California when you started to see PCT hikers hitchhiking through town in shorts, hiking boots and down North Face jackets. Now here we are in April 2020 and the dirt trail that leads from Mexico over two thousand miles later to Canada is practically empty of PCT thru hikers. It's an eerie feeling in this mountain town, as everything is these days. Sometimes I feel like we are living in a Stephen King novel with an edge of The Far Side comics thrown in, with Donald Trump drawn is as our president.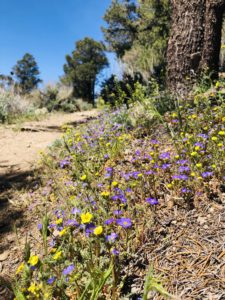 I don't know what reminds me of spring this year, besides toilet paper shortages and hiding in our homes basically twenty-four seven. I can't personally stay in my home twenty-four hours a day. I have to get out and get some exercise. Luckily we live in a very remote mountain town where there are a lot of abandoned dirt roads to mountain bike where I'm more likely to see wild donkey families then to run into other people. I actually prefer it that way.
How early is too early for my first Baileys and coffee of the day? That is a COVID-19 question if I have ever heard one.And I guess that leads me to one of my favorite trying to stay healthy springtime recipes, Gluten Free Cauliflower Fried Rice.
If it's the beginning of April 2020, and we have now been Safe At Home for almost a month then I'm definitely trying to figure out how to get rid of this damned COVID Fifteen.  My boyfriend and I have decided that working out three times a day is the best option, besides keeping to a Keto-friendly diet. I was so hoping to be poolside at a resort in Palm Desert the first few weeks in April but thanks to this pandemic our spring vacation was put on hold.
So instead I'm in our mountain kitchen coming up with new healthy keto recipes, mountain biking dirt trails and trying to go for at least one hike a day with the dog. Cauliflower rice? Yes, it's what's for dinner when you can't leave to go to the store but once a week and you are looking for a veggie full healthy dinner.
I had plans to turn our fortunes into awesome COVID-19 fortunes but then this happened.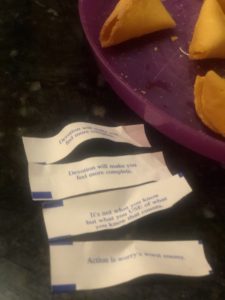 It honestly sounds more like a generative gambler fortune to me. These fortune cookies obviously have no idea about the current pandemic and what so many of us are going through right now. Like being stuck with this damn COVID-15 from all the super delicious baking I have been doing while stuck at home and not working.
Thank God for easy and so healthy cauliflower fried rice. Obviously a lot of different food bloggers have their own version of cauliflower fried rice but this is my adaptation. I do a keto version of this where I omit the peas and carrots and add extra eggs.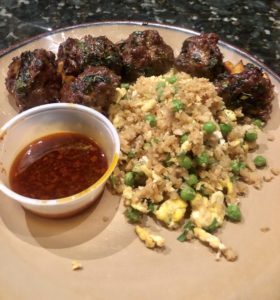 Gluten Free Cauliflower Fried Rice
1 bag frozen riced cauliflower
1 teaspoon sesame oil
2 teaspoons bacon fat
3 teaspoons soy sauce
1 teaspoon minced garlic
2 teaspoons grated ginger
1 cup mixed frozen peas and carrots
4 eggs, scrambled
2 green onions, chopped
Stir fry the cauliflower in the bacon fat. In a separate pan, scrambled the eggs in the sesame oil until cooked through. To the bacon fat and cauliflower add the garlic and ginger. Cook for a few minutes then stir in the soy sauce, peas and carrots. Top with the scrambled eggs and green onions.