I'm so happy to say that I forgot yesterday was Cyber Monday. Thank you Glamis Sand Dunes. That's pretty easy to do when instead of giving in to the commercialism of Christmas you are spending days and days outside completely unhooked from technology. And also completely covered in sand. Seriously a weekend spent in Glamis, California means you will more than likely end up with sand in your hair, in your eyes not to mention most of your other orifices.
Or maybe I forgot it was Cyber Monday because I was just distracted because I spent my Cyber Monday off-roading through sand dunes with Erik Estrada. I had learnt a little more about off-roading from reading reviews and tips on https://ravenoffroad.com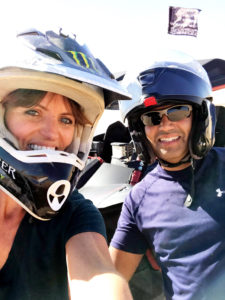 and it sounds great fun! So, I decided to give it a go myself. But,
I have a confession to make. I'm a 37-year-old Californian who had never been to Glamis. Until Thanksgiving weekend 2017. This off-road destination out in the Imperial Desert might be familiar to all my friends , family and neighbors but in all my 37 years I had never ended up out past Ocotillo Wells at this off-roading mecca. Maybe that's because I don't own a sand rail bro!
But luckily our good friends Tom and Angie have lots of fun sand toys and don't mind sharing them with their two crazy friends from Big Bear Lake. And that's how we ended up driving four hours to camp amongst some big ass sand dunes, losing track of time, technology and spending a long weekend playing in the dunes, with our dogs and bar b qing good food, plus having way to many cocktails in the desert fifty miles to the north of the Mexican border and Mexicali.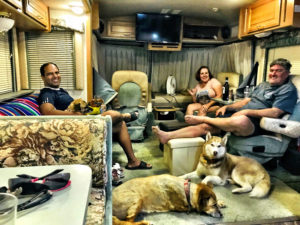 Many adventures were had, many cocktails were consumed and we came away from our long weekend in Glamis with sand everywhere and tons of stories of the good times we had in the desert. We decided last minute to take our pups with us which is not exactly advisable in the Glamis as bros will just rip through your camp on their quads and dogs do get hit, but when we set us camp we set up all the RV's and fifth wheels in a tight circle and the dogs had a great time in the sand.
Well, except maybe Mocha the Husky, who was trying to dig through the cool sand to make a den for herself and escape the 92 degree heat. Yes, that is 92 degrees in almost December. Yea for southern California. It would have been super pleasant if there had been a pool or any water to swim in anywhere near by (I mean besides the super stinky Salton Sea we drove by it on the drive in to Glamis) 92 degree heat in the middle of the day with no pool to swim in meant we had to hydrate with a few cocktails.
A weekend spent out in Glamis means a lot of time playing out in the sand in the Yamaha side by side or on the dirt bikes. It meant half day group rides enjoying that Glamis sunset from Oldsmobile Hill. It also meant as the newbie of the group sometimes being the ones left behind on the ride and being really great flu we had talkie talkies so we could call for back up.
It was in fact a fantastic first night out in Glamis.
And then our dog broke out of the RV and went walk-about in camp one night when we were on a very long group ride. As big of a pain in the ass as Carly is I didn't really want to lose her in the desert. As we looked all over the RV, pondering, how the hell did she get out? A little girl came over with Carly on a leash. Hours later we made the discovery that when the fireworks started terrified Carly had jumped out of the RV window, yes like 8 feet to the sand below. Like I said, we are newbies at Glamis and we had no idea there would be fireworks and our little dog would have the crap scared out of her.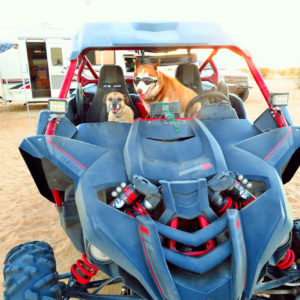 When Carly is not going walk-about she is driving around in the side by side with her BFF Mocha. And yes, Mocha is sporting the latest in Husky fashion, Doggoles. Even with the heat our dogs had a fantastic time out in the Glamis sands. Even our old bitch who is almost complexly deaf at this point (But still relatively fast and sneaky) and would try to wander of like an old man escaping the home any chance she could. Which was pretty much the only exercise I got for four days (Besides working out my liver) chasing Old Candy around our Glamis wagon wheel camp ground.
My boyfriend and I both agree that Glamis is not exactly our thing. Not enough pretty for us. We prefer taking the toys out on mountain trails where there are alpine meadows and sparkling lakes, but our weekend in Glamis was a fun adventure and something new, outside the box for us to try.