As a travel blogger, I'm always up for a new adventure, especially if it is spring break in Mono County. Whether I'm attending my first hockey game from the swanky skyboxes at T Mobile Stadium in Las Vegas or driving five hundred miles in twelve hours to go from one awesome vacation to the next. I'm always down for vacation adventures. Wanderlust courses through my veins at all times. It might be dancing my way up the Las Vegas strip or snowshoeing across the eastern Sierras with some of my best girlfriends. The term work hard, play harder is definitely my mantra.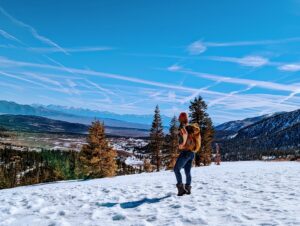 Girls are just looking for the Bloody Mary bar
It was the first week of April and spring was dawning on the rugged mountains of the eastern Sierras. Did that mean wildflowers and poolside shenanigans? Um no, not exactly during spring break in Mono County. More like trekking up snowy mountain peaks with my snowshoes in my pack and taking in the views of all of Mono County from the top of Panorama Dome. Oh my gosh, I have trekked most of the scenic trails in the Mammoth Lakes area, how had I never discovered this little side trail that gives you an epic glimpse of the Mammoth area from Wild Willies Hot Springs to Crowly Lake glimmering in the distance. I was lucky enough to make it to the Sierras in the early morning on Monday before my friends carpooled up from southern California and that gave me time to explore the snowy bits and get some ideas on where we would spend our time on the trails the next few days.
You know what they say, girls just want to have fun. I mean girls just want to snow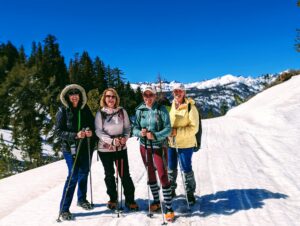 shoe. I mean girls just want to hot springs. Okay really, girls just want to find the Bloody Mary bar after three hours of aerobic exercise in the snow. Our local Hiker Babes group recently spent five days full of outdoor snowy antics, R and R and way too much wine and cheese good times around the eastern Sierras. It was technically the first week of spring break in Mono County and basically the last hurrah for the snowy season. We needed to get outside, get some Vitamin D and enjoy that snow. And we did, believe me. So many miles of trails were trekked, many calories were burned and yes some delicious beverages were consumed. And that was before I drove to Vegas!
And then I had to drive straight to Vegas
But first I had to make a three-hundred-mile detour to home in Big Bear Lake. I said goodbye to spring break in Mono County, threw my snowshoes back in my Subaru and traded them in for my flip-flops and a swimsuit. My dirty hiker feet were ready to see the light of day poolside!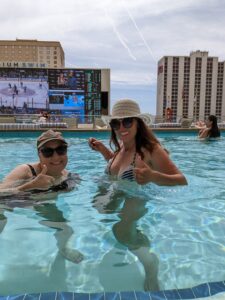 We had three days planned of Las Vegas shenanigans. I was going to attend my first hockey game and we were going to stay at the RV park near Fremont Street. I had never, ever stayed near Fremont Street before so thsi would be a different Las Vegas adventure.
The new and improved Fremont Street
I had serious trepidations in the days before our trip after reading the terrible reviews for Main Street RV Park. Well, turns out we had nothing to worry about. This RV park was right around the corner from the Las Vegas homeless shelter but we felt perfectly safe during our stay. Security was ever-present. We never even saw any shady characters in the RV park. And I felt safe enough to walk to our friend's hotel (The newly opened Circa on Fremont Street) by myself many times.  Our friends were staying at the Circa as the birthday celebration were attending was all based around the Circa and that is also where the shuttle to the Golden Knight's game at T Mobile Stadium left from.
I was planning to write a blog about how to attend your first hockey game for dummies but really, there are only a few important bullet points.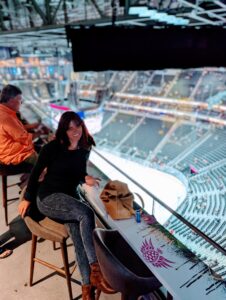 Wear a sweater and jeans. It might be a one hundred degrees spring morning in Las Vegas but the ice keeps the rink chilly even in the summertime.
Stadium food is terrible. If you are catching a noon Golden Knight's Game have brunch beforehand at Egg Works
Don't expect to be able to order a Bloody Mary at the bar or anything fancy. I hope you like Bud Lite!
We lucked out to catch a very close exciting game and the Golden Knights just barely won. It was a very fun first hockey game experience. We were hoping to play the ponies afterwards at the Circas so impressive sportsbook but guess what? The Circa hotel is way too woke to play horse racing in their sportsbook! So disappointing and my biggest takeaway from my first trip to Circa is how unfriendly to the horseplayer Las Vegas has become. The super unfriendly employees at the Circa sportsbook told us "Horse racing is a dying industry so no they will not show horse racing in their sportsbook." Tell that to the state of Florida, where the horse racing industry generates an annual $6.8 billion economic impact on the gross domestic product of Florida. I never would have imagined in my life that a trip to Las Vegas would not involve gambling because you simply cannot find a place to gamble on the sport that you love. The Circa Resort and Casino has a motto "The time of your life" Unless you are a horseplayer!
But aside from not being degenerate gamblers for a few days, we had a fantastic dinner at
Barry's Downtown Prime.
If you go, oh my gosh, you have to try the macaroni and cheese stuffed lobster. A gourmet dinner at Barry's made up for the oh God, why didn't I bring earplugs experience we had the next morning at the Circa's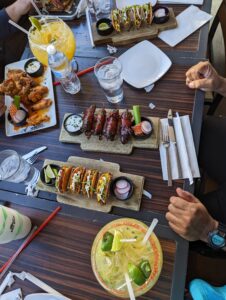 pool party. Seriously the music was so very loud, you couldn't hear yourself think. I loved the pool set up when we first walked in as it was a pool with giant sportsbook TVs. But once again, none of them playing the ponies! What the actual F Circa Las Vegas?
As a foodie, I always love the food scene in Las Vegas. One thing about this trip, I do wish we had hit up more good restaurants. A few different times during the trip we found it be midnight, we hadn't had dinner and we walked into the first restaurant we found on Fremont Street. That is, however, how I discovered the best Prickly Pear Margaritas.
Visiting Las Vegas this April? Once again, you have to eat at Barry's Downtown Prime!
Don't eat at Guy Fieri's Vegas Kitchen for the love of everything holy. The new restaurant row setup at the LINQ is awesome but I so wish we had found Hash House A Go Go and not stopped into Guy Fieri's "Flavortown". I mean the food was so not well done. We should have known when it was the only restaurant with no wait for a table. To be fair, my friend who ordered the sriracha wings said they were the best wings he had ever tasted. I wish I had ordered those. Instead, we started our meal with a fishbowl of a jalapeno margarita that was so hot we could barely suck it down and we eat piles of spicy Hydrabad style Indian food. How could regular people even try this drink? The rest of our apps were not what I would describe at all as flavor town but most of them came cold and just kind of bland.
RIP relaxing hot springs
One of my favorite things to do in Las Vegas is visiting my favorite Korean Day Spa, Imperial Health Spa but we didn't bring a tow vehicle on this trip, just our motorhome, which we parked at the RV destination. So on this particular Las Vegas Fremont Street adventure, I would not get any spa time. But I did try to hot springs while on spring break in Mono County with my girlfriends.
I was planning to jibber gabber about the best hot springs you can find in the eastern Sierras but something oh so terrible has happened to the hot springs outside of Mammoth Lakes; Social media.  A few days before Fremont Street adventures I was still adventuring in the snow with the girls. After hiking all morning, we drove out to Wild Willies Hot Springs. I could not believe there were forty cars in the dirt parking area as we approached… And this was on a Wednesday afternoon! The best-kept secret in the eastern Sierras was out and all the social influencers were posing in the hot water, doing it for the Insta and rubbing hot cow shit studded mud all o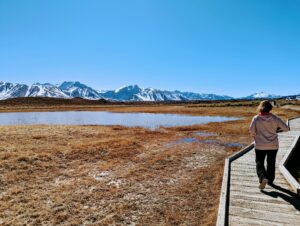 ver themselves.
You can't fix stupid; But you can tweet about it!
Here's a funny story, the most popular blog I have ever penned is about cow shit. Or henna. Or whatever you want to call it. So we did very briefly check out the hot springs, take a few snaps and we noticed something quite peculiar. Now I've been to Wild Willies many times over the last ten years. There is usually a lot of cattle grazing here right next to the hot springs. But I guess they have moo-ved on as the Insta influencers have moved in. There were no cows in sight but after ten years of grazing this land all that hot mud must be mostly cow poo, right?
As someone who has been visiting these hot springs for years, I've seen more Hereford cattle than social media influencers here at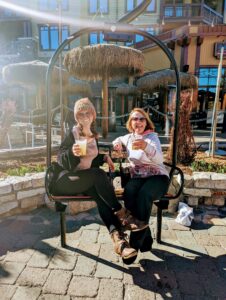 the hot springs. I guess when you see one social media influencer spreading cow poo mud all over themselves everybody starts to do it! We kind of watched in horror as all the millennials were spreading the hot cow poo studded mud all over themselves.  You know what they say, you can't fix stupid. But you can tweet it!
After an afternoon of being disappointed about how one of the best-kept secrets in the eastern Sierras is now trending like Will Smith, I was ready for a cocktail. Thankfully our Airbnb in Mammoth Lake's Canyon Lodge neighborhood was right next to the gondola that took us straight to the village. We had plans to grab a cocktail and shop just a bit before dinner but so disappointingly almost all of the shops in the village had gone out of business!
Let's face it, almost three years into a global pandemic and life is nowhere near normal yet. But one good thing about this God-awful global pandemic is you can order margaritas to go and then go shopping with your girlfriends! Well, we ordered two Cadillac margaritas and one Nasty Woman bec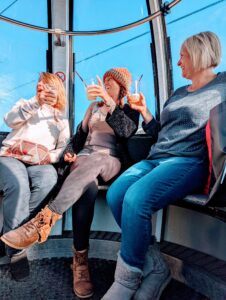 ause come on, if you are on spring break in Mono County with your girlfriends someone has to order the nasty woman, right?
All in all from the mountains of the eastern Sierras to a new and improved Fremont Street in Las Vegas it was a fantastic week of spring break. Here's to hitting the wildflower studded trails of springtime in the coming weeks with my Hiker Babe girls!