First Lake brought back a lot of memories. After all the trails I had hiked in the eastern sierras I hadn't stepped foot in the sand of the North Fork Trail since I was twenty two.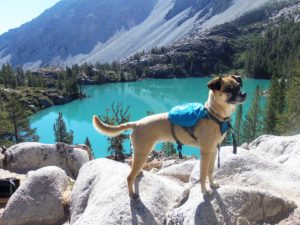 It was a glorious gorgeous hike but it made me sad for friends lost along the way, for a simpler time when all of us friends were in our early twenties. It made me think back on being so young and laughing until my abs hurt, and not because of playing Pokemon Go or getting black out drunk or watching Justin Bieber Utube videos or whatever today's twenty somethings do to have a good time.
The hiker of today just shakes her head at twenty two year old me, hiking up hill with a thirty five pound pack, wearing jeans no less! And taking photos on a disposable camera to process at Thrifty drugstore a few weeks later.
I know all of us friends fought on this trip ( we always fought like cats and dogs, a weird dynamic but we loved each other so!) I think of what real hikers must have thought of us as Steven had a toilet seat strapped to his back and an air mattress in his giant pack!
Looking back it makes me sad to think how we all have moved across the country and not being as close as we once were at twenty two. Sometimes being a grown up thirty something sucks.
It breaks my heart a little to think of the high school friends cut out of my life because some people are just bad friends and a waste of time and yeah, sometimes we just grow apart, having not much in common but the memories of a youth spent beneath pine trees.
But we will always have those pen trees, right?