It's February twenty-second and Baja California has welcomed me with open arms on this winters day. While most of this nation is in a deep frost I enjoyed an amazing beach view complete with the dolphins frolicking and seagulls serenading me while sipping on my coffee this morning. Las Gaviotas, our beach villa of choice on this winters morning, does not mean Jesus on the hill which is what I originally thought, but it actually means the seagull, which makes more sense as these pesky ocean pigeons are everywhere between Rosarito Beach and Ensenada. Hopefully, this time next year I won't have to listen to any seagulls. We're planning on building our own villa at Pismo Beach. It's not too far away and still in California. You can learn more about new building homes in Pismo Beach if you like, I'm enjoying the experience so far! It's so nice to be able to put your own spin on things and create a layout that works for you. We love villas, and can't wait to have our own.
Now, this is how a winter morning should start. While it may have been sixteen degrees this morning in our alpine village of Big Bear Lake, California at over 6,000 feet, we were having coffee and yes, breakfast lobster tacos on the veranda in Baja California. There is no better way to start a winters day than looking at palm trees and listening to the crashing waves of the Pacific Ocean. I often ask myself, why do more friends not join us here in this gorgeous "shithole" country? Worldwide travel and life in general in Baja are great and I wish more of my U.S. based friends were not terrified of Mexico. We spent the last week with friends of ours who live near Ensenada, B.C. half of the year and we spent our days doing all the things the locals do. It was awesome and it makes me sad that most Californians are afraid to explore Baja and Mexico in general.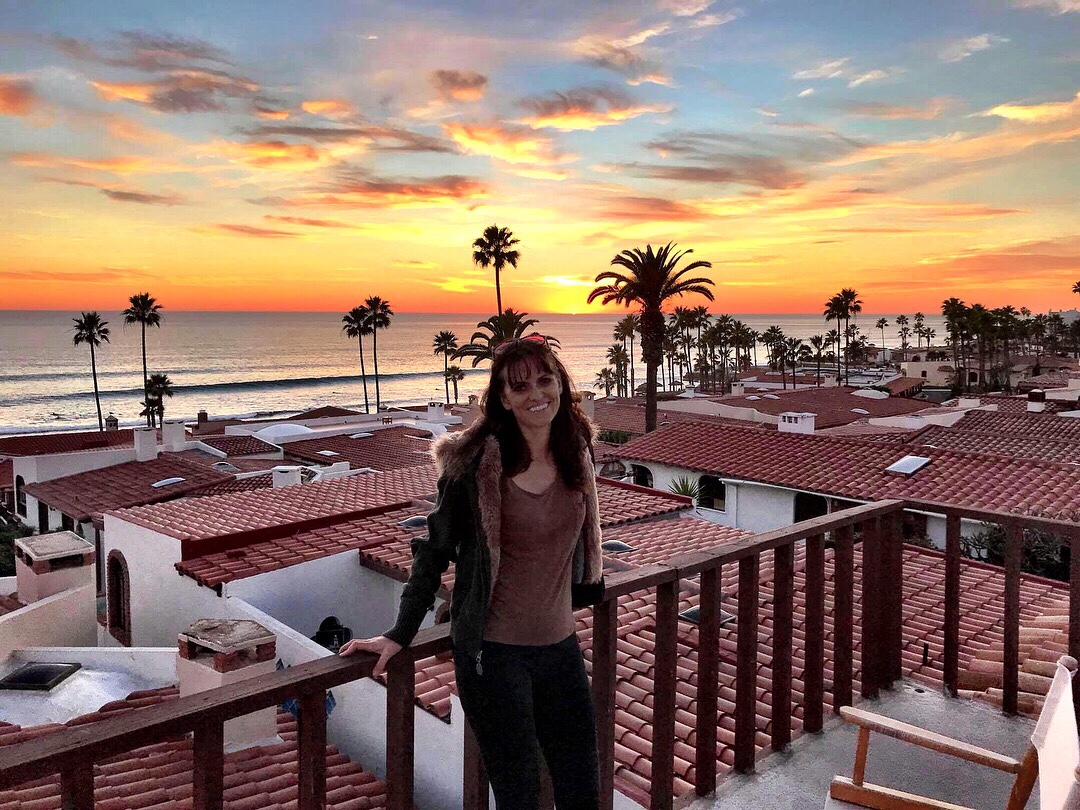 Are you afraid to explore Baja or Mexico? Check out this awesome list that the State Department puts out that warns silly Americans which areas of Baja are safe to travel to! Luckily for us crazy world travelers, the U.S. government keeps us informed on where it is and is not safe to travel to when traveling abroad. As you can see from this warning list, Baja has a slightly higher than normal warning but that is mostly local cartels shooting at each other and as long as you remain alert, don't drive at night and don't do illegal things and go to dangerous places, you should be fine traveling through the Baja region. When traveling in Baja California, just remember.
Use toll roads when possible and avoid driving at night.
Exercise increased caution when visiting local bars, nightclubs, and casinos.
Do not display signs of wealth, such as wearing expensive watches or jewelry.
Be extra vigilant when visiting banks or ATMs.
Enroll in the

Smart Traveler Enrollment Program (STEP) to receive Alerts and make it easier to locate you in an emergency.
Follow the Department of State on Facebook and Twitter.
Review the

crime and safety report

s for Mexico.
U.S. citizens who travel abroad should always have a contingency plan for emergency situations. Review the

traveler's checklist.
Really just keep in mind no seas estpido en Mexico!
I'm used to friends and family nearly shitting themselves when I tell them I'm going on holiday in Baja. I started traveling to Baja when I was a very mature seventeen-year-old and my parents knew I was a mature teenager and had no problem with it. (Although looking back now, I think to myself, I can't believe they let me drive to Mexico with my friends and no parental supervision!) I have many fond memories of Baja adventures south of the border. As the years passed the stories one would hear out of Mexico were pretty terrible but what most Americans don't realize is that most of these peligroso (dangerous) situations are happening way to the south near Mexico City.
It makes me so sad when you see how bad the Mexican economy is because areas don't have tourism traffic and the gangs take over and the whole country suffers. The best thing you can do for the Mexican economy as an American is to book a cruise, rent a villa or plan a trip to this U.S. adjacent third world country. Plan a trip to Baja California or Mexico and see what the beaches of Baja have to offer (like delicious and inexpensive local lobsters caught just off the coast that a.m.)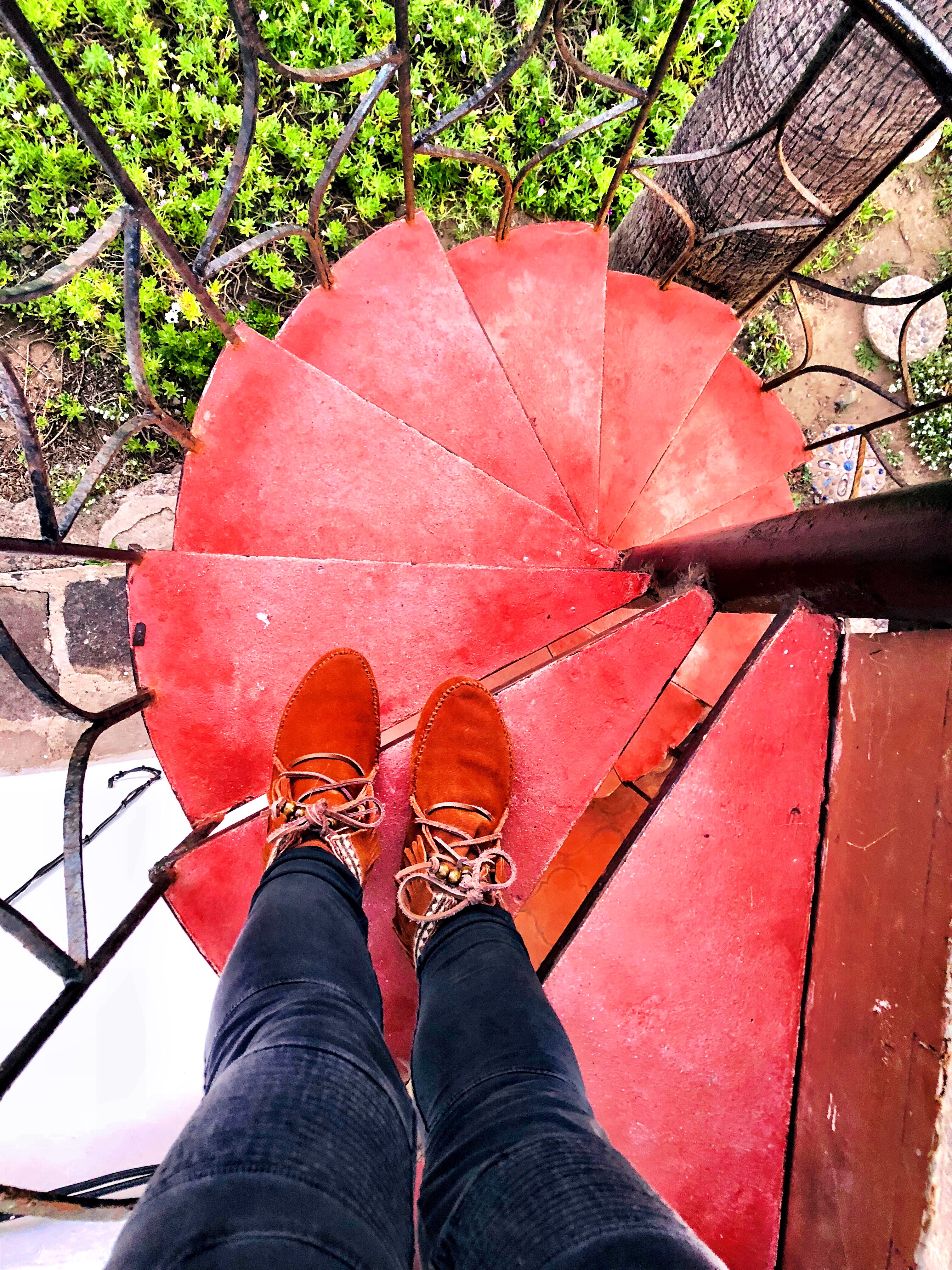 On our recent trip to Baja, we had an amazing time relaxing at the beach house and inhaling way too many fresh lobsters just picked from the Pacific Ocean that morning. A day exploring the seafood markets in Ensenada it's a great way to spend any day of a vacation. The fresh fish market in Ensenada is centrally located just off the main through fare on Blvd Lazaro Cardenas and easy to find near the port. Take my advice and absolutely do not wear sandals when going to the seafood market though. As I waded through wet fishy water I thought, oh God this is a really bad idea. On the other hand, though, do not wear nice boots that are not washable when going to the fish market because literally the floor is extremely wet and slimy and there are puddles of fish poop everywhere. The best shoes to wear when exploring the fish market are a pair that are extremely washable.
You finished buying all your pescado, crab and lobster at the fish market, what should you do now in Ensenada? Definitely have lunch and a cold cerveza at one of the many fish taco joints just outside the fish market. The pescado tacos you can get at any of these restaurants with their cheap picnic tables and colorful decorations are honestly so much better than any fish taco you can get the United States. I don't understand why that is because the ingredients are literally so simple but fish tacos in Baja California are beyond amazing, and not to be missed.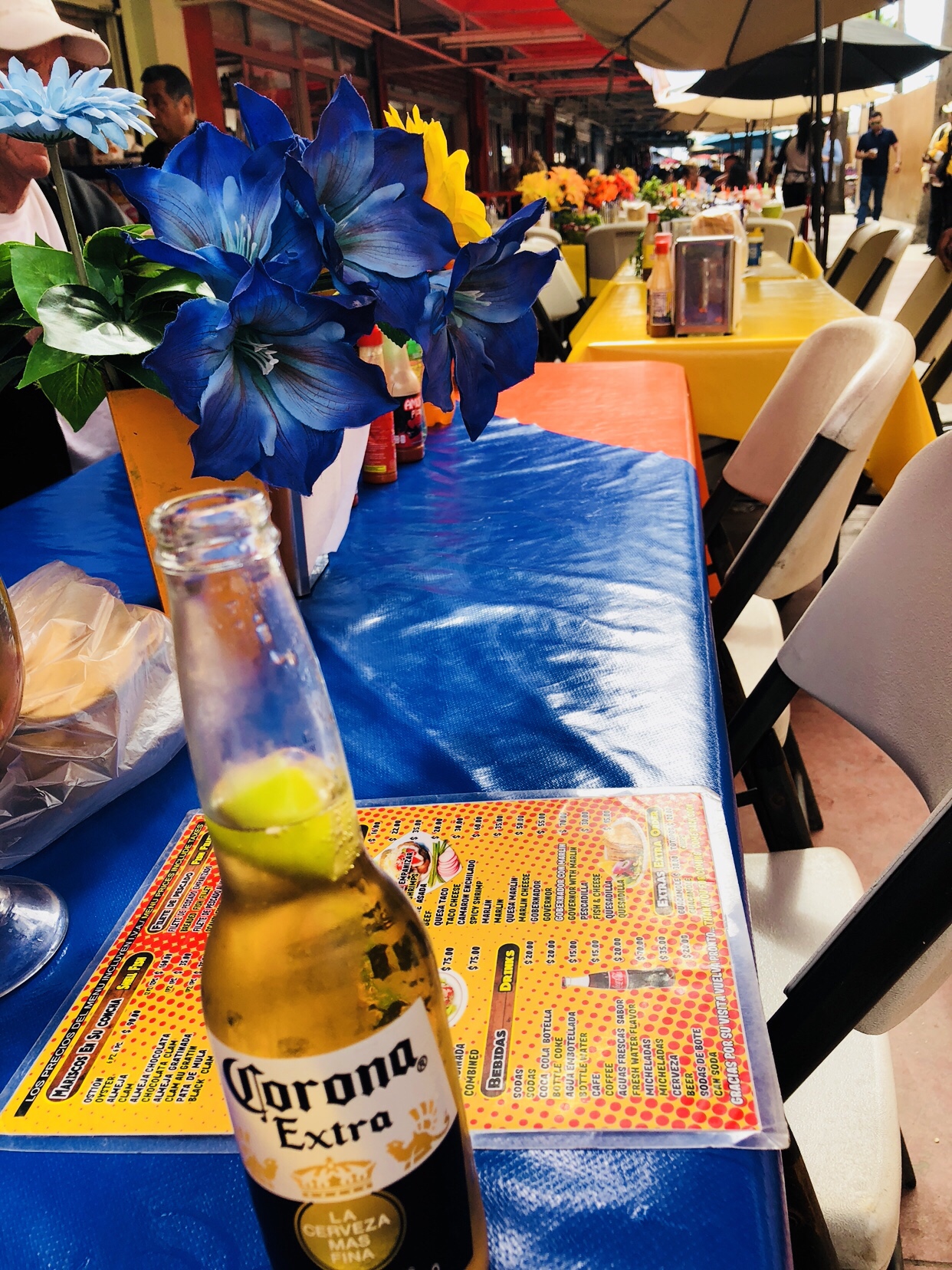 Enjoy wild animals that you can only get up close and personal with while trekking through Mexico? Check out the Bahia De Los Angeles located roughly halfway down the Baja California coast. This gorgeous seaside cove located on the shores of the Sea of Cortez actually gives you the opportunity to swim with whale sharks! This area is "Rustic" to say the least. The Bay of L.A. website brags that "the town has had twenty-four seven electricity since 2007! The sixteen islands in this area are gorgeous in themselves and besides swimming with the whale sharks in the warmer summer months this are is also a prime diving and snorkeling location. A few days at the Bay of L.A. is worth the nine-hour one-way drive from Rosarito Beach.
Swimming with aquodic mammals, not your thing? How do you feel about kitty cats? As in big ass kitty cats, or at least their cubs. At La Bufadora on the Peninsula de Punta Banda, you can experience a crazy hectic mercado area where you can buy every souvenir you could ever want, have a margarita or two at a seaside restaurant or frolic with lion cubs. Yes, I did say lion cubs. Are you a fan of el gatos? Then this is one Mexican experience you simply cannot miss! For twenty American dollars, you can play with the cubs for about fifteen minutes and the handlers will take as many photos of you and the cubs as you want. Need a selfie of yourself and Mufasa while in Baja California? Well, now you know where to go!
Have enough time to drive farther south? Every year 10,000 gray whales migrate from the chilly arctic to south Baja and the Sea of Cortez. San Ignacio is a good twelve-hour drive from the San Ysidro border crossing in Tijuana but it is worth the drive down highway 1 to coastal lagoons where the super friendly whales and calves will swim right up to boats in the winter months. San Ignacio is one of three lagoons that the gray whales call home in the winter months in Baja California. There are even san diego whale watching excursions that you can go on if you'd like to get up close and personal.
Have less time but still interested in getting up close and personal with whales and their calves? Guerrero Negro is less also nine hours south of Rosarito Beach and this beachside hamlet will offer you a chance to see magnificent gray whales and their 1,000 pound little calves in Scammon's Lagoon. These mamas and calves take a break here in the Ojo de Liebre after traveling over 6,000 miles from the Bering Sea before continuing further south. If you find yourself in Baja California at any time from January to March this is definitely a fun day trip to see these friendly sea giants.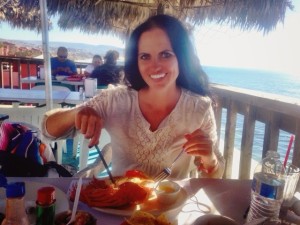 There is so much fun to have in Baja California for the frugal adventure! Take my advice and grab your passport, jump in your car and drive south to Baja California as soon as possible!
This week I am linking up once again with the following food, health and DIY blog link ups.
http://darlingdownsdiaries.com/good-morning-mondays-149/
http://www.marathonsandmotivation.com/chocolate-strawberry-superfood-parfait/
https://www.backtomysouthernroots.com/foodie-friday-link-party-12/
http://www.misssippipiddlin.com/
http://apriljharris.com/category/hearth-and-soul-link-party/
http://www.sewhistorically.com/category/link-parties/sew-it-cook-it-craft-it/
http://www.runningonhappy.com/
http://www.marciashealthyslice.com/
http://www.abountifullove.com/
http://designsbygollum.blogspot.com