I love camping and the outdoors with a passion but sometimes Mother Nature can be a real bitch. I feel like I have been tired and cold for the past twenty-six hours straight and would just love to be sitting by a fireplace somewhere with a hot mug of tea in between my freezing fingertips. Or possibly a nice warm bowl of Elk Sweet Potato Chili. I practically spend every moment of my mundane life dreaming of when I can fit in another trip to California's eastern Sierras Nevada mountains, so when I can finally escape to the trails of the John Muir Wilderness I expect outdoor bliss at its finest, not 80 MPH wind gusts for twelve hours straight and rain coming at my face sideways. (Silver lining; At least I wasn't that hiker wearing shorts today!)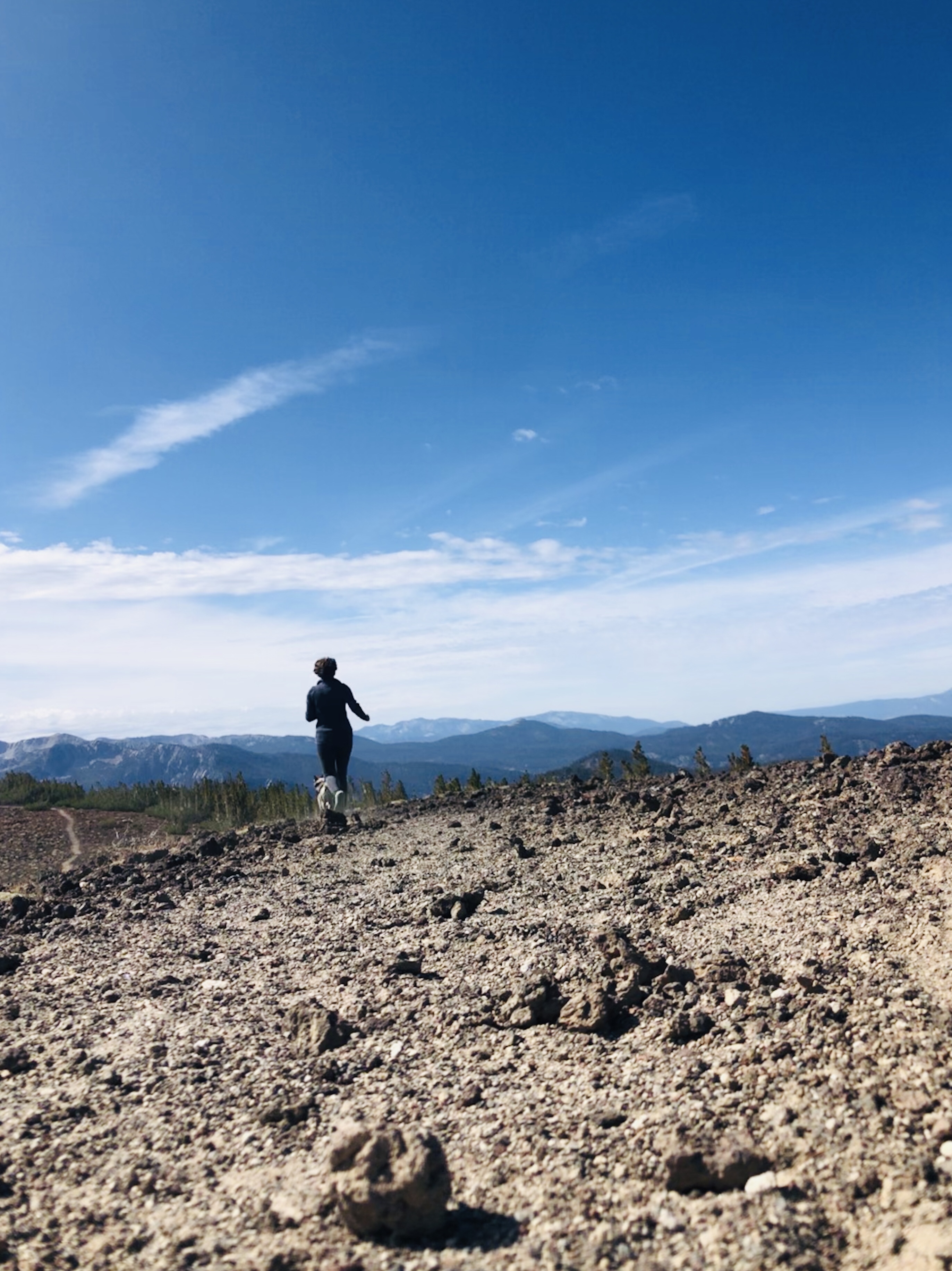 I was so excited to hike through scenic pine glens for four days straight with my little furry side kick that I could barely sleep Sunday night. So when man's best friend decided to loudly and ferociously chase a raccoon through the back yard at three a.m. I was up, chugging some coffee, throwing the cooler in the Subaru and in near record time backing out of our driveway in Big Bear Lake, California, three hours before the sun would even rise. It was over a five-hour car ride from our front door to the gateway to the eastern Sierras and all things fun; swatting bugs, hiking up steep skee covered trails and practically being blown off a 11,000 foot mountain peak. This is my idea of a fun Monday.
Yes. I know, this kind of bad ass hiker babe attitude is not normal.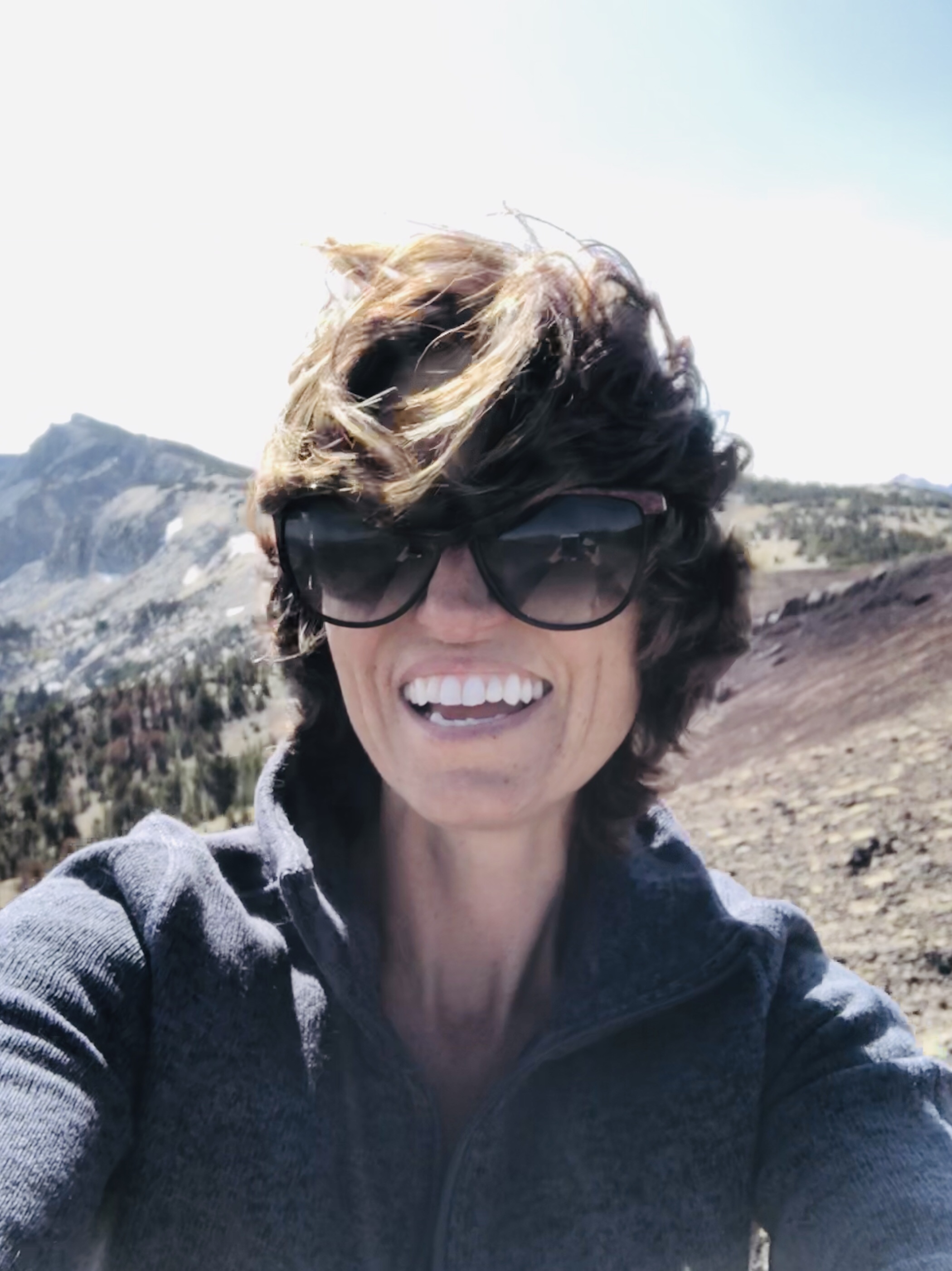 I knew the weather was predicted to be a bit chilly and there was a chance of rain in the forecast for the Mammoth Lakes area. I never expected a freezing cold front to move through the area, basically still during summertime; Dropping actual snow the on the Lake Tahoe area to the north of us. Keep in mind autumn does not technically start until Monday! I originally intended to hike Saddlebag Lakes to the north near the gateway to Yosemite National Park, Monday morning but with snow and eighty mile per hour winds predicted our hiking plans for the day changed course to a little further south, Mammoth Crest to Deer Lake, a hike I had never done before but heard the views were phenomenal.
The Mammoth Crest Hike started out of the Crystal Lakes Trailhead, Which I had hiked before. In fact I think we hiked to Crystal Lakes last year with my boyfriend's twelve-year-old daughter so the hike is not intense and pretty short. About a mile before Crystal Lake the trail veers off toward the Mammoth Crest. An easy mile slog uphill and the views become stunning. The pup and I were loving life.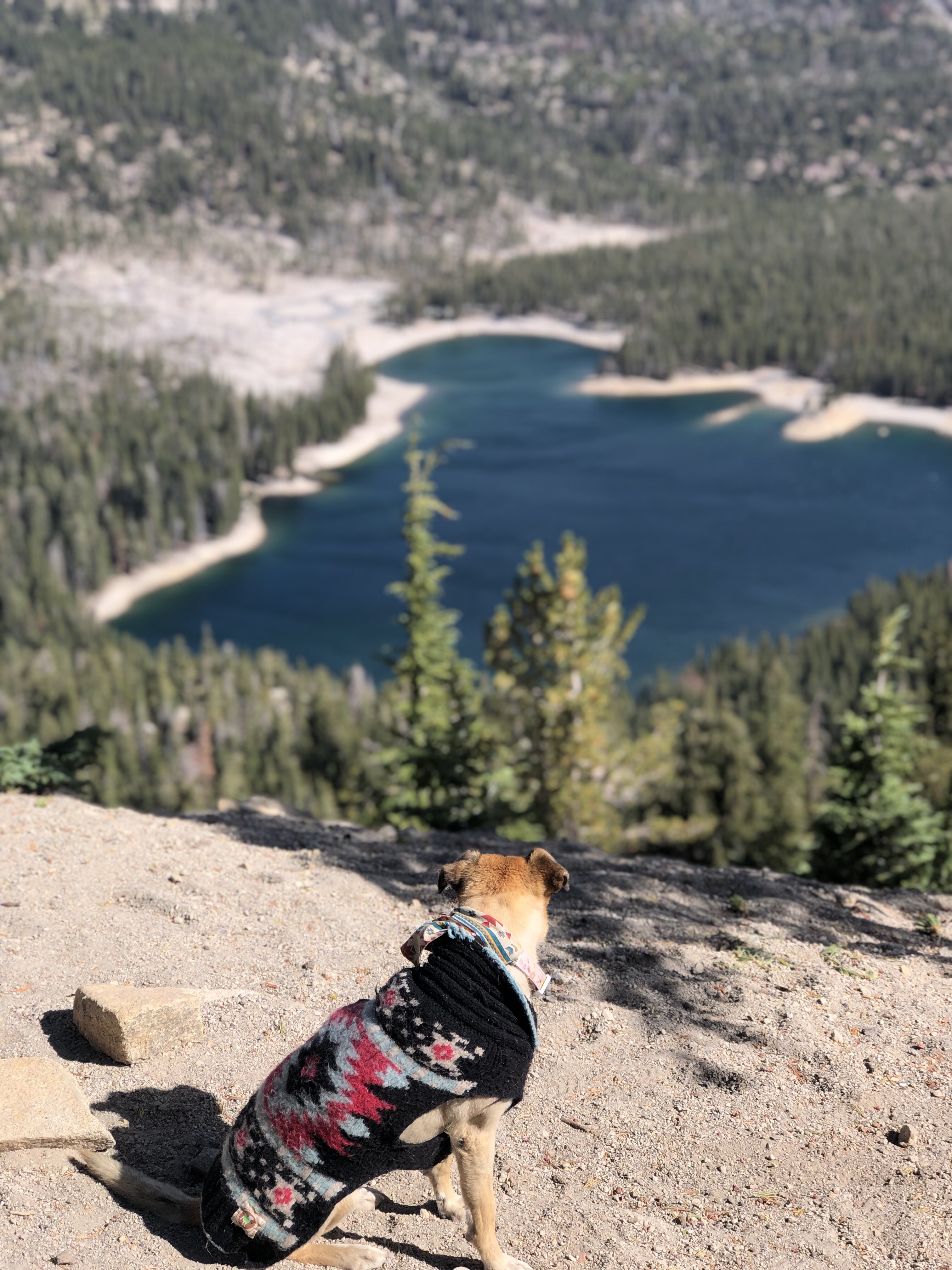 Hiking is fun!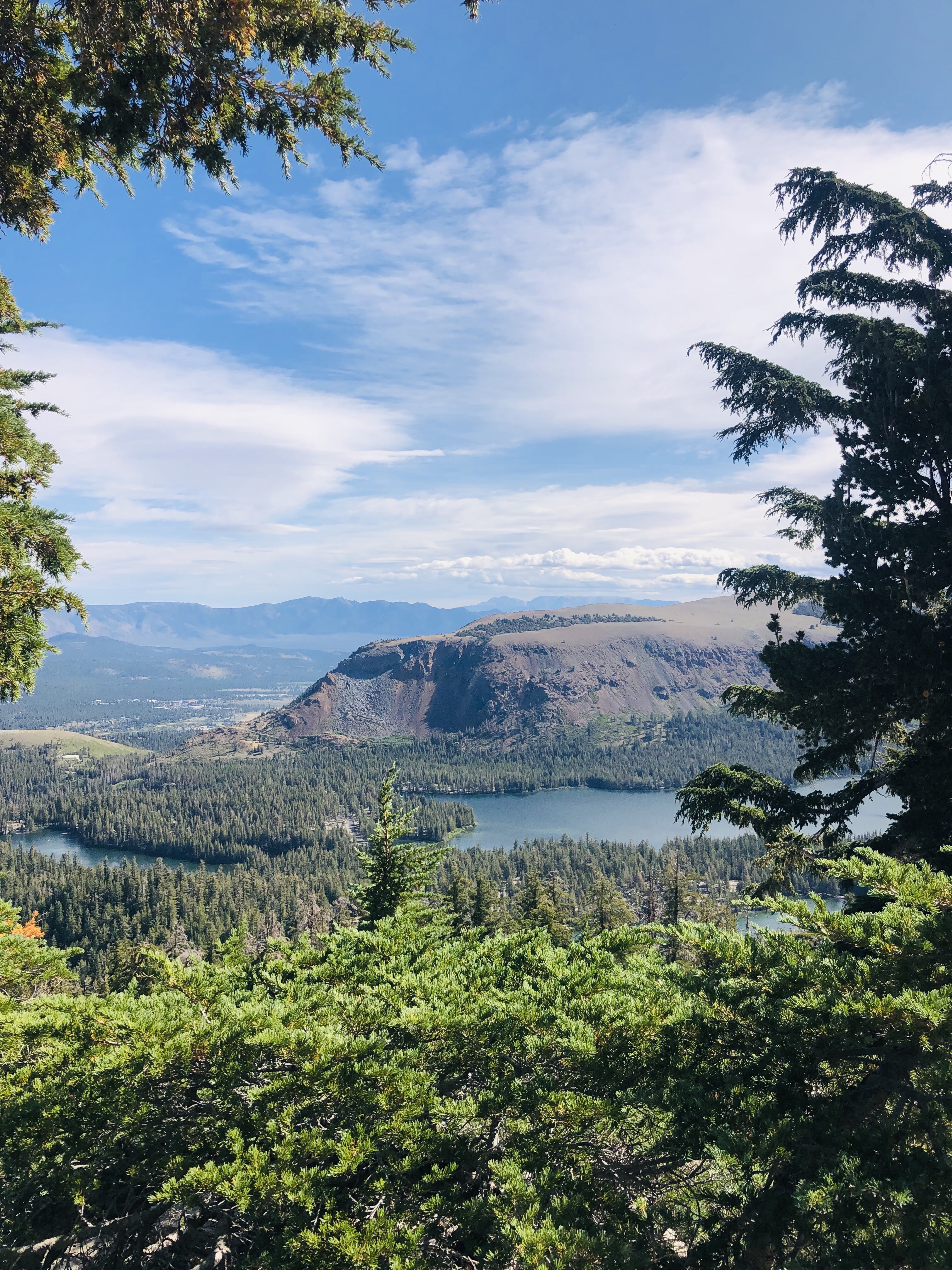 Then the wind started. Just a gust here and there as we made our way along the ridgeline above Lake Mary and Lake George. The trail became more volcanic here and the dirt was a burnt red, so gorgeous as we climbed higher and higher. The views down below to the Mammoth basin were just incredible.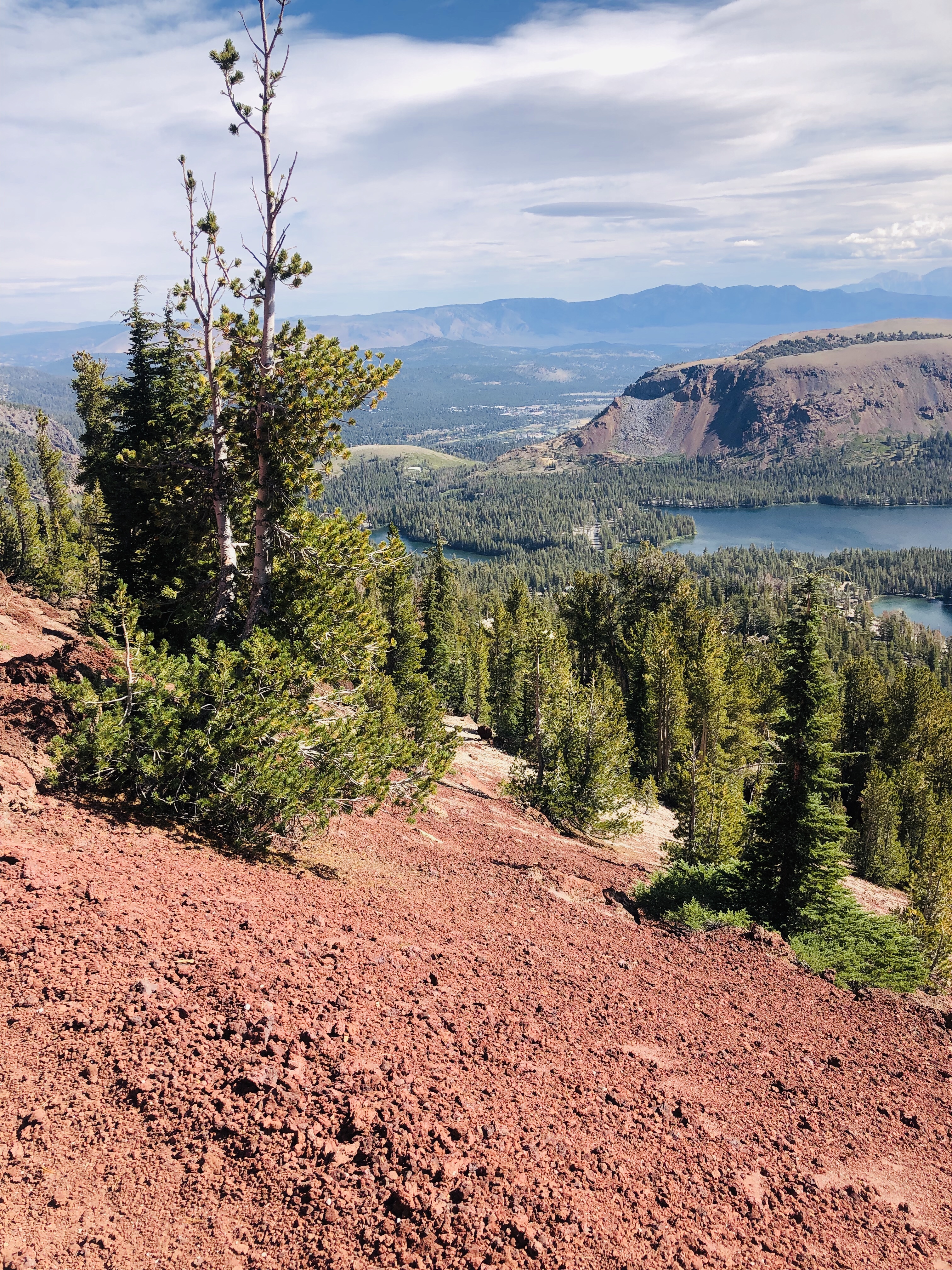 We could see all the way across to King's Canyon National Park and that had to be the JMT (John Muir Trail) cutting across green lush meadows a thousand feet down below the Mammoth Crest trail. The wind had begun to pick up at this point and my fingers were freezing as I took a few selfies with the mutt, my hair crazy and blowing in the breeze. We were still enjoying the hike, the views and our day on top of Mammoth Crest at this point. 9I was still referring to the "Wind" as a "Breeze" at this point in the a.m.)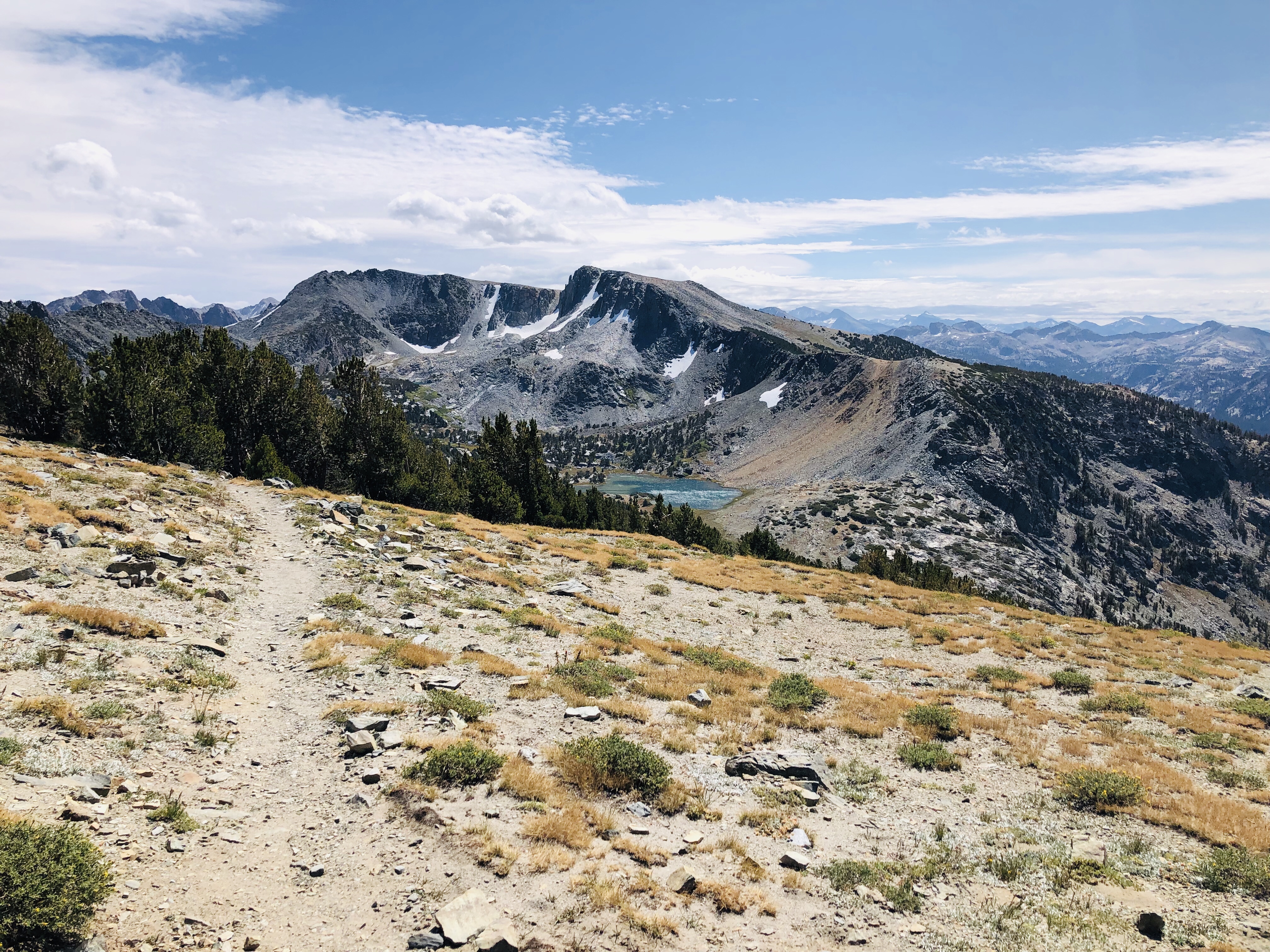 The first two miles of the trail were a gradual uphill and after that the hike basically just followed the crest of the mountain; Gorgeous. But as we trekked deeper into the wilderness the wind was blowing colder and colder. Deer Lakes were supposed to be five miles in and a mile and a half out from Deer Lakes I had decided to just do an out and back, not the full thirteen point five-mile loop. That is what I decided before the wind started really buffering and chapping my face, nearly blowing me sideways across the Crest. Kong's Canyon looked gorgeous down below us but I sure as hell didn't want to be blown down there and I know they do not allow dogs!
The wind was starting to get downright miserable now but damn the views were still stunning as my lungs burnt from the cold wind and I started to worry I would actually get sick from the cold. This hike was starting to not be fun anymore.
I decided at that point, no I would not out and back hike it. The wind would be less severe if I did the loop and went back down the Duck's Pass Trail. The last mile and a half of this part of the hike is on the paved road and I figured, if I was exhausted by then I could get a car to pick me up. Luckily around this time I did come upon the Deer Lakes and they were pretty but I would not do this full loop again. It was a steep scree filled ascent up Duck's Pass after that on a trail that I lost many times. By the time I was hiking down Duck's Pass I was bitching and moaning about hiking in general ( mostly because of the wind and the cold) and done with being on my feet and on the trail. The dog however wanted to go all day. Nothing tires that bitch out.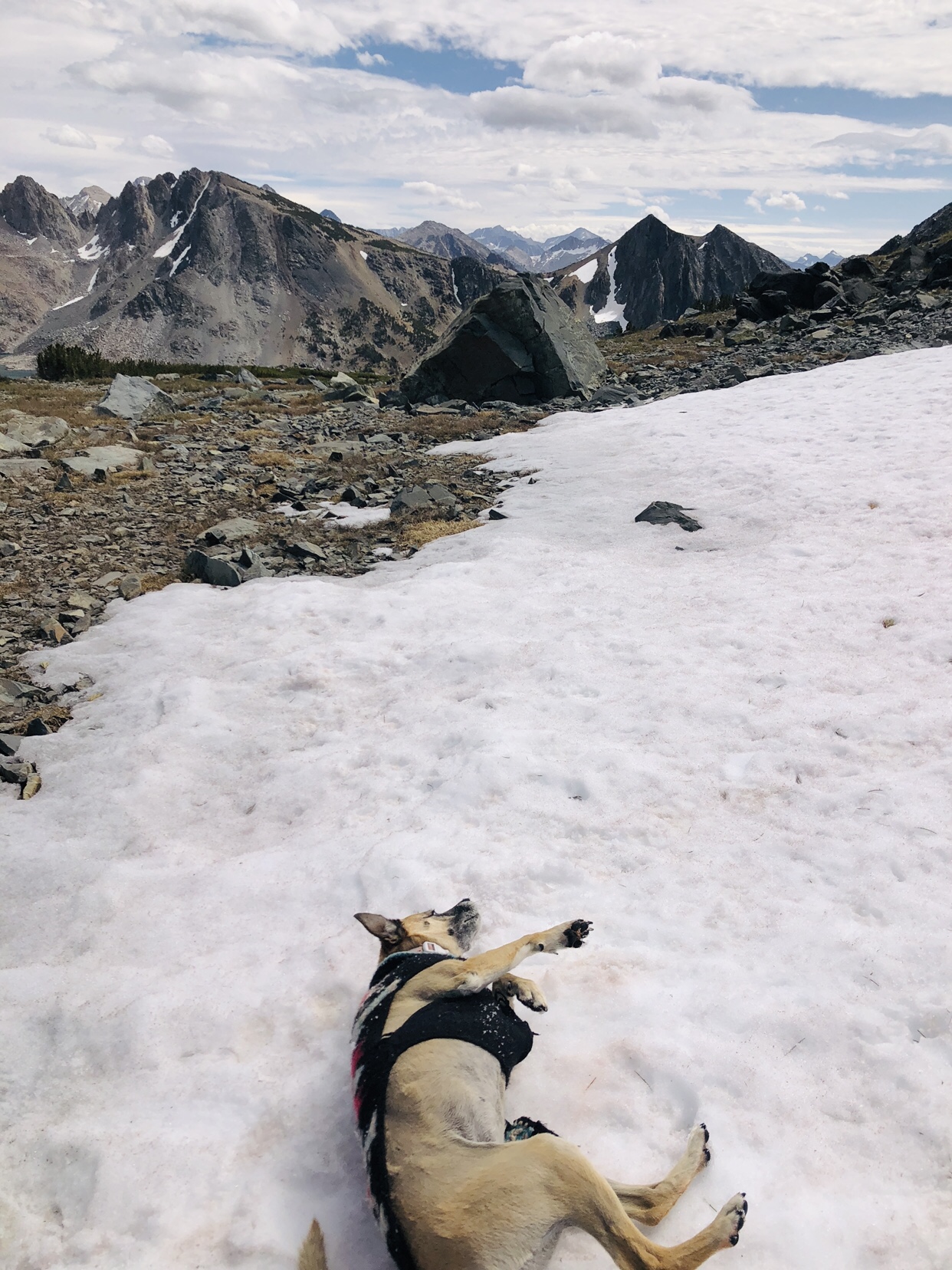 As we finally, finally got down Duck's Pass, I just hoped and prayed that some friendly drivers would pick us up the last mile and a half on the paved drivable part of the loop between Lake Mary and Lake George. I was so tired, sweaty and done with hiking. And today was not supposed to be an incredibly hard hike! Tomorrow we are hiking Thousand Islands Lakes via Rush Creek and that will be almost eighteen miles. That will be our hard hike. This is turning into one of those weeks where I may hike one hundred miles! I guess I don't need to worry about looking not almost forty and not being in shape for my twentieth high school reunion in less than a week.
I put on my happiest I can muster "I've been hiking for thirteen miles smile" And tried to not look as stinky as I felt as I stuck out my thumb and tried to hitch us a ride to the Subaru parked up by Lake George. It did not work one bit and we ended up having to walk the last portion back to the car.
So what do I eat, I mean shove in my dirty hiker face, after hiking fourteen miles in one day? Nothing is more satisfing on a windy chilly not quite autumn evening then hearty elk chili with big bites of sweet potato. This fantastic version of chili is a hearty way to end your day and maybe warm up by the campfire after a fanatstic hike.
Elk Sweet Potato Chili
1 tab olive oil
1/2 a red onion, diced
1 pound ground elk
2 tablespoons roasted garlic
2 stalks celery, minced
1 carrot, chopped fine
1 sweet potato, cooked and diced into pieces
1 tablespoons chili powder
1 tablespoons Cayenne powder
2 tablespoons cumin
1/4 cup chipotles in adobe sauce
1 can tomato paste
4-8 tablespoons balsamic vinegar
1 1/2 cups beef stock
3/4 cups water
1 tsp garlic salt
1 can kidney beans, drained.
In the olive oil cook the onions five minutes until well browned. Add the celery and the carrots. Transfer to a food processor and blend. Return to the pan and add the garlic. Add the cumin and a bit of water so it's not to dry. Stir and roast the spices.
In a food processor blend the chipotles and add this to the pot on the stove. Add the elk meat and cook until browned.
Add the sweet potatoes, the water, chili powder, paprika and the stock. Cook until the sweet potatoes are slightly browned.
Add the tomato paste, garlic salt and balsamic vinegar.
Let reduce for forty-five minutes.
Add the kidney beans and let cook an additional fifteen minutes.
Serve with sharp cheddar cheese, sour cream, cilantro and tortilla chips
Love this healthy recipe? Don't forget to pin it!