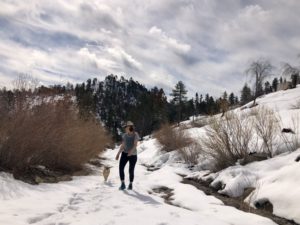 I don't usually add pork rinds to a healthy salmon recipe but I don't usually hike two thousand feet up to the top of a mountain with ten-foot snowdrifts without snowshoes either. So I guess there is a first time for everything. As in hiking until your cankles bleed because you decided to hike to the top of a mountain peak in capris and your running shoes.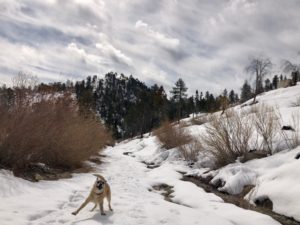 Carly, however, thinks our hike today was truly exceptional. This is usually the look I save to give my neighbors during this time of social distancing when I've spoken to no one but my family and my pets in the last forty-five days. Day forty-five of self-quarantine and I've inhaled some truly unhealthy foods but I have also scaled a few mountain peaks and worked out my abs a few times between creating new gluten-free recipes and possibly eating a lot of Cauliflower "Mac" and Cheese which has to be the number one new recipe I am addicted to this week.
When I'm not self-quarantined at home and shoving gluten-free baked goods at my face you can usually find me hiking up a snowy mountain trail with this ding-dong at my side. According to Strava, it might only be the 18th of the month, but I have already hiked eighty miles so far! So yes, maybe I will enjoy a piece of Gluten-Free Banana Bread this afternoon after my butt busting hike.
At the beginning of the hike as I struggled uphill, I talked to my dad for an hour on the phone. Or more likely he told me entertaining stories from the roads of America, then complained that my mom is spending too much money. We came up with a great business venture for mom to sell MAGA face masks since she is an amazing seamstress (Not like me at all. I can't sew to save my life.) but mom didn't seem very keen on the idea, and honestly, we might have jumped on the homemade face masks train a week too late. After a little bit of research selling facemasks is one thing everyone on Etsy seems to be doing.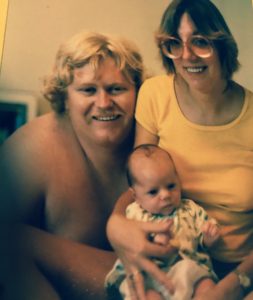 I was just trying to help dad out as his usual mantra is "Mom spends too much money! Mom spends too much money!" Then he told me he needs to buy an Instapot as soon as humanly possible. "Why on earth do you need an Instapot when mom spends too much money?" I asked, I mean they have a crockpot! Or two, or maybe three. It's hard to tell in my father's hoarder household.
"If we have an Instapot we can make a week's worth of beans in just two hours!" Dad practically yelled into his headset excitedly as he sped across Arizona in his big rig, quite possibly running from the Arizona Highway Patrol, again. Okay, first of all, no one in our family, especially my parents, need to eat a week's worth of beans. Number two, my mom has no interest in sewing MAGA face masks and she is quarantined at home with three cats very bored. I would say she has all the time in the world, why does she need to be in a hurry to make a big batch of fart soup?
My dad's reaction to this comment was "I need an Instapot! I also need a bread machine and a crossbow! Keep an eye out for all these things on the Facebook sale groups. Mom spends too much money!" I literally almost fell off a snowy mountain as I texted all this to my brother, I was laughing so hard. My brother did think it was a typo when I said dad needs a crossbow. Not a typo. I mean does it not seem reasonable that dad would need a crossbow? He could use it to shoot the raccoons who now live in the broken-down cop car he bought a few years ago! I told my boyfriend this story and he brought up the point "Doesn't your dad need both of his shoulders replaced? How can he possibly work a crossbow?"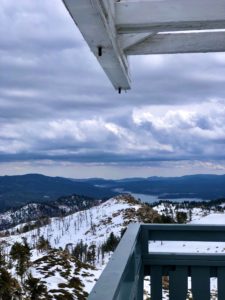 These are the thoughts I was pondering as I hiked to the top of snowy Butler's Peak where there were easily ten feet snowdrifts at the top. I made the maybe not so smart decision to hike straight uphill in the snow and not follow the long and meandering trail. This was when I started to posthole up to my hip, both ankles bleeding from snow burn. When I got out of my car and limped towards our jacuzzi and a bag of Epsom salts a few hours later like an old cowboy, I had to notice that I basically had given myself racing stripes on my ankles from the snow burn. Or maybe because I was hiking that fast?
When I hike two thousand feet up a snowy mountain like a badass, by the time I limp home hours later I am usually dreaming about what kind of salad I can have for lunch. Salmon patties with a little crunch from pork rinds are an excellent addition to this arugula salad with a Hollandaise dressing.
Salmon Patties Salad with Hollandaise Dressing
12 ounces salmon
1/4 cup pork rinds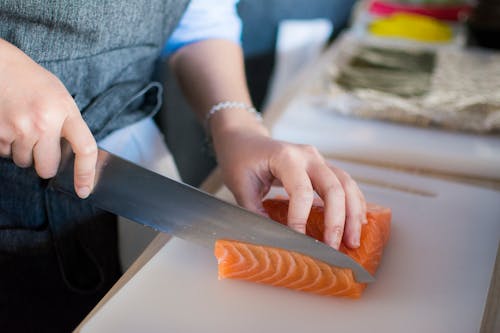 1 egg
1 green onion, chopped
2 tablespoons ghee
1/4 cup pecorino Romano cheese
1/4 cup almond meal
1/2 teaspoon chili powder
1 teaspoon kosher salt
2 cups arugula
For the easy Hollandaise dressing
3 egg yolks
3 tablespoons good quality salted butter, melted and hot
1 teaspoon fresh parsley
1-2 teaspoons your favorite hot sauce, I like chili sauce
1/2 teaspoon salt
2 teaspoons hot water
Juice of half a lemon
4 eggs, poached with 1/2 teaspoon vinegar
Bake the salmon at 375 fifteen minutes until cooked. Set aside and let cool. Flake the salmon apart. Mix the salmon, egg, green onions, crushed pork rinds and pecorino Romano cheese. Form the salmon dough into patties. Mix the almond meal, salt and chili powder. Dredge each patty in this and fry each patty, both sides in the ghee. After the patties are finished, set them atop a bed of arugula and dress with Hollandaise dressing.
Top the salad with the poached eggs.
Directions for the Hollandaise dressing
Combine all the ingredients in the blender. Add the hot butter and hot water last. Blend up in the blender. Transfer to a microwave-safe container and microwave twenty seconds at a time, whisking after twenty seconds, repeatedly until the dressing just starts to thicken.