You know I was just thinking of I had to be stung by a sting ray at any time in my life today would be a good day for it as I can't feel my damn leg. I had a friend who was stung by a sting ray years ago on a Mexico beach vacation and it looked no fun at all but if something like that has to happen than I guess now would be a good time.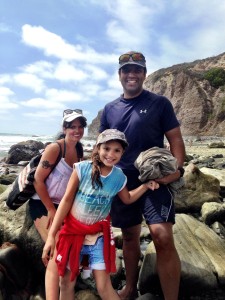 I spent most of our April beach getaway not being able to feel my right leg. My sciatica pain was bad. When I could feel the toes on my right foot those were the good days. The other days vodka helped, and the pool and the absolutely gorgeous seventy degree weather in Dana Point. We spent our few days in Dana Point doing an easy bike ride in the harbor, exploring the tide pools and eating so much fresh seafood it was out of control. I had never actually spent much time in Dana Point before and I love this little beach town!
It was not crowded at all. there was very little traffic and best of all there was actually free parking! Living in Southern California you always have to pay for parking and parking is always hard to find in beach towns. Dana Point may be my new favorite close getaway! We completely loved staying at the Marriot in Dana Point, too. The rooms are all surrounding the pool that is ocean facing. The hotel was walking distance to the harbor and all the tasty restaurants we visited too.
As I relaxed on Dana Point Beach I felt like a beached whale, which was kind of ironic as I sent this April Fool's message out to friends.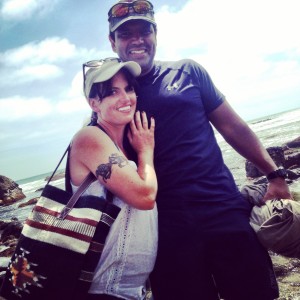 Coming soon in 2015! The fact that I look exhausted in this picture just makes it look more realistic!
The congrats started coming in at once and later that evening I had to go on Instagram and do the whole April Fools!
This was by far the best April Fools joke I have ever played!
Just to be clear… No! There is not a baby in there! 
Which is great because I really, really like these tasty Grapefruit Tangerine Margaritas on a hot spring day. Why use gross processed Triple Sec?!
  This recipe makes one pitcher of delicious some what natural margaritas
Tangerine Grapefruit Margaritas
5 shots Don Julio Tequila
1 cup soda water
1 cup ice
3 tangerines, juiced
2 grapefruits, juiced
Combine all in a pitcher; enjoy by the pool!