I simply adore my small town Big Bear Lake life; trail running, mountain biking and just breathing in the crisp cool and clean air amongst the pines of this resort town. In the valley below this rural mountain hamlet you would not even know that it's fall. It's over a hundred degrees most October days! Do you think there are any sweaters, scarves and gloves to be seen in the sweltering valley below? You can find a Pumpkin Spice Latte on the menu at Starbucks, but that is the only real way to tell its fall in the Inland Empire of Southern California. If it's a chilly autumn morning you can probably find me at the local dog park by the lake with a friend and our mutts for a morning of doggy fun. After the pups grow tired of chasing the ball and frolicking in the grass, I'll spend the rest of this fall morning in the backyard raking leaves beneath our maple tree and stacking the cords of wood I have been splitting all week. The cool mountain breeze causes our neighbors aspen to quiver and is a gentle reminder that winter and cooler days are just around the corner.
I love the changing seasons we get in our little mountain towns at 7,000 feet. That is why I feel so blessed to be here in California, so close to Los Angeles, Hollywood and the sandy beaches, but I get to drive home on winding mountain highways, though fog so dense sometimes I cannot see past the hood of my SUV. I love everything about the mountain way of life and I love everything about autumns cooler days; The rolling fog, making turkey and sweet potato chili from scratch, enjoying chilly evenings with a glass of pinot noir and a fire roaring in the fire-place. I love the crisp cool days when I can see Catalina Island and sail boats on the Pacific Ocean two hundred miles away, from the west-facing rim of the mountain highways. Life in the Big Bear Valley is fantastic in every season but these crisp and cool autumn mornings in our wilderness towns make me really appreciate what we get to enjoy here every day in this national forest as locals.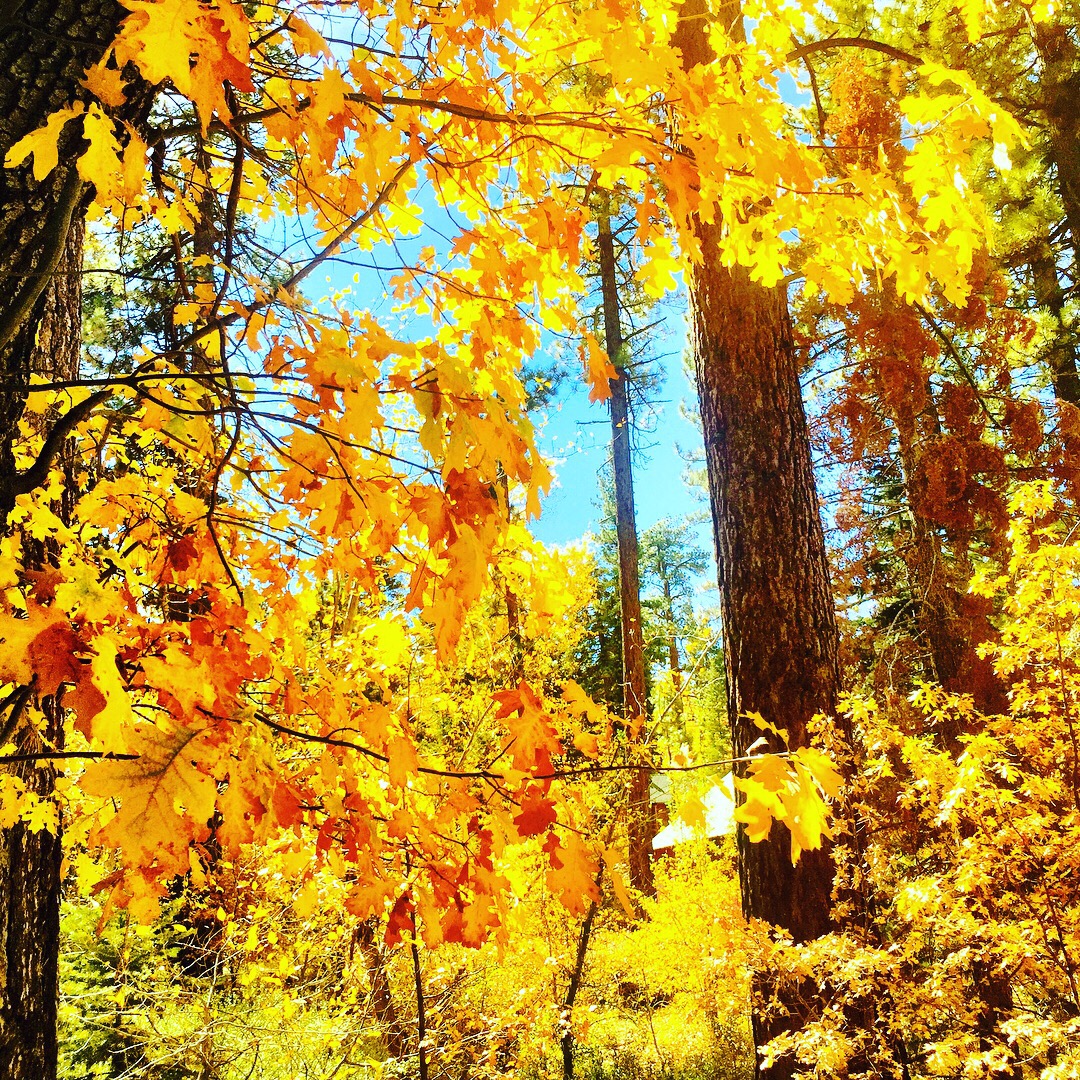 Now that it's autumn and the days are finally a little cooler the weather has been just fantastic for mountain biking. Today I spent my evening tearing up the single track trails of Big Bear Lake. Tonight I discovered the hard way that maybe I am not an advanced mountain biker after all. After tonight's tough ride through the forests of the Big Bear Valley I think I have regressed back to beginner mountain bike status.
I went on a mountain bike ride this early autumn evening with a lady I met through the beginning mountain bike classes I have been attending. Considering I met her at Mountain Biking For Dummies I thought she understood my skill level. Maybe I should have mentioned more to her that I am a newbie, plain and simple before she took me down an advanced single track trail. Which I survived by the way! Not only did I somehow survive Big Bear Lake's Dave's Trail but I survived riding it while dodging three blond dogs running helter skelter alongside us.
Yeah, I'm feeling pretty proud of myself right now. Mainly because I survived and I didn't crash (There were so many close calls, I stopped counting at one point) I'm also so proud of myself; In a 4 mile round trip ride with almost 700 feet altitude gain I rode most of the uphill part, even though it almost killed me. This is life in the Big Bear Valley, and I just love our mountain home so damn much! Even when I am almost killing myself before dinner on some of the hardest trails in our mountain community!
How do I do these crazy mountain bike rides that I feel like I barely make it through? I am powered by purple sweet potatoes! When it comes to powering your body with the right carbs, proteins and starches purple sweet potatoes are a great addition to your diet! I couldn't do workouts like these if I didn't fuel my body starting with the right healthy breakfast and this curried egg breakfast scramble is out of this world good! Yes, it's full of goat's ghee, but when you burn two thousand calories in a workout, well, I tend to not feel bad about a little delicious goaty ghee. Also, did I mention the purple sweet potatoes? They really make this Anglo Indian dish pop!
Curried Eggs with Avocado and Purple Sweet Potatoes
4 eggs
3 tablespoons goat's ghee
1 teaspoon grated garlic
1 tablespoon grated ginger
1 Serrano chili
1 small yellow onion
1 tablespoon curry powder
1/4 teaspoon salt
1/4 cup tomato paste
1/4 cup water
1/8 cup chopped cilantro
2 avocados
1 or 2 small purple sweet potatoes, roasted in the oven
In a food processor blend the onion and Serrano pepper. Cook the onion and pepper until very brown, at least five minutes in the butter. Add water if it gets to dry. Add the curry powder and the garlic and ginger. Keep cooking another minute or two. Splash in more water if it gets to brown. Add the tomato paste and the rest of the water. Add the salt and then whisk in the eggs until cooked.
Garnish with the cilantro and serve with the avocado and the purple sweet potatoes cut into bite size pieces.
Like this healthy breakfast post? Don't forget to pin it!