I love the rain and snow so much. Unfortunately for my love of winter time here in California we are in a thousand year drought. That means the few and far between times it does sprinkle or barely snow we take full advantage of every little snow flake.
Todays forecast called for seventy percent chance of rain. Mary and I were planning on taking the Charlie's on a little dog walk adventure and also explore some new trails.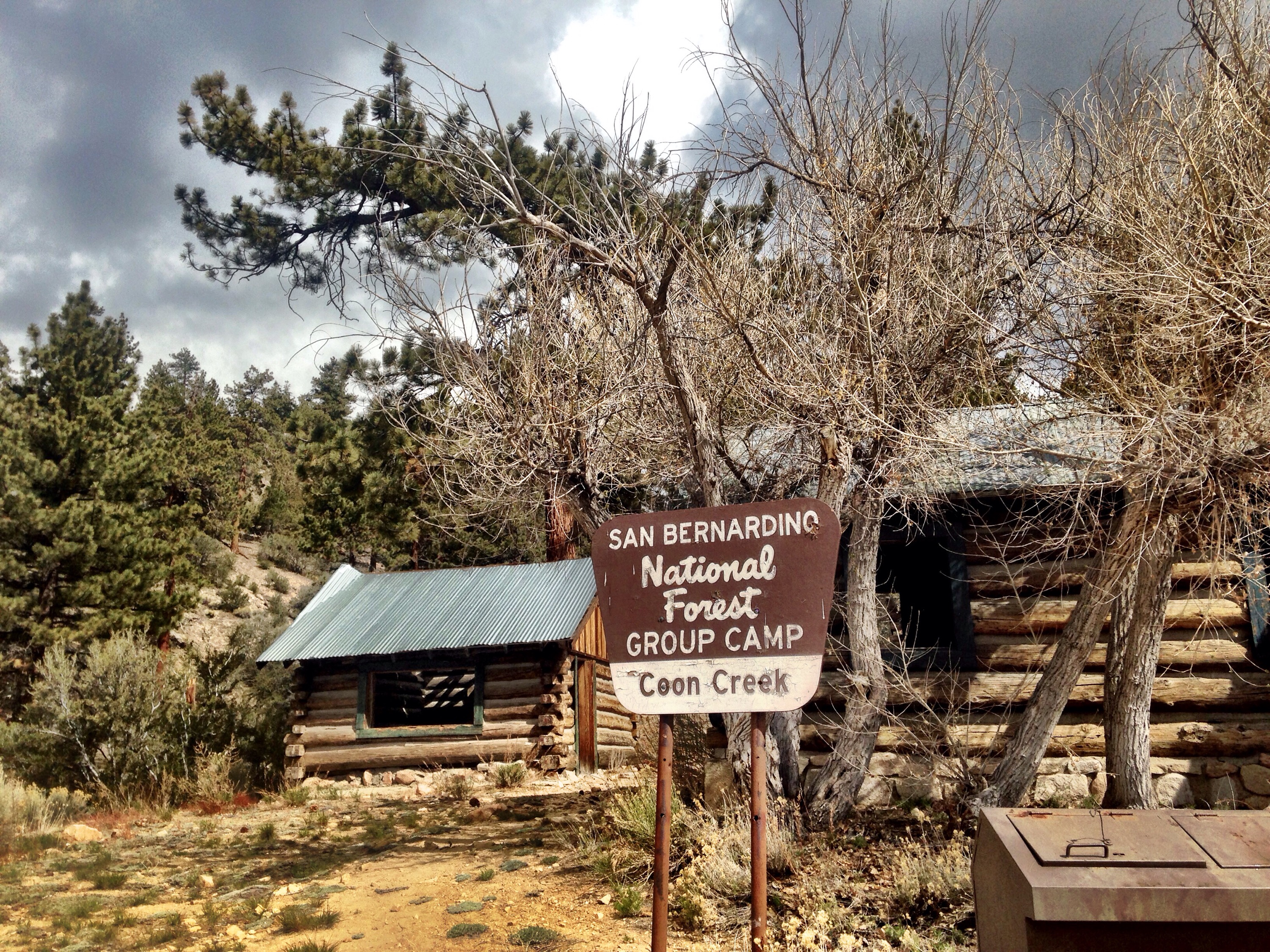 I had never been very far down the road to Coon Creek so we decided to check it out.
We actually made it to the Coon Creek Cabin right before the storm rolled in. The skies went from blue with thunderheads in the distance to black and big snow flakes pelting our sweaters. We started walking faster. We were over a mile from the car when it started snowing hard core. I was loving it; Mary was stressing about driving her two wheel drive car back down the mountain out of it.
We made it back to my Subaru eventually as I enjoyed every little snow flake falling down on me (Even if I was freezing) and off roaded back to Mary's car with out incident.
When I got home instead of making a stew or some chili like one should on a cold night I made this salad, one of my favorite uses of curry powder.
Probably ten years ago Trader Joe's in California used to carry the Spa Salad. This salad was chock full of red grapes, noodles and chicken. It came with curry dressing and was surprisingly low in fat. Obviously I was the only person who bought it as it was discontinued long ago.
I made my Chicken Curry Noodle Salad for my boyfriend last night and I was trying to remember where I had come up with this recipe. It took me a while but I finally remembered this was my replacement for the Spa Salad! Some of my recipes I've made for so many years I completely forget where the original idea came from!
This salad is relatively low in fat and packed with protein, fruits and veggies. It's a awesome picnic kind of salad for the summer time but it tasted great on a stormy mountain night too!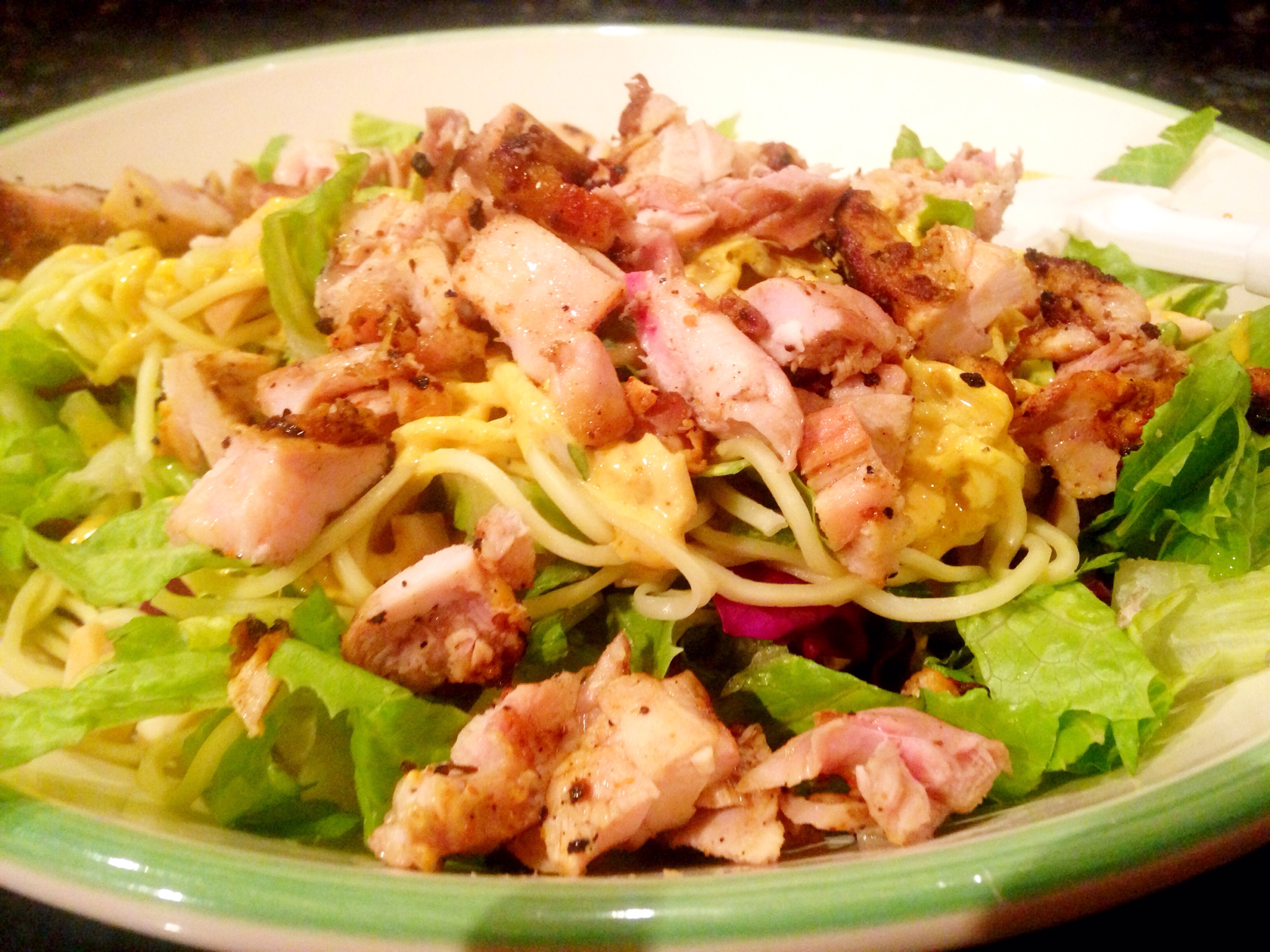 Curried Chicken Salad with Soba Noodles and Red Grapes
For the Chicken and Dressing
1 tsp coconut oil
1 tsp garlic, minced
1 tablseppon ginger, minced
1 tsp curry powder
1 tsp turmeric powder
1/2 tsp black pepper
1 tsp chili powder
juice of two limes
1 tab sesame oil
1 tab soy sauce
1/4 cup Greek yogurt
2 tsp mayo
1/4 cup red grapes
1/4 cup dry toasted almonds or cashews
1/2 cup soba noodles, cooked
2 chicken thighs
1 cup romaine, chopped
1 cup red cabbage, chopped
2 tsp cilantro, basil or mint (You can add all three or whichever ones you have on hand)
In a sauce pan heat the coconut oil. Add the garlic and the ginger for just a minute until fragrant. Add the chili powder and curry powder. Remove from heat. Add the juice of one lime and the sesame oil. Put 1/4 of this mixture aside. Add 2 tablespoons Greek yogurt to this. Spread it all over the chicken breasts. Let marinade in the fridge for four hours.
With the rest of the dressing add the rest of the lime, yogurt, turmeric, mayo, and soy sauce.
After the chicken has marinated grill it on the bbq and let it cool. Chop the chicken into bite sized pieces.
In a large salad bowl layer the lettuce, cabbage, herbs, grapes, nuts, noodles and chicken. Dress with the curry dressing and serve.