The shorter chillier days of December bring out two obsessions for me; A return to snowshoeing winter trails followed by baking unique Christmas treats. Luckily the two go hand in hand (or hand in mouth) If it's the first few days in December you can find me snowshoeing mountain miles with my trail pups in the early morning light. Come lunchtime I'm back in my cabin kitchen stirring up shortbread batter and tossing red and green cookie sprinkles in the air like they are glitter. When it comes to creating delicious Christmas cookies can you really have too much holiday bling? I don't personally think so.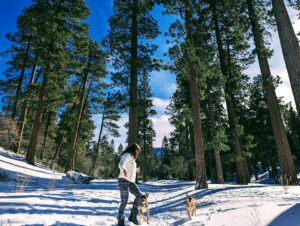 Today my morning was full of a lot of holly jolly. My good friend helped me climb a Bristlecone pine to liberate some mistletoe for my hiking guests. It was quite honestly not the safest idea to scale a two-hundred-year-old pine tree with no equipment and then whack at the mistletoe with the sharpest stick I could find. Bobbi Jo is a great outdoor sidekick and she puts up with my shenanigans. Mainly because I bring her Christmas cookies like these!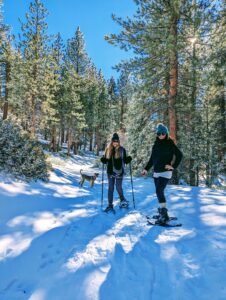 Our mountain town is expecting an entire day of snowstorm shenanigans on this Sunday and that gives me so many excuses to do some holiday baking. Luckily for me, my cousin dropped off some fresh organic Redlands California organic oranges this morning, freshly picked from his trees. I like to use organic pesticide-free oranges when creating the zest for these cookies. I swear organic oranges just taste better.
A holly jolly sports-ball grand finale baking challenge
Holiday baking usually leads to holiday wrapping Christmas presents. Or possibly drinking holiday mulled wine. This might lead to me getting yelled at because I was so excited about the exquisite way I just wrapped this Christmas gift that I held it exactly in front of my boyfriend's face in the middle of the sports ball finale. I don't recommend this even if you are a hyper chipmunk just so damn full of holiday cheer (And possibly also eggnog) I probably deserved to get yelled at as the fancy men on the t.v. smacked the sports ball with their faces and he yelled at me "What are you DOING?" Someone might not be as full of holiday cheer as I am. Also obviously I was paying exactly no attention to the sports-ball grand finale.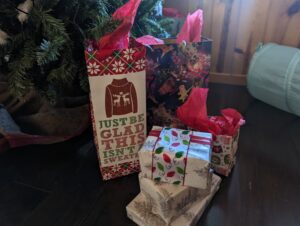 More likely I was just counting down the minutes until I could listen to Christmas music again. Because I mean come on, how can you possibly bake Christmas cookies without frolicking through your kitchen to yuletide favorites like Shakin Stevens Merry Christmas Everyone?
Cranberry Orange Shortbreads
1/2 cup organic powdered sugar
1/4 cup cranberries, chopped
1 cup salted organic Kerrygold butter, room temperature
1 teaspoon vanilla
1 teaspoon almond extract
1 teaspoon orange zest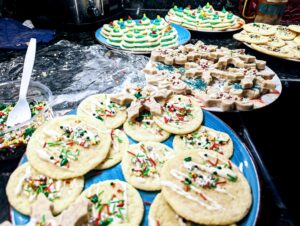 1 and a half cups flour
Cream the butter and the sugar. Add the extracts and the flour. The big secret to these whipped shortbread cookies is to whip the dough for seven minutes, yes seven minutes! Set your kitchen timer! After whipping these cookies, and whip them good, mix in the zest and the cranberries.
Do not overbake these. Bake at 350 for 10 minutes.