When it comes to my wanderlust, it usually leads me on a hike to the jagged peaks and alpine lakes of the eastern Sierra mountains. These dazzling aqua blue lakes sit at the top of strenuous hiking trails all over the eastern Sierras. These are the kind of hikes that have me sweating for half a day or more. These are not the same kind of hikes the All Trails Hikers tend to approach. You know who I mean; The newbie hikers who never laced up their Columbia hiking boots before an iPhone app told them exactly how to get to the most scenic trailhead in the Inyo National Forest. These are the hikers who have never heard of a pee rag and tend to leave their soiled nappies all over the serene mountain trails. They're not sure if their tents are waterproof ( and Mother Nature loves to drench the eastern Sierras in thunderstorms all summer long) the All Trails Hikers get blisters because they have never hiked more then a mile before. They feel lost when they lose cell reception while hardcore hikers like me feel found when we get to those hidden desolate places where my boss can't call me on my iPhone.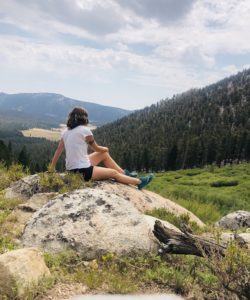 I love feeling lost in the beauty of the wilderness and this last week exploring new trails above Big Whitney Meadows helped me lose myself in nature. And not like the All Trails Hikers lose themselves and then ask me where they should be going when they lose cell reception. If all else fails ask the sweatiest dirtiest hiker around. She probably knows how to hike back to the closest REI.
Nothing makes me happier than a hike to a secluded mountain lake on a hot day and going for a swim with my pup. My pup and I live for the hours we get to spend on the trails and playing in nature. Okay if I am being one hundred percent honest I live for whatever delicious thing I get to have for lunch when I get home from an eighteen-mile sweaty summertime hike.
On this particular Tuesday in the mountains of the eastern Sierras, after a twelve miles or more hike in the morning with a great outdoor buddy, we were ready for a delicious Mediterranean late lunch. When it comes to wanderlust this salad is all over the place; Is it the Mediterranean veggies? Did I just spy a hot Asian chili? Is it health food with all that healthy walnut oil? When concocting this unique summer salad okay maybe I went a bit off the rails with the fusions but trust me, this is the most delicious after hike salad for any hiker.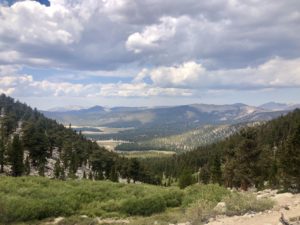 Couscous Lemon Cauliflower Salad with Tahini Cilantro Dressing
1 cup couscous
1 head cauliflower, sliced into bite-size pieces
1/2 cup halloumi cheese, cut into chunks
juice of half a lemon
1 teaspoon paprika
1/2 teaspoon salt
1/2 teaspoon garlic powder
2 Chinese chilis, crumbled
1 teaspoon walnut oil
6 kalamata olives, chopped
3 tablespoons pine nuts, chopped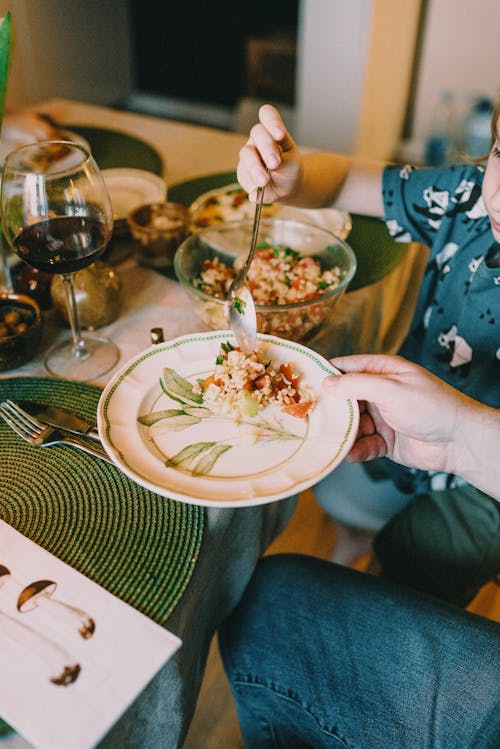 2 teaspoons parsley, chopped
Tahini Cilantro Lemon Dressing
3 tablespoons tahini paste
1/2 teaspoon roasted garlic
juice of one lemon
1/2 cup cilantro
3 tablespoons water
2 teaspoons walnut oil
1/2 teaspoon salt
Boil the couscous as it says on the box and set aside to cool. In a bowl mix the walnut oil, lemon juice, chilis, garlic powder, salt and paprika. Mix in the cauliflower chunks, sliced thin. Place in a thin layer on a baking dish and bake at 400 for ten minutes. Flip the cauliflower pieces over. Add the chunks of halloumi cheese and return to the oven for seven to ten more minutes until everything is just browned.
While the cauliflower is cooking, blend the ingredients for the dressing in the blender. When the cauliflower is baked add to the couscous, then drizzle with dressing. Add the kalamata olives, pine nuts and sprinkle with parsley to garnish.