Bangalore India is just a rainbow of bright colors. In the day time it's the aqua blue apartments or the bright green and canary yellow rickshaws. Women walk the streets in bright pink and purple saris or kurtis and even on a cloudy and rainy Bangalore morning the streets are full of vibrant colors.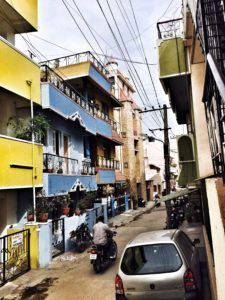 When we flew into Bangalore three days ago there was a cyclone raging in the Bay of Bengal as we were 40,000 feet above it. Our jet shook and jerked through the turbulence, which was not the smoothest ride but that cyclone has left us with the most fantastic India sunsets. As the sunsets over the massive city of Bangalore each evening we climb the stairs to the roof top with friends and family to enjoy cocktails as the reds, orange and purples reflect over the Bangalore rooftops and the mosque in the distance.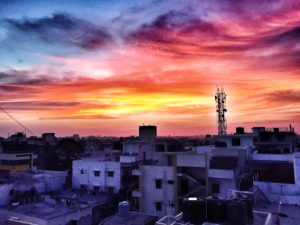 During the day light hours we roam the city in between delicious authentic meals of butter chicken and paleek paneer. After we gorge ourselves on freshly baked chapatis we watch cows and goats grazing in fields as children play baseball among them. This is all in the middle of a bustling city! Not any where near the countryside! Its crazy to watch theses children catching balls as these bovines roam about eating garbage off the street.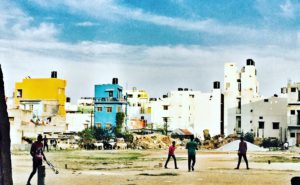 Coconut palm trees sway in the afternoon breeze among papaya trees heavy with fruit, banana trees and tamarind trees loaded with the brown long tamarind pods. The fresh fruit markets on every street corner sell colorful fruits I have never even seen before in my life as we do a little afternoon shopping on the streets of Bangalore.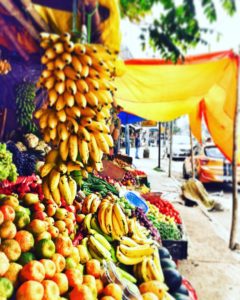 As we sip coffees on our balcony in the morning sunshine we can hear church bells ringing from the church next door to our apartment. It's a very relaxing way to wake up as we start another day in the rainbow of a city, Bangalore.