On a snowy afternoon in a mountain ski town you need a warm or maybe even medium spicy meal to invigorate your senses. Indian food is the absolute best thing on a snowy winters day. Plain rice is fine with any great spicy Indian meal but my take on plain rice, Coconut Chutney Rice with Sun Dried Tomatoes is even better.
It's been at least ten years since our drought stricken little mountain ski town had a real snow storm.
Ten years.
Isn't that absolutely incredible? Some people may hear words like "blizzard like conditions" and panic. Not me, I'm one of those people who embraces the snow storms and lazy days reading a book by the fire and drinking latte after latte. I love snow days so very much. Snow days make it feel okay to have a lazy day at home and wear yoga pants and cozy sweatshirts all day.
And enjoy a leftover Indian food brunch in front of the fireplace.
I did have to get a little bit of work done during this last te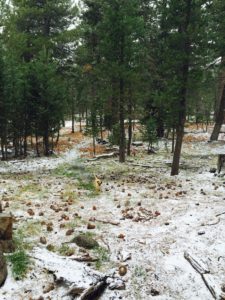 eny tiny little snow storm that rolled recently through our mountain communities. Handicapping never ends and I had to handicap this coming weeks races, chasing that Pick 5 dream before work starts again on Friday afternoon. Handicapping the horse races in front of the fire place is a great snowy day activity.
Come Friday I have to trade in the yoga pants for dress slacks or a business skirt. Back to work I will go, to my dream job working in the green grandstand of Santa Anita Race Track. If my work day Friday is fast approaching that means its time to hunker down with the racing form and the work out reports and decide who is worth betting on this week. Homework does not seem so bad when you are watching this glorious snow fall from the couch though, and when homework is coming up with your own tip sheet with some very lovely horses on it, well it makes homework seem very exciting.
Before I started on my homework I had this amazing coconut chutney inspired rice with some leftover butter chicken for lunch.
Coconut Chutney Rice with Sun Dried Tomatoes
1 coconut, meat removed
2 tablespoons ghee
2 cups rice, eighty percent cooked. Use 75 % of the called for water
4-6 Chinese red chilis
1 teaspoon minced garlic
1 tablespoon minced ginger
3 curry leaves
1 teaspoon salt
Cook the garlic, ginger, curry leave and chilies in the ghee.
In a blender juice the coconut flesh until very smooth. Strain out the milk from the coconut meat. Reserve 1/4 cup coconut meat to throw into the rice.
Add the coconut milk, the ghee and the extra 1/4 cup coconut meat to the partially cooked rice and cook another ten minutes until all the liquid is soaked up. Serve with your favorite Indian meal.