Once upon a time, I may have told you that I hate Chinese food. That was B.A. (Before Adrian) Boy was my life just a bit different B.A. I wasn't a professional hiking guide. I did not have my dream job in the horse racing industry. My healthy living blog was not as successful as it is now. As someone who had been blogging for seven years at that point, I didn't even know what SEO was or how important to my business it was at that point in my blogging career. And, most historically, before Adrian, I had never had Indo-Chinese food.
I was not even crazy about Indian food whatsoever until my Anglo-Indian boyfriend sat me down and told me to throw my ten-year-old store-bought curry powder in the trash. I had spent my childhood at bland Cantonese-style Chinese buffets the type you can find all over southern California. Did I dine on a lot of Kung Pao Chicken? Sure. Was I crazy about it? Eh.
Welcome to India, auntie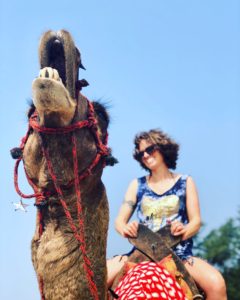 I had no idea what Indo-Chinese food even was before 2016 when we traveled to Bangalore, the silicon valley of India, for the first time and spent a month living in a rented apartment in Kammanahalli. Yes, many evenings we ordered fresh and oh-so-spicy Indo-Chinese food delivered right to our doorstep. I had never in my life spent time living in a metropolis city and having food delivered any time of day or night just seemed like such a kooky thing for this mountain girl from a town of two thousand people. But I embraced that month living in one of the biggest concrete jungles in southern India and the Indo-Chinese food that came with it. (And perhaps too much butter chicken and more than a few wholewheat flatbread rotis.)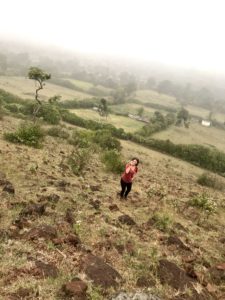 During that month in India we dined on dry roasted semolina Tamil style upma at some of the finest oceanfront cottages in Kerala (And I accidentally inhaled one of the hottest chilis of my life.) I devoured a tomato-filled channa chole for the first time at our hotel's breakfast buffet of all places and I was hooked. As soon as we came back to southern California, I knew I had to learn how to recreate this Punjabi breakfast staple in my home kitchen. One of the best meals I had our entire stay in southern India was on a day we were out shopping for souvenirs on Commercial Street one of the oldest and busiest shopping centers in Bangalore. Starving, after hours of bargaining over the very best prices for kurtis to take home to my American girlfriends we fell into a roadside restaurant and I ordered crab ghee roast. And my culinary adventures (And possibly my waistline) would never be the same. As I sucked out the roasted spices from the tender crab legs I knew I had to learn to make this exotic yet simple dish when we came back to America. (And this is why I insist on purchasing only recycled fashion as nice clothes would be splattered in delicious ghee after a lunch of sucking the buttery meat out of crab legs) Mangalorean ghee roast is a dish you would never find on a menu anywhere in the United States. This Kundapur style dish may be more famously made with chicken thighs but I had it with seafood in the state of Karnataka and now I'm officially hooked.
Living in southern California, I might reside in a resort town but you would think I could drive to Los Angeles, a hop skip and a two-hour jump down Los Angles freeways and get some spicy Chili Paneer. Nope.
Panda Express is about as ethnic as So Cal Chinese food gets
Now, as much as I love me some Honey Walnut Shrimp from Panda Express. that is not authentic Chinese food bro! You can't find anything like Indo-Chinese food in southern California even if you drive to Los Angeles's little India (Artesia six miles to the west of Knott's Berry Farm and twenty-three miles from LAX) As multicultural as Los Angeles is, Indo-Chinese food is just not something you can find from Santa Monica to west Hollywood and beyond.
What I love about worldwide travel is the plethora of exotic foods you can discover. Grab your passport, step on an airplane, and get ready to devour some goat's brains! I mean seriously, Hydrabad's spicy mutton Bheja Fry is literally mind-blowing. The culinary DNA you find in Indian cities like Bangalore has morphed in the last thirty years, that is for damn sure. Yes, you can still find Bheja Fry on any menu in Mumbai but now you can also find Indo-Chinese dishes like before mentioned Adrian's favorite Chile Chicken.
Right around the time of Y2K Hakka speaking Chinese migrated to the city now known as Calcutta (Where my boyfriend's mother was born eighty-five years ago) These migrates soon moved on to cities like Bangalore, the big tech-boom city in the heart of the state of Karnataka. One thing big city techies adore is good food, delivered straight to your door.
Welcome to Bengaluru and welcome to Indo-Chinese Cusine!
Right where we stayed in the heart of Bangalore in 2016 we might have been in the heart of the concrete jungle but we were also in the deep depths of foodie fusion. All those long-ago migrants to India adapted their Chinese food to support the spice life. They changed the flavors of their Chinese dishes to the tastes of Anglo-Indians merging soy sauce and chili paste with garlic ginger and definitely don't forget those spicy chiles! Forget the garam masala, deep fry some Gobi (cauliflower) with a cornstarch batter. This culinary phenomenon would soon b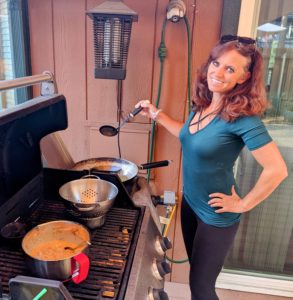 ecome a south Indian fusion delicacy. Fried food-inspired fusion like Cauliflower Manchurian was created and a new slightly Cantonese cuisine was born.
Indo-Chinese is now counted as to most Anglo-Indians as their favorite "foreign" cuisine. It's way easier while walking the streets of Bangalore to find a delectable Indo-Chinese eatery than a Thai restaurant. Unlike bland Cantonese cuisine, you can find at any $6.99 all-you-can-eat Chinese buffet in southern California Indo-Chinese dishes are bursting with flavor and yes, spice.
The best fish balls in Hong Kong
Cantonese food tends to be very bland as we found out that one week we were on holiday in Hong Kong. I mean that one time I got lost in Hong Kong. At night. My mistake was telling my boyfriend I would meet him at McDonald's. There are only like fifteen McDonalds in all of Hong Kong. Add in the fact that all the maps on my iPhone were in Chinese characters. It made for a very confusing time. I have to say I was more panicked about being lost in Hong Kong at night than when I was lost in Tijuana at night. Thank God I eventually became unlost and drowned my sorrows in Hong Kong fish balls (Which were one of the tastiest regional treats I enjoyed in Hong Kong that week)
The food in Hong Kong was just blah and I don't understand why they have to drown all their lobsters in cheese sauce. A slight holiday away in Hong Kong and trying all kinds of bland Cantonese food was a worldwide travel experience for sure. I was just expecting more pungent sauces after all the Indo-Chinese deliciousness we discovered on the streets of Bangalore. So now that we are back in the good old U.S. of A how do I create great Indo-Chinese dishes in my home kitchen at 7,00 feet?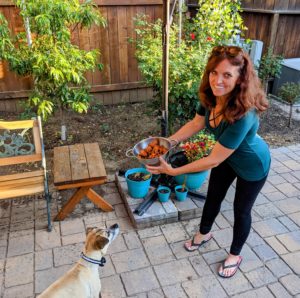 Have plenty of Chinese veggies and thickening agents like cornstarch on hand and prepare all your pungent sauces ahead of time before you break out your favorite wok. Here is a fantastic tip for summertime Indo-Chinese dinners; Why heat up your whole house slaving away over the stove just to make delicious chile chicken in August? Move your soy sauce and sesame oil to the backyard and whip this baby up on the stovetop of your BBQ grill! Don't forget your wok to stirfry the whole delicious mess!
The big question with Chile Chicken is should you add extra gravy? Should you make a wet or dry Chile Chicken? The first time I made this I made a lot of gravy. Although I've loved this dish at restaurants with tons of gravy, cooking this dish at home I felt like the cornstarch made the gravy too thick and sloppy.
Indo-Chinese Chile Chicken
Chile chicken batter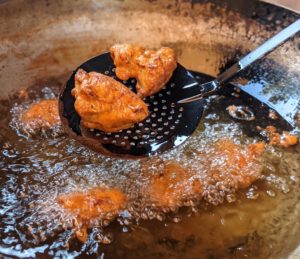 1 pound chicken thighs, cut into bite-size pieces
2 teaspoons soy sauce
2 teaspoons chili sauce
1 teaspoon chili powder
6 teaspoons corn starch
2 eggs
2 teaspoons white pepper, ground
Mix the Chile chicken batter. Add the cut-up chicken thighs. Let refrigerate 15 minutes to one hour. Fry the chicken pieces in the canola oil. Set aside while you cook the onion pieces and serrano chili in the sesame oil. Remove the serrano chili. Cut up when cool and return to the wok. Add the additional 1 teaspoon of each minced garlic and ginger. Add the celery and water chestnuts. Stir fry for two minutes then add the chile chicken sauce. Stir fry for two minutes then serve over the cooked chicken pieces and cooked cho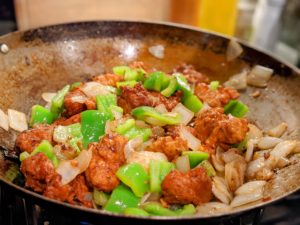 w mein noodles.
Everything else you need for this delicious dish…
3 teaspoons sesame oil
3 cups canola oil (For frying)
1 teaspoon minced garlic
1 teaspoon minced ginger
2 small white onions, chopped in bite-size pieces
2 green capsicum (Bell peppers) Cute into bite-sized pieces
1/2 cup celery stalks, cut into bite-size pieces
1 small can water chestnuts
1 small serrano chili, cut in half
Chow mein noodles
Chile chicken sauce
2 teaspoons ketchup
1 teaspoon chili sauce1 teaspoon honey
1/2 teaspoon white vinegar
2 teaspoons soy sauce
3 teaspoons water
Whisk together the Chile Chicken sauce ingredients.