I love my small town life so much. Truth be told I am kind of obsessed with this small town living, rural way of life. I'm sitting on my front porch in yoga pants wearing my new super comfy Ugg boots and covered in all my loveable cats. Of course I'm sipping a vanilla finding tea latte made just a little creamy with coconut cream. This is such a zen moment for me, we'll besides this one random mosquito who keeps buzzing around my face. Doesn't he knew its fall and mosquits should be gone at this point? Obviously the lazy purring feline saying next to me, practically snugged into. Y arm pit is no hep at all when it comes to being a killer of insects at the moment.
This moment is so zen and ultimate relaxation that it kills me to think I have to drive two hours to the city in the valley below and my dream job tomorrow. All my life all I wanted was to work in the horse racing industry and now that I have a job at Santa Anita I am having the time of y life! Yet being in the city for a few days at a time makes me ache for my home out in the rural mountains.
Sure there is a Whole Foods half a mile from my work place and I can now buy all the organic cheeses, sour beers and seasons be organic veggies that I want on a weekly baises. Twice a week as I send my days teaching other South Californians about one f my passions, thoroubred race horses I am havvinthe time of my life.
But half of my heart is in my little mountain towns. My legscan't wait to get back and run my favorite trails as the ferns turn from green to orange to gold on the shores of Bluff Lake, miles up a dirt road only I seem to know about. My fingers can't wait to pull fresh skierming trot from our streams and lakes on cold crisp autumn mornings.
And my mind just craves the peace and tranquility that my mountain home provides.
This is the kind of vegan autumn favorite that I love to cook up in my cabins little kitchen.
Caramelized Curried Acorn Squash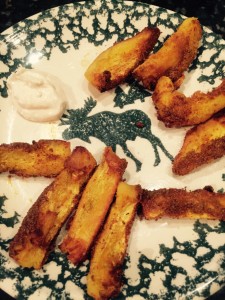 1 acorn squash
1 tablespoon madras curry powder
1 tablespoon turmeric
1 tablespoon brown sugar
1 tablespoon coconut oil
1 tablespoon chili powder
1/2 teaspoon sea salt
Cut the squash in half and scoop out the seeds.
Place on a baking tray and use a pastry brush to brush with the coconut oil. Bake at 375 for thirty minutes. Remove the squash from the oven.
Mix the curry powder, brown sugar, turmeric, chili powder and salt.
Sprinkle this mixture back over the squash and bake an additional 20-25 minutes until the squash is tender and the sugar has begun to caramelize but not burn.
To make this into an entire meal; stuff the peppers with a mixture of cooked brown rice, ground turkey (or ground up veggie meatballs for a vegetarian version) and golden raisins)