I am so very lucky in that I only have been car sick one time in my life. It was the very first time I entered the San Bernardino Mountains and those mountains took my motion sickness virginity. If only I had known in 1985 how much ginger helps combat nausea. When I was five years old my family moved to the rural mountains from the ghetto of La Habra, California, located in the smoggy valley six thousand feet below the pine trees and mountain passes. Never heard of La Habra? Don't worry, most people in Southern California have not either. It's located in north eastern Orange County, it's kind of the arm pit of nicer towns like Fullerton or Brea. In 1839 it was ranch land where cattle and horses grazed ( not gang members, circa 2012) and named Rancho Canada de La Habra, a pass through the hills. The pass refers to La Habra Heights to the North the nearest access to any freeway nearby. ( The 60, ten miles away) Seriously where else in Southern California can you have a city that is ten miles from any of the nearest freeways? It might have been way off the beaten path but least we had the last Dunkin Donuts in Southern California and a Tommy's Famous Burgers. Yes, these were the only two redeeming features of life in La Habra. In 1985 when my entire family; uncles, aunts, grandparents, etc all decided to migrate east to the mountains and a better quality of life our lives would forever be changed for the better. But first the mountain had to make me her bitch. Yes, this meant puking in a turn out like I mock so many "flatlanders" for doing now. This is my confession; I was a flatlander once. I was five years old, it was the summer of 1985 and I loved My Little Ponies. I thought the mountains were pretty as I sat strapped into the back row of my Dad's lifted Ford Van as we made our way through the Arctic Circle on the way to Big Bear, exploring the mountain roads for the first time. If my Dad was driving as fast as he does these days that would explain why my stomach was churning. This would be the only time in my life I would ever get car sick.
As I drove the familiar twists and turns of Highway 18 on the this winters day and made my way towards Big Bear Dam in the snow I can still remember the very first time I came up the mountains in a 1980's Ford Van, and than we had to pull over so I could hurl. I remember how shear the mountains cliffs and drop offs seemed and also how terrifying it was.
Puking on the side of the road on the way to Big Bear and our families new life in the mountains is one of my very first memories.
It would have been helpful if we had some candied ginger along for me to chew on but the hippie adults in my family where more into 1980's van clubs and my Dad's obsession with country group Alabama than natural nausea remedies like ginger.
You probably don't want to eat these cookies if you are car sick; even though they are chock full of delicious candied ginger, but they are awesome any other day of the week.


Candied Ginger Oatmeal Cookies


1/2 cup Coconut oil
1/3 cup Brown sugar
1/3 cup Organic sugar
1 Egg, room temp
1 tsp vanilla
1 tsp baking soda
3/4 cup Whole wheat flour
1 1/2 cups ginger granola cereal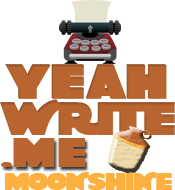 Melt the coconut oil. In a mixing bowl beat the sugars with the coconut oil.
Add the egg and vanilla.
Mix in the baking soda and whole wheat flour. Add the granola last. If the dough is to sandy, add a few drops of almond milk to tie it together.
Form the cookies into balls, place on a baking tray and bake at 375 for 6-9 minutes depending on how well done a cookie you prefer.
Linking up this week over at the Yeah Write Moonshine Grid
for yet another weekend of sharing writing with other bloggers!