Of all the things hidden down in the deep depths of our stand-alone freezer when I was a kid, buffalo was not one of them. That old stinky 80's freezer may have been full of thirty frozen Whoppers from Burger King after the great Whopper sale of '89 but anything healthy and normal like ground buffalo I can guarantee you would not find. A dead rattlesnake? Yes, probably. A jackalope? If my dad found a jackalope at the dump then there was a distinct possibility into the deep freezer it would go. Of course, this was the 80's and ground buffalo was not a trendy version of beef yet. (But jackalopes, I guess were trendy as I recall seeing quite a few of these mounted heads throughout my childhood before my mom accidentally "threw them out")
What kind of carcas is that?

The first thing my brother said to me this morning was "Don't you remember the dead owl dad found when we were kids?" No. I can absolutely say that I cannot remember a dead owl in our freezer on the back porch. I feel like while digging around for chicken breasts or hamburger from Price Club I would have remembered if there was a frozen owl carcass. I would ask my mom about this but last time I asked her about the time we ate defrosted slimy burgers from Burger King for an entire summer she seemed to have blocked out most of the eighties with my father.
I mean there were good times in the eighties too. Like the time my dad brought home the beast of a raised nineties Ford Bronco and we went off-roading on nearly every abandoned dirt logging road in the San Bernardino Mountains. We took the top off the Bronco and I remember us kids were strapped in the backseat of the topless Bronco on summer days flying down deserted mountain logging roads. For one very short summer until my dad realized the Bronco was impossible to smog and then it went the way of La Bomba the 1969 Plymouth and the 1967 Dodge three-quarter-ton pickup truck.
A year ago my dad decided to buy Junker John, an old cop car that turned out to have engine problems so massive it was impossible to salvage. The engine was the big issue but then at one point, the windows stopped working completely and unfortunately got stuck down. (When this happened for the first time dad was leaving Walmart, talking to me on the phone as a thunderstorm was starting and it was starting to hail on him and Junker John. He refused to hang up the phone as he started driving back towards our mountain home and I remember being on the phone with him as he was being pelted with hail. I told him maybe he should hang up the phone and concentrate on the winding mountain road but dad felt that talking to me on the phone during a torrential downpour was more important.
That was the day the windows never went up again on Junker John and also the same day the family of raccoons moved into their new Crown Vic home. My dad swears the raccoons never made Junker John their home but I swear someone told me, this probably my mom. Talking to dad on the phone today he was still reminiscing about how great of a vehicle Junker John was (I mean besides the cracked intake manifold and the raccoon family that dug up the seats to make a nest and the windows that never went back up.) My dad was bragging to me today that Junker John was so comfortable that he could easily seat eight people inside and I seriously wanted to interrupt him and say "Eight people and how many raccoons?"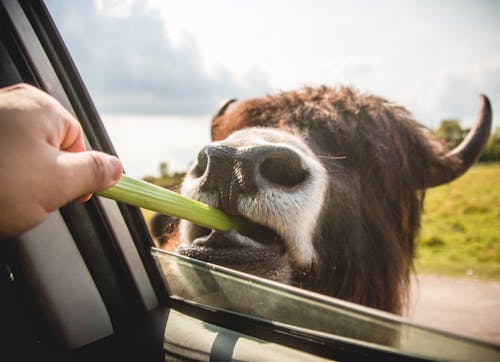 When he's not making friends with raccoon families or rescuing junked taxidermy projects from the dump, my dad is concentrating on his keto diet. My dad has lost nearly one hundred pounds in the last year doing keto. For some people, keto is just a fantastic lifestyle changer. There are so many fantastic keto recipes and yes, a lot of them involve ground buffalo or buffalo sauce like my delicious Buffalo Chicken Stuffed Jalapeno Poppers.
If you are on the keto craze like we are or just like to follow a low-carb diet full of healthy veggies, I recommend serving this next to my awesome Cauliflower Fried Rice.
Bol Kogi Sloppy Joes, Keto Style
1/2 a red onion, diced into very small pieces
1 teaspoon chili oil
1 teaspoon ground fresh garlic
1 teaspoon grated fresh ginger
1 pound ground buffalo
4 mini bell peppers sliced thin
4 shiitake mushrooms, sliced thin
3 teaspoons Bol Kogi sauce
In a saucepan, cook the red onions until well browned in the chili oil. Add the garlic and the ginger and cook for three minutes just until cooked. Remove this from the heat for five minutes. Blitz in a food processer. Return to the stovetop. Add in the mushrooms and the bell peppers. Stir in the ground buffalo and stir until cooked. Break up the meat with your spoon as you are stir-frying it. Stir-fry in the Bol Kogi sauce. Serve over your favorite fried rice or Cauliflower Fried Rice.