Shop Til You Drop In Big Bear Lake
You wouldn't expect to find an outdoor mall or a Bloomingdale's in a small mountain town like Big Bear Lake "But where can you go Big Bear shopping?" Friends have asked as they come to visit our unique mountain town. Why, no we do not have a Nordstrom or a Sprout's market at six thousand feet but we do have miles of pine forest, crisp blue skies, bald eagles that call this mountain range their home and a crystal clear lake full of trout. This is life in Big Bear Lake. I grew up in one of these mountain towns, fifteen miles to the west as the crow flies and getting a chance to get off the mountain and go to the "Real stores" used to be a big thing in the nineties. It was a big deal that one day a month my parents took us to Costco!
Luckily Big Bear shopping is not that convoluted. We have some great gift shops you can check out in Big Bear Village. They sell everything from Big Bear t-shirts, to coffee mugs to even Big Bear brand beef jerky. One of the best village shopping experiences is a stop at the Big Bear House of Jerky. I love their venison or elk jerky. If you are on holiday in our resort town, the best village shopping time is the winter months when the village is decorated with Christmas lights and with a coat of fresh snow, it's a very pretty shopping experience. We even have a team of carriage horses you can take rides with to the different shops.
When I think about Big Bear shopping, I obviously think of our big box stores first. We have Von's and Stater Brothers here in Big Bear Lake for all your grocery needs. That is basically it for food choices. In this world we live in today, where so many families come to vacation towns and rent cabins with kitchens, families plan to cook at home. It's good to know in advance if you plan to do Big Bear shopping, you won't find duck eggs or organic kimchee in our small town supermarkets. For this reasoning, I recommend when friends travel to Big Bear Lake to stock up at Whole Foods or Trader Joe's in the valley below for all your health foods or specific fancy food needs. Big Bear does, however, have an awesome farmers market from April through November. Our farmers market is so popular in this small town. I think the reason behind that is Big Bear shopping is not like what you will find in the big cities. We kind of like it that way. We don't have the big box stores like Walmart, Target or Trader Joe's here because those really would take away from our small-town feel.
The best bike shop in Big Bear Lake
So we don't have a trendy Sephora or REI up here in Big Bear Lake. What do we have for your shopping needs? Here in Big Bear Lake for your outdoor enthusiast's shopping needs, we have an awesome small-town bike shop, Bear Valley Bikes. Bear Valley Bikes has such fantastic customer service. I bought my Cannondale mountain bike from them three years ago. In Big Bear shopping for a mountain bike for me was a fantastic experience going through this local family-owned company. Every time I have gone into Bear Valley Bikes to have my bike serviced they have done a fantastic job.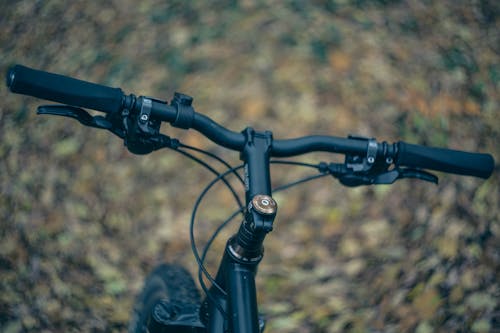 Shopping tips for your green thumb
I have a confession to make. I am a plant hoarder. Of all our shopping in Big Bear Lake, I spend most of my paycheck at Hunter's nursery. My boyfriend and I tend to stop by there at least once a week once the weather starts to warm up in springtime. Once it's mid-April you can see us prowling around the plants at Hunter's, checking out the flowers, the veggies and the fruit trees and dreaming of what our garden will look like mid-July. We also love that this family-owned business gives Big Bear locals a discount.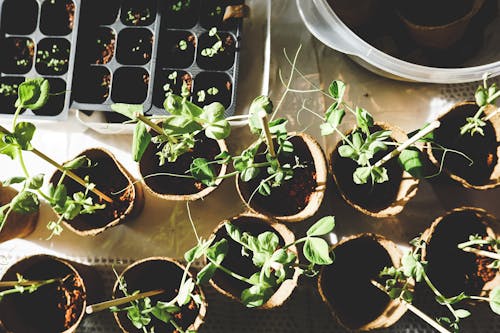 Most people who come to Big Bear on holiday are looking for souvenirs. A little known secret for souvenir shopping in Big Bear Lake is our local DIY hardware store. They have the best Big Bear bumper stickers, coffee mugs, and decorations. Our Big Bear DIY is also a mecca for plants at great prices, home decor that is not mega expensive and seeds for the garden for springtime. And of course, I love that my pup is invited to join me shopping there (And the employees always give her a treat when we shop here)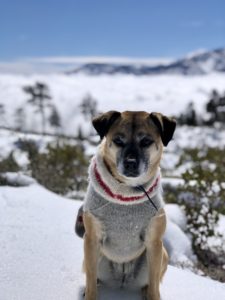 Big Bear shopping at it's finest!
Next door to the DIY is Petco, which is new to the Big Bear shopping scene. It is really nice to have a big pet store in our small town so I can get all the pet supplies I could possibly need in one store; A new collar for the dog, cat grass for the indoor cats and extremely fancy food for our senior citizen cat with the digestive issues. My pup obviously loves going with me to shop at Petco and basically will start to have a meltdown as soon as we drive into their parking lot. Shopping for your pet in Big Bear Lake does not end with Petco! When speaking about the best village shopping I have got to mention Oliver's Emporium! Oliver's Emporium has the best doggy sweaters and some awesome gifts for all your furry friends at home.
Are you a foodie like me? If you are, then you have to stop and shop at the Copper Que in the Big Bear Village. The Copper Que's homebrew is roasted by local Wild Goose Coffee. (I recommend purchasing some beans to take home in your luggage) If you are looking at Big Bear shopping, the Copper Que also has fantastic jalapeno jam and other gourmet jellies plus so many unique kitchen gift ideas. Oh, and they also make their delicious marshmallows in the house. (You might also want to buy those to take home) If you had to ask me one store, for best village shopping, I would tell you to for sure stop at the Copper Que. They even teach culinary classes at the Copper Que to all you foodies out there!
A small mountain town like Big Bear Lake may not have the big city shopping like you are used to but we have some great shops for a small town. We even have a 99 cents store now and they have fantastic Christmas, fall and basically every holiday decorations. I bought my favorite wine glasses here for less than a dollar! When on holiday in Big Bear, shopping is a must before you return home to the cities below. Being a remote mountain town, you kind of have to go with the flow here. You might not be able to find organic walnuts, coconut flour or True Religion jeans but we do have a farmers market with the best local produce, and what is better than that?