Hey, hiker babe gals!
I just trekked down from Whitney Portal after three days of hijinks and shenanigans at super high elevations; Mt Whitney and Meysan Lakes. I've basically been a ball of stress the last few days, pretty much every moment that I have not been hiking and sweating my way up mountains. (I may have spent a fair amount of time on my feet in my now destroyed by the outdoors Saucony trail runners, in the past few day)
Calamity number one had to be attempting to park our 34 foot RV in a teeny tiny sliver of a parking space at Whitney Portal. Take my advice, dear friends. Never, ever attempt to RV it in a 34 foot RV at the Portal. Nearly every camper we spoke to were very impressed with our creativity with jamming our Fleetwood RV into a thirty foot camping space but the stress, oh the stress. Stormy the RV hates Mt Whitney Portal; As in, after driving 16 miles basically straight up hill, the Portal Road the RV started spewing transmission fluid everywhere; This was after we just managed to wedge the RV into the steepest tiniest camping spot you could ever imagine. It basically looked like the RV was bleeding out and could be the end and how the hell were we going to tow it out of here and continue this vacation that was a year in the making, planning wise.
This was the point where I may have said
"I need a beer"
Most hikers at the point may have said "Let's pay $400 to tow this baby safely to a shop in Lone Pine" But not us! We had Summit Fever, so my sweetheart, Adrian decided if we let the RV transmission cool overnight maybe the transmission fluid was just overfilled and it was overheating a bit and tomorrow things may be more workable. And we also had summit fever and needed to calm down and go to bed in two hours so we could be hitting the trail at daybreak.
Meanwhile, Debbie showed up and set up her tent at our campsite and we all went to bed before dark, ready to tackle the very snowy and imposing Mt Whitney Trail in the a.m.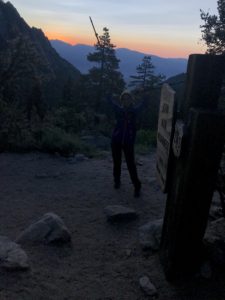 Debbie woke up before dawn and left around 4:30. Adrian and I joined her on the trail about 5:30. We hit Lone Pine Lake well after sunrise and after that crossed a few simple snowfields.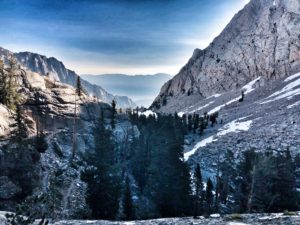 Although we have been training for this hike for the past eight months I felt exhausted and so out of it athlete wise. Then we saw a pheasant mama and babies and they were pretty cute (And I got a little more energy)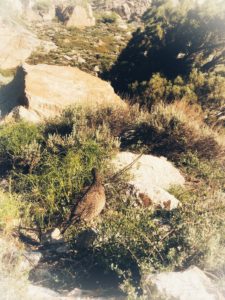 Right after Outpost Camp the snowfields began in earnest as we approached Trail Meadows.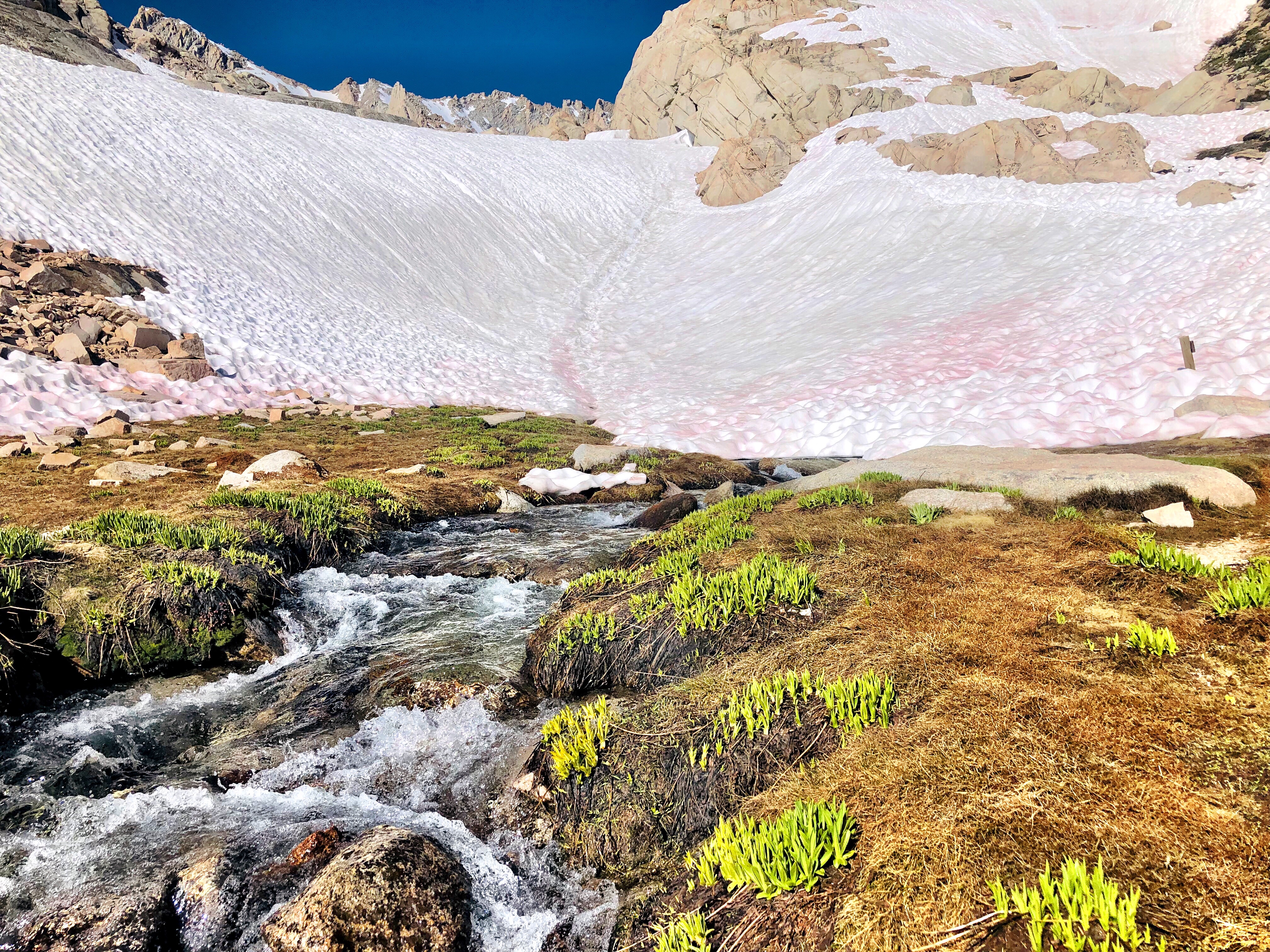 The trail cut through the switchbacks straight up a snowfield. Now I've hiked past here four times, I know the trail, I should have said, duh the trail is to the right but I was utterly exhausted so I just followed Adrian's shapely brown calves up about a five hundred elevation gain snowfield. Then we realized the trail was super sketchy to meet up with the other switchbacks and plus we could see the trail we should have been on a quarter-mile away.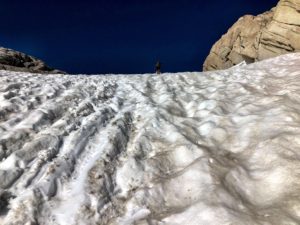 Poop.
So we backtracked back down the snow field to the actual trail. We lost about forty-five minutes of our summit time in all this.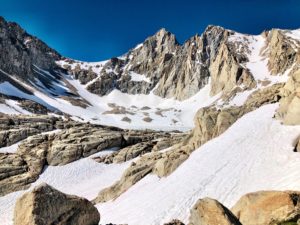 That forty five minutes cost us timewise. We had fallen way behind our safe turn around time. The snow was getting squishy and melting and we were starting to post hole.
So we get back on the trail, cross multiple snowy switchbacks to get up to THE MARMOTS finally and approach Consultation Lake which was mostly frozen and unbelievably gorgeous and also Trail Camp. Then we attempted to see the switchbacks up ahead as we had lunch.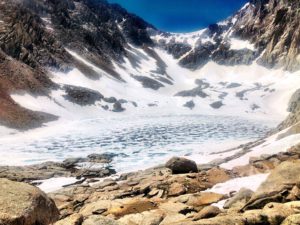 Where on earth were those ninety-nine switchbacks? The mountain going up was about sixty-five percent snow and looked very rugged. Adrian wanted to turn around right there. I wanted to get to Trail Crest.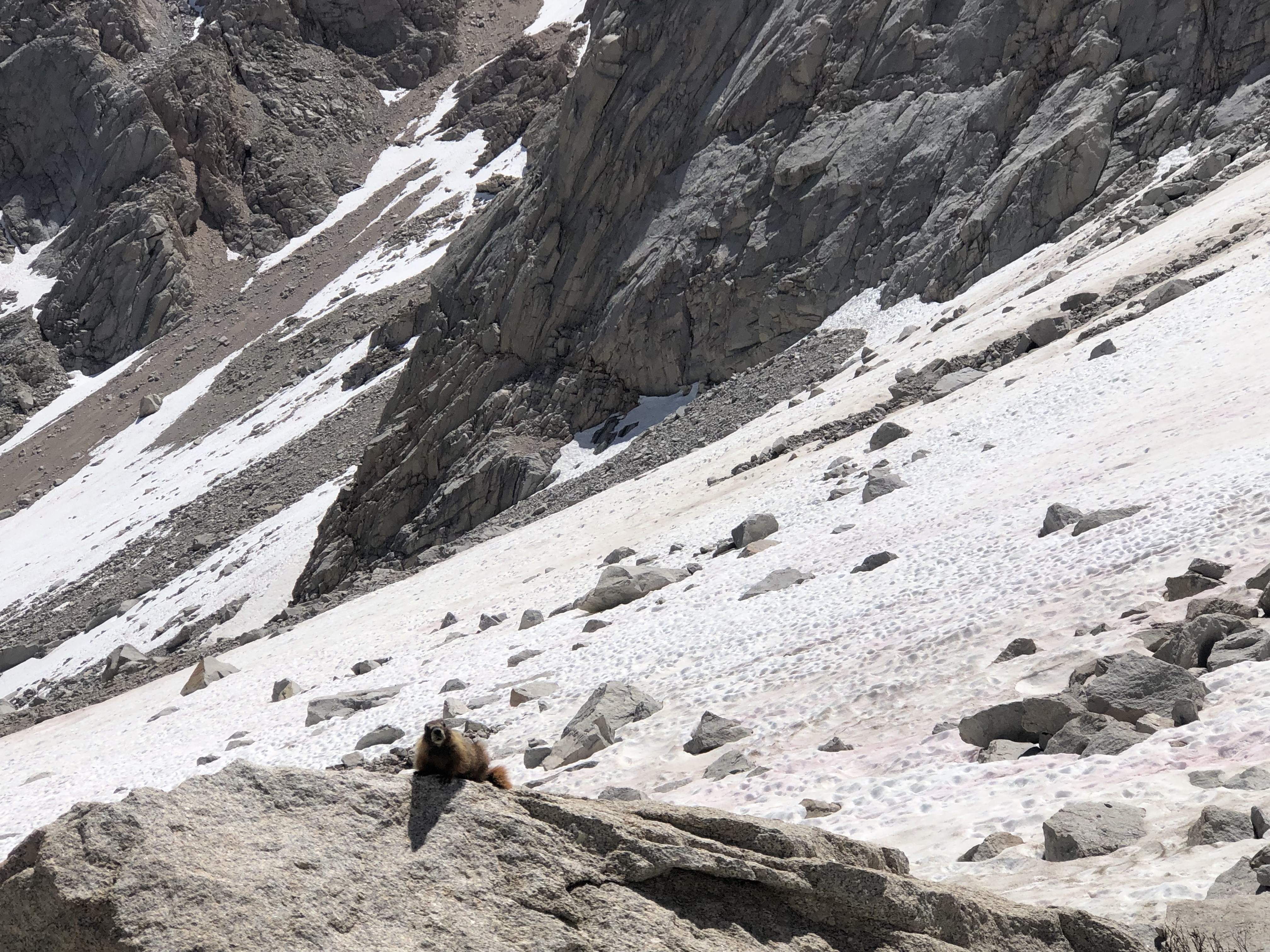 We decided to try the switchbacks and just see how hard it was. This was about 10:30 by the time we started up the switchbacks and two hundred pound Adrian was post-holing like crazy. It was not safety doable. We had heard a rumor that Debbie had trekked through an hour ago so she was not to far ahead of us but the snow was getting slushier by the moment and we made a great decision to turn around and summit another day.
But first I took a selfie with a marmot.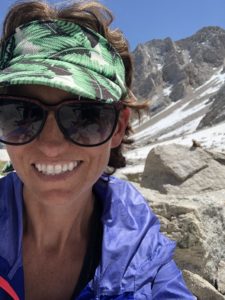 Meanwhile Debbie made a great new friend; A girl who had just come off of summiting Denali the past two weeks. Her new friend helped her summit and her tales of it are completely wild… Going through the cables on her belly to safely make it across and watching another hiker almost get pulled over the side of the mountain by his crazy heavy pack. So what I am trying to say, is summiting this year in early July is intense and not recommended unless you have a mountaineering expert at your side!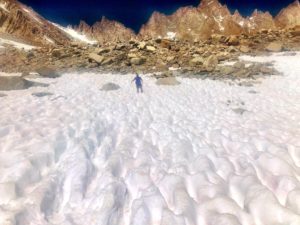 All in a day of summiting (Or trying to) Mt Whitney!
Some crazy things about Mt Whitney 2019;
I have never seen so very few people on the trail! Debbie was one of maybe six day hikers who managed to summit on Monday July 8th. I think Adrian and I might have passed thirty five people on the trail all day (And ten of those were day hikers headed for Lone Pine Lake)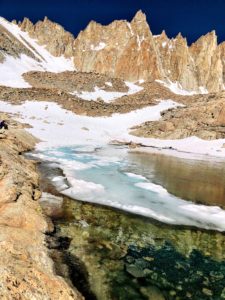 The trail was absolutely deserted. It was weird. Which is quite perfect for those awkward wagbag moments and also skinny dipping in Lone Pine Lake.
The mosquitoes were intense! Did we get on the trail the very moment that the hatch began? Crazy to see bugs like that at Whitney Portal and on the trail! Debbie has summited the mountain fourteen times and never encountered mosquitoes in the Whitney Zone!
Two people were air rescued during our day on the Mt Whitney Trail. Nearly every soul we talked to as we trekked up the mountain had never hiked in the Whitney Zone before, everyone we talked to had never even used their ice ax before. A lot of the hikers we saw were not part of the Mt Whitney Facebook group; They missed out on A LOT of valuable info not being in the group. All the over nighters I spoke to had NO idea of the snow conditions nearing Trail Camp. And all had no idea they needed to start their treks next day to summit early a.m. before the snowmelt started and they were post holing like crazy. We talked to one group of overnighters who had also tried, unsuccessfully, to summit the day before, and they told us the snowmelt off on Monday was vastly more then it had been on Sunday.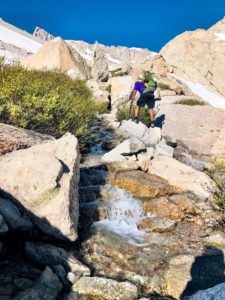 We had an easy and very warm trek back down to the angry RV, with many selfies with marmots and just a little skinny dipping in a random lake. Did I mention there was NO ONE on the trail? Adrian and I made it back to camp before three and Debbie summited and made it back before 8 (I think, it was getting dark) There were some really weird things about Mt Whitney 2019; Like the Portal campsite was deserted and the trail was nearly empty. I knew a lot of people were giving permits away because of the crazy amounts of snow this year but it was shocking to see so few people on the trail. It was also shocking to see how many people were trying to glissade down the melting mountain with literally rivers running under the snow and rocks poking up into the snow fields. Surprising we only saw two SAR helicopter rescues actually.
So after doing an intense hike on Monday you would think we were ready to rest the very next day, right? Um no. Tuesday we woke up sore and ready to climb more mountains!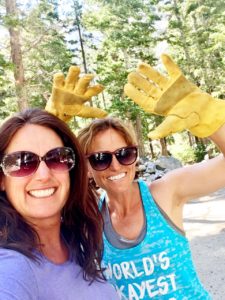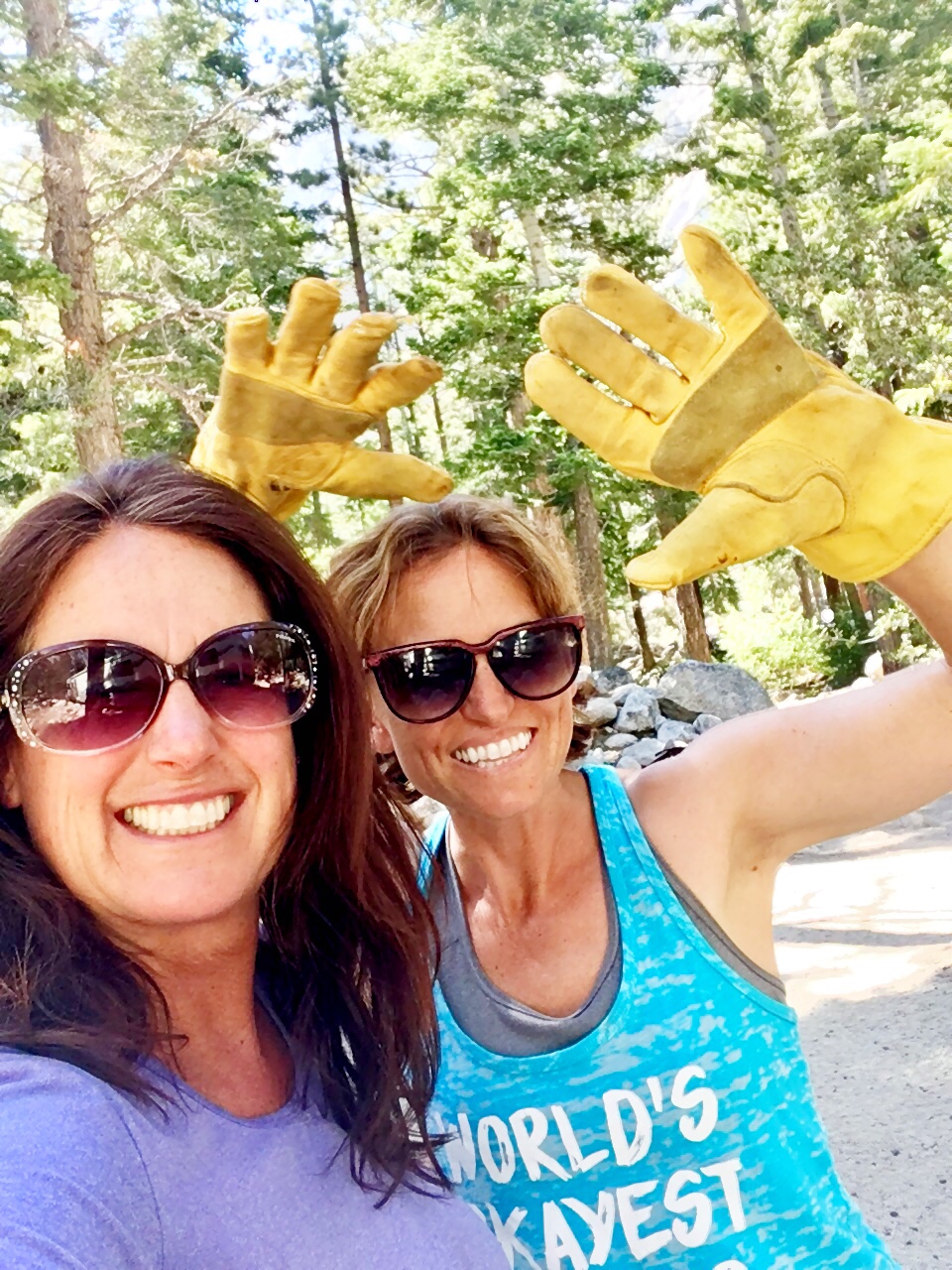 Meanwhile, Adrian was on his way to Lone Pine to talk to a mechanic and Amber and Debbie got a bee in their bonnet to summit Meysan Lakes.
It was that damn Summit Fever again! It's contagious!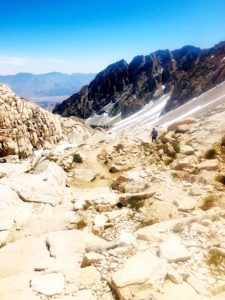 So yes, less then twenty four hours after summiting Mt Whitney in the snowiest year in forever, Amber and Debbie were powering up hundreds of switchbacks in the hot sun on their way to the Meysan Lakes. Literally a six hour hike; Mostly in the hot, hot sun, with nearly 4,000 foot elevation gain. I had hiked Meysan Lakes with Adrian four years prior and I remember it being super hard because we started the hike at nine (Debbie and I started at 7:30) and my bladder exploded halfway up the trail ( Not my pee pee bladder; My Camelbak bladder)
Looking back now I think I blocked out most of the memories of that trip up to Meysan Lakes just because it was so steep, endless switchbacks and ridiculous hard. And imagine doing that less then a day after one of us summited Mt Whitney and one of us pooped out on the switchbacks. (P.S. I saved Debbies number just now in my phone, as Bad Ass Debbie)
We made it to Grass Lake, anyways, a mile from Meysan Lakes. It literally took us three and a half hours, going at a fast pace, to hike almost five miles to Grass Lake. A friendly hiker dude told us Meysan Lakes was still buried under snow and we were happy with our decision to turn back. Meysan Lakes may have been more intense then Mt Whitney, seriously.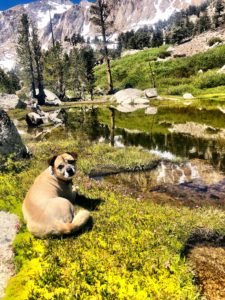 Back at camp finally and with a cold barley flavored beverage in my hand, I decided the only way I can continue being "An RVer" is by getting a prescription to Xanax.
So in a nutshell; That was our Mt Whitney 2019 trek! The RV hates us and Debbie is a bad ass. And my Calves, quads and hamstrings are killing me and I need a cheese burger.