Do you ever have one of those days where everything hurts and I'm dying? Oh and also none of the animals will stop farting? My dog literally shit four times on our tour of Lake Arrowhead today; Please tell me how she is still the smelliest asshole around? After a morning out on the trails all over these mountains by the end of this crazy day I could sure as hell go for some keto chow mein. If it's a Monday in May you might find me trekking some trails between Lake Arrowhead and Big Bear, laying down in the dirt to get great shots of all the pinkish-white Brittle Brush flowers or first fiery red penstemon of the season. Or maybe I just stopped to do a few trailside burpees because for the love of God, I have to get back into shape sometime soon. I'm so serious about getting back into shape I've even started stopping in fields of Grape Soda Lupine this wildflower season to do a set of crunches. (Not crushing any wildflowers obviously) Getting back on track with our keto meal plans truly helps our family feel like we are on the road back to healthy fitness.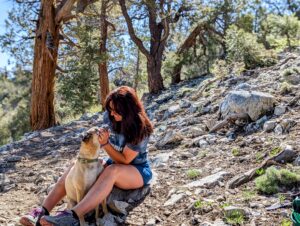 Keto Chow Mein? Yes, please
After an eight-mile hike with one mile of jogging very slowly thrown in for good measure, I would just love to chow down on some delicious Asian noodles. But I can't. Because I am trying my best to be Keto AF. After okay let's face it, more than a month of not doing keto it's hard not to have a margarita on a sunny spring evening. Or say no to that whole-grain bagel with homemade salmon lox in the a.m. Oh grapefruits, why are you so sweet, juicy and full of natural sugars? As much as I would love to just chomp down on some tortilla chips and guacamole, how about a healthy dinner of keto chow mein with sliced rib eye and broccoli instead? I swear this simple dish is so delicious, that you won't miss the extra carbs.
Keto witchcraft carbs? WTF?
The key to creating the most delicious and yes, even low carb Asian dinners at home is using low carb shirataki noodles. So just what the hell are shirataki noodles, you may be asking? Keto happy shirataki noodles are made from all that great for you fiber from the koncaj root. Never heard of it? These fiber-full noodles have been so popular in Japan for a long time now. These noodles are very filling but magically have no carbs and no calories? WTF? Sounds like witchcraft, right?
The article I came across mentioned shirataki noodles are so popular in post-pandemic 2022 you can find them at most grocery stores. I mean, that is unless you live in a resort ski town at 7,000 feet. Our resort town is so overwhelmed with all the tourists visiting and attempting to get out of the cities this entire pandemic. Our grocery stores can't even keep the staples in stock like toilet paper, potatoes and cat food. There is no way in hell you would be able to find something fancy like low carb noodles. So when I feel like whipping up some delicious low-carb Asian foods I have to stock up on all those low-carb or ethnic ingredients like sweet soy sauce, black vinegar and yes, shirataki noodles every few months when I drive to Los Angeles. When you only stock up at Costco and the ethnic grocers in the big city every two months, grocery shopping is an all-day affair that usually ends with me panicking, can I actually wedge this Costco-sized package of TP into my Subaru? I have had to dissect the package before in the crowded Costco parking lot as other shoppers glare at me for my coveted parking spot, just to get all the Costco groceries to fit in my SUV. That is life and mountain problems when you reside in a rural ski town during a global pandemic.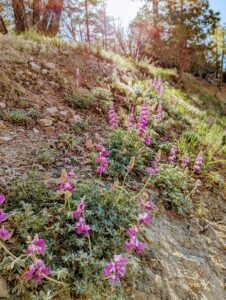 Today's rural mountain town problem was what the hell was that big ass bird? The wildflowers, tall grasses, and fragrant purple lilac make for some picturesque hikes right now in May near Lake Arrowhead and Big Bear Lake. Today while trekking in the tall grasses of early spring with my pup, I had a big ass bird flit up right in my face. It was "Yuge" as our forty-fifth president would say. It was much larger than the more common Cooper Hawk we see here in our mountains and not red like a Red-Tailed Hawk, after much research this afternoon on big ass birds of Lake Arrowhead I'm quite sure it was an adolescent bald eagle. Did you know it takes about a year and a half for bald eagles to get that full whiteness on their heads? True story.
After my busy morning of bald eagles, trailside burpees and farting bitches (My dog that is) by early evening I was so ready for some keto chow mein. Thank God this low-carb recipe is so easy to toss together.
Beef and Broccoli Keto Chow Mein
260 grams of keto noodles (I recommend brands like Healthy Noodle)
2 cups, broccolini, chopped into bite-size pieces and steamed
The delicious chili, soy and pepper beef marinade
1 pound thinly sliced ribeye
1 teaspoon sesame oil, set aside to cook the marinated ribeye in
2 teaspoons soy sauce
1 teaspoon dark soy sauce
1 teaspoon homemade hot Asian chili paste like this one
1/4 teaspoon baking soda
1 teaspoon potato starch
1 teaspoon ground white pepper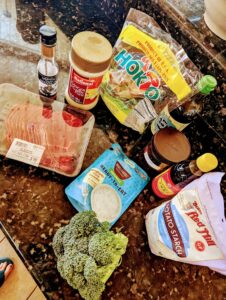 For the Ginger Garlic Oyster Sauce
2 teaspoons soy sauce
2 teaspoons dark soy sauce
1 teaspoon grated ginger
1 teaspoon grated garlic
1 teaspoon potato starch
1/4 cup water
oyster sauce
11/2 teaspoons black vinegar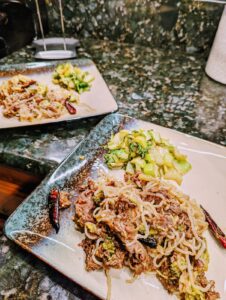 First things first; Wash your keto noodles well! So many keto noodle brands are known to, well, smell as bad as my dog. Until you rinse them. And rinse them again. I know, it may sound odd to American palets, smelly dog fart noodles but they have no carbs, right? But other countries happily eat durian fruit even though it kind of smells like ass and you should never ever open a package of durian cookies on an aerial tram. I mean not if you ever want to visit Hong Kong again.
So who is to judge me for buying smelly low-carb noodles? Just take my advice and rinse your Healthy Noodles real good as the first step in making this keto chow mein. Next mix all your ingredients for the marinade. Marinate your ribeye for at least an hour. During this time mix your ginger-garlic oyster sauce and steam your broccoli and set it aside.
In the reserved sesame oil sear the beef until almost done. Add in the ginger-garlic oyster sauce, the broccoli and then the noodles. Cook just a few minutes until the sauce thickens. Garnish with some green onions and you are ready to serve!
Not a carnivore? Instead of the beef, shred some oyster mushrooms with a fork and marinate in the "Beef marinade"