Two months ago when I resided in Bangalore India for a month there were days I ate Butter Chicken for Breakfast lunch and dinner. I'm not kidding. There were not a lot of things I loved about the hustle and bustle and cow shit filled streets of Bangalore but I loved being in a real cosmopolitan city for a month and the option of having good food delivered to your door. I never, ever saw tofu on a menu in India though.
No joke; during our Bangalore stay we ordered takeout during Cyclone Vardah as the rains pounded through Karnataka state and we sat in our nice drive apartment and enjoyed just listening to the rain.
And sipping cocktails and eating delicious spicy Indian food of course.
I ate so much butter chicken in Bangalore that my boyfriend started calling me Butter Chicken. It is not the most enduring of nicknames but when you get up at seven a.m. and attack the leftover butter chicken instead of eggs like a normal person, well maybe I deserve that.
We have been back in the states for almost two months now and until tonight we have "just said no" to Butter Chicken. Until tonight. It has been cold, windy and snowy the last two nights and that has me craving Indian food. This is a fantasia tofu version of Butter Chicken that takes me back to rainy nights in Bangalore India.
I simply adore tofu but I never eat tofu because the thought of soy sends me into a full blown panic attack.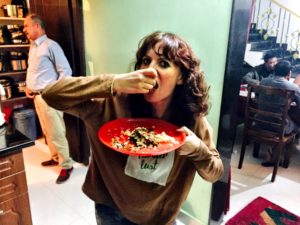 Damn you soy, and you're GMO filled cancer causing goodness! Whenever we go out for Thai food (Which is never because we live in a tiny ski resort town that does not have a Thai restaurant) my guilty pleasure is ordering a Thai curry with tofu or Pad See Ew with Tofu. This is my favorite rainy night, guilty pleasure tofu dish.
Bangalore Style "I Can't Believe It's Not Chicken" Butter Tofu
1 block high protein tofu, drained well and chopped into bite size pieces
1 red onion
2 Serrano chilies
2 tablespoons Greek yogurt
2 tablespoons tandoori seasoning ( 1 teaspoon each salt, cumin and paprika)
1 tablespoon minced garlic
1 tablespoon minced ginger
1 teaspoon garam masal
1 teaspoon cumin
1 teaspoon chili powder
1/2 cup cream
2 tomato's
1/2 cup cashews, chopped
1 cup water
4 tablespoons ghee In a food processer blend the onion and Serrano.
Set aside. Blend the tomatoes in the same food processer.
Mix the masala spices and the Greek yogurt.
Coat the tofu in the masala/ yogurt. Let marinate one to three hours.
In two tablespoons ghee cook the onions fifteen minutes until very brown. Add the garlic, ginger and spices. As it browns skowly add the water as the spices roast to thicken it. Add the tomatoes. It takes about 10-15 minutes for the spices to roast. Just keep stirring and adding more water.
In a blender grind down this paste until smooth.
In a separate wok cook the tofu in two tablespoons ghee until cooked on all sides.
Return the spice paste to the wok that has the tofu in it. Add a little more water if to thick. Continue to cook ten minutes.
Stir in the cream and than the cashews.