Get a dog they said. Get another dog they said. Take her on a hike they said. Clean up fifteen poops a day, they said (By they I mean my boyfriend) Did we really only adopt one dog? How can one dog poop so much? All the stress of adopting a new puppy has me stress-baking. Is stress-baking a thing? Or is shoving fifteen nutmeg-spiced Christmas cookies at my face completely normal?
Looking for the next great Christmas cookie? Well, this might not be it but this is a fa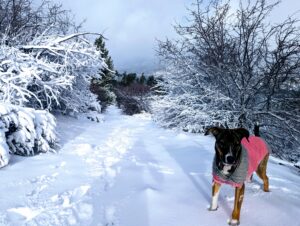 ntastic Thanksgiving cookie idea! I'm making these delicious nutmeg-spiced sugar cookies for all the kids in our family to snack on before the Thanksgiving feast while the adults are enjoying Pumpkin Spiced White Russians and Honeycrisp Sangria. Why yes, Thanksgiving hosted at my house is a diabetic coma waiting to happen. Now let's all break our pancreas and enjoy some Pecan Pie Brownies!
You could make these into a fantastic Christmas cookie idea, once Thanksgiving and autumn have come and gone by using different shades of green food coloring for these along with Christmas tree cookie cutters.
Welcome to the kitten caboodle
Now that these nutmeg-spiced Christmas cookies are in the oven, our old twelve-year-old pup is doing her part by showing the new puppy how to be polite to housecats. It's okay to lick the cat's face but we do not chase cats. This is the kind of life lesson it's taking our new pup a while to learn. Which again, leads to my stress baking. Thank you, Christmas cookies are helping me keep my sanity (But not my waistline) as the holidays are near.
A marshmallow world in the winter
The dogs are waiting, on pins an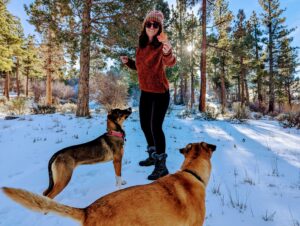 d needles and paws for the next fall hike to happen. Unfortunately for the dogs, we received a full day of pouring rain, something we rarely see in southern California in 2022. Luckily Wednesday dawned sunny and beautiful with our forest blanketed in fresh snow. It was a brand new winter wonderland adventure for a pup rescued from the streets of Mexico!
Yesterday we enjoyed the best rainy day with nothing to do but bake Apple Fritter Cake and Pumpkin Streusel Muffins for my Pop-Up Picnic guests. The puppy was very bored. When you have a bored puppy on a rainy day the cats are very annoyed. With a four-month-old puppy, they really don't understand when it rains from sunrise to sunset and as much as I adore hiking, that is the kind of day we stay home and read a good book.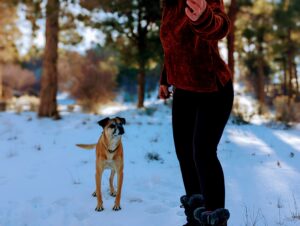 Thank God today dawned snowy and scenic. I had to get that puppy out in the snow asap. And I had to take some delicious fall colors cookies with me on the trail. Okay, this turned out to not be the easiest idea. Take two dogs who have been cooped up for one day, add one bag of delicious cookies. Mix in five inches of fresh snow and one camera tripod. It was a recipe for a photo shoot disaster! I set up the selfie, stick, and whipped out the bag of autumn spiced cookies, both dogs knocked the selfie stick over repeatedly because they were so sure those cookies were for doggos. The pups were beside themselves with giddiness to be out romping in the snow and destroying my Christmas cookie photo shoot.
These cookies are fantastic because they are one hell of an arm workout! And also they are so easy to whip up and you can do all kinds of things with this easy-to-throw-together dough.  Want to make them vegan? Use ground chia seeds instead of the eggs. A big perk of baking up these Christmas cookies is, after the dough sits in the fridge for thirty minutes the butter resolidifies and gives you one hell of an arm workout!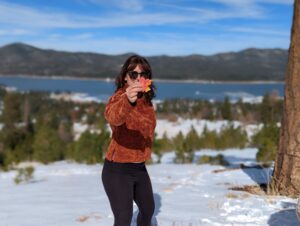 These delicious autumn sugar cookies have a few secret ingredients that I would love to share with you, my homemade Pumpkin Spice Powder and apple cider vinegar. I always add a drop or two of ACV to my cookies to give them that shiny gleam.
Autumn Spice Sugar Cookies
coconut oil, slightly warmed
3/4 cups organic sugar
1 cup brown sugar
1 teaspoon vanilla extract
1 teaspoon apple cider vinegar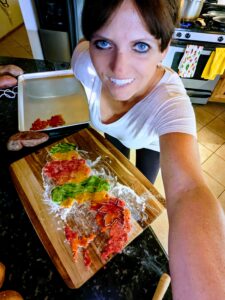 2 eggs
2 cups flour
2 cups oats, ground to a fine powder
1 teaspoon baking powder
1 teaspoon salt
1 teaspoon ground pumpkin spice powder or nutmeg
food coloring
To make these Christmas cookies, combine the coconut oil and the sugars until just whipped. Add in the vanilla extract, apple cider vinegar and the eggs. Mix in the flour, ground oats, baking powder, salt and nutmeg. Refrigerate the dough at least thirty minutes. Put the dough in four separate bowls. With the food coloring make the colors red, orange, green and yellow with the doughs. On your floured cutting board lay the doughs gently next to each other and roll out, being careful to not let the colors mix. Cut out the maple and oak leaves and bake at 350 for 9 minutes.