I could give you twenty reasons why you should adopt don't shop. Fifteen of those reasons revolve around this ding dong who was adopted from the Big Bear Animal Shelter on her last day.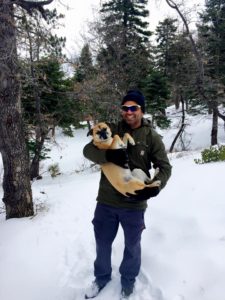 Yesterday this mutt jumped on my friends couch and tried to harass her cat with kisses. Than she jumped up and gave me a French kiss which made me want to wash out my mouth with soap because I know where her filthy lips have been recently. Two days ago she jumped on the BBQ mountain goat style and ripped our sixty dollar BBQ cover. She seriously insists on sleeping on top of the BBQ like a cougar surveying her kingdom. Maybe she has spent to much time with our house cats?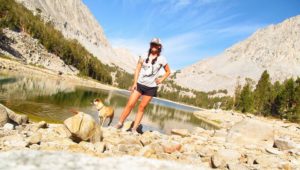 Two years ago I took her on her first camping trip. Yes, it was a girls trip, just Carly and I having girl time in the eastern sierra mountains. By girl time I don't mean pedicures and spa visits (Okay, yes, I did visit the spa at the Double Eagle which is my favorite creek side day spa on the planet) but I mean fishing in pristine mountain lakes for rainbow trout and hiking twenty miles of high sierras trails every day. Yes, I said hiking twenty miles a day and yet still, this naughty pup jumped on the picnic table every second that I turned my back every night while preparing dinner and stole food. Not only that she got into the trash every second she could manage, refused to eat her dog food for four days and than somehow broke into the glove compartment of my car while I was in Von's for three minutes and ate forty dollars worth of habanero beef jerky I bought for my boyfriend.
Than the next day she ran two miles in the opposite direction because she is apparently afraid of mules. Which was an awesome discovery. This was on the top of a mountain pass by the way and one would think by the time we spent six miles summiting a pass she would be to tired to run away from a horse like creature, but no, suddenly she was energized. At least by the time we got back she was slightly worn out, she didn't even try to chew up her indestructible dog beds but she did steal some more snacks. Lucky for us she also ate her Raw Pet Food and seemed to enjoy it, at least that's something. Overall, I think the day was a success.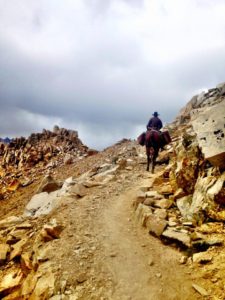 What I'm trying to say is she is a major pain in my ass.
Carly may be a total ding dong but I would still never buy a purebred dog or breed a dog or cat because of so many reasons. Adopt don't shop is just a way of life that I was raised into.
Our Animal Shelters are Over Flowing with Cats and Dogs Who Will Be Put to Sleep Today.
When my boyfriend adopted our dogs he went to the shelter and said, "I want the two who will be put to sleep today." He had no idea what he was getting into, he also hadn't yet read this Pupster Passion dog lovers blog for the extra info we could've used at the time, like how to potty train your new pup and other important details, but at least we know now. Carly may be a garbage eating monster some days but she is also the perfect trail dog who can hike twenty miles a day when she is not being terrified of PCT (Pacific Crest Trail) hikers or pack mules. Our other dog may be an angry bitch but she is a great guard dog. Adopt don't shop means you may not always get the mild mannered dog you are looking for but you may get a great guard dog out of it.
Our house cats are rescues from the shelter also and they are a couple of sweethearts.
Spay and Neuter Your Pets
I honestly don't get how people do not get how simple this one little step is.
This is very crucial to keeping the domestic dog and cat population not out of control in this country. I know, I know, puppies and kittens are so cute but so many thousands are being put to sleep in shelters across the U.S. every day. Getting your animals spayed or neutered is so crucial. Popco-inc.org offers a coupon from their website to help out with spay and neuter costs.
Adopt Don't Shop is Part of a Sustainable Lifestyle
Living a sustainable lifestyle doesn't just apply to your clothing, your garden and recycling every piece of plastic you can find. Up-cycling can also apply to the pets you bring into your home.
Recently a friend was talking about how badly she wanted a pure bred golden retriever puppy and I gave her some excellent advice. "Before you look into paying top dollar for a puppy mill puppy, go to your local animal shelter and just look at every cute cat and dog who will be put to sleep this week" I know, harse words but the truth.
Adopting a Shelter Animal is a Great Way to Teach Kids Valuable Life Lessons
We just returned from a trip abroad were we spent a month in the crazy concrete jungle of Bangalore, India. While in Bangalore I was shocked at the masses of wild mongrel dogs and stray cats that roamed and lived among the meandering cows and trash that lined the broken sidewalks. This is just a way of life in India. Can you imagine if our stray animal situation was that bad here in the United States?
Adopting a shelter animal is a great way to teach kids at a young age to adopt don't shop and how important it is to learn to live sustainability.
Please think twice before bringing a puppy mill puppy or breeding your pets just for the hell of it. So many animals are overflowing out of our animal shelters everyday. If you are really tempted to do any of these things you really should just take a walk around a shelter and see all the sad animals in need of homes.