It was August 20th, 2020 on an eastern Sierra mountain top and I was daydreaming about acorn squash. I had just turned forty years old on top of the tallest mountain in the continental United States. I was beyond exhausted after hiking up 6,000 feet of rocky mountain trails and maybe just a bit delusional and just then I had a realization that I may have spent two hundred dollars on the most expensive squash plant in southern California. It is a realization that many home gardeners make no matter how green your thumb is; Growing veggies at home is so fun and rewarding but it's not cost-efficient what so ever. It's a fun outdoor hobby that is just slightly more cost-efficient to me then gambling on the ponies and throwing my money away on a pick 6. But I still happily go to Home Depot and Lowes every year May first and start drooling over plants, checking my weather app daily to see when the last frost will be, and salivating over tiger-striped tomatoes.
That morning on top of Mt Whitney, the highest mountain peak in the continental United States may have been a plant lover's epiphany. Maybe my brain was just broken from the little bit of oxygen available when you hike to over 14,000 feet but I was completely thrilled with the fact that I basically just spent two hundred dollars to take selfies with my own giant acorn squash.
It may not be autumn yet here in the mountains of southern California and I'm nowhere close to breaking out my warmest Ugg boots, but standing on top of Mt Whitney bracing myself against twenty miles an hour winds and shivering in my windbreaker it's starting to feel like fall, at least at 14,000 feet. Of course, that could be because I just hiked up to the peak of the tallest mountain in the continental United States in one very long, thirteen-hour day on the trail. Very far down below me in the Inyo County town of Lone Pine it's probably close to one hundred degrees today and locals would look at me like I was nuts if I sipped on a Pumpkin Spiced Latte while wearing my favorite Ugg boots but this is not high desert weather on this mountain top in the eastern Sierra's, this is a jagged toothed mountain peak I just bagged for the second time to celebrate turning forty. (And also I was so exhausted as I took a power nap on the summit, I may have killed for a Pumpkin Spiced Latte at that moment.)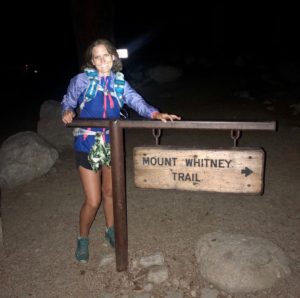 Four hours from now and twelve miles downhill later I will be celebrating my fortieth birthday with some candles stuck in my world-famous acorn squash enchiladas. But first I have to hike down one hell of a mountain. And yes, on my mind is my garden at home over one hundred and eighty miles to the south in our own rural alpine town. A mountain garden that is chock full of all kinds of squash and pumpkin as summer melts into fall.
This last May I bought tomato plant after tomato plant after squash after squash and I watched them freeze in June frosts that we never get, practically in the summertime, in Big Bear Lake California. Our rural mountain town sits at just over 6.600 feet elevation high above the concrete jungle of San Bernardino and sprawling urbane Los Angeles below us. Frost might be normal for Mt Whitney at a staggering 14,505 feet in elevation in June but not for the gardeners of our ski town. And if the frost wasn't killing my plants then our neighborhood bunnies were eating my plants faster then you could say Kerala Style Rabbit Curry It was a rough springtime for the garden, to say the least.
What I'm trying to say is we have a lot of acorn squash this fall. As in we have about sixteen acorn squash on one massive plant ready to harvest in September. I feel like the gardener version of Oprah handing out squash to our neighbors "You get an acorn squash! You get an acorn squash!" I literally had to have spent over two hundred dollars on plants this springtime and we have just a few ripe tomatoes and a buttload of delicious organic acorn squash to show for that effort.
What is the number one most delicious thing to make for dinner with acorn squash this autumn? These ground bison enchiladas are so delicious and I use the acorn squash instead of using oil-soaked tortillas as you would find in most authentic Mexican style enchiladas.
Acorn Squash Ground Bison Enchiladas
1 acorn squash
2 tablespoons bacon fat
1/2 teaspoon salt
1/2 teaspoon chili powder
1 pound ground bison
1/2 cup sour cream
1/2 cup corn
1 cup sharp cheddar cheese
1 cup your favorite red enchilada sauce
Cut the acorn squash in half. Drizzle both halves in bacon fat and sprinkle with chili powder and salt. Bake at 425 for twenty-five minutes until the squash is tender when pierced with a knife. Set the squash pieces aside.
In a saucepan cook the bison, crumbling it with a spoon as you are cooking it. When fully cooked add in the corn. Preheat the oven to 375. Inside the acorn squash pieces, layer sour cream, the bison and the cheddar cheese on top. Bake for twenty minutes. Serve with ripe avocado.