Today in the woods of the eastern Sierras, Carly the trail dog did all the things.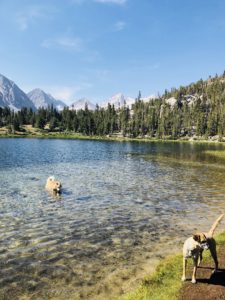 She almost got lost in the Inyo National Forest, she had a fight with her best friend and she forded multiple creeks and streams between Rock Creek Lake and Chickenfoot Lake.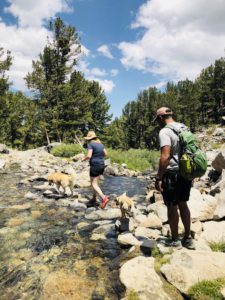 After a long day on the trails with good friends and our pups, If it's four o clock and I'm vacation then I'm more then likely sitting in a creek somewhere with a coffee flavored cocktail.
So we didn't summit Mt Whitney today because Mother Nature can be a real bitch sometimes. Our second summit of this fourteener, as a couple is just going to wait until next year, as the whole mountain has been evacuated due to the George's Fire flaring up in the valley below and that means a big change in vacation plans.
Instead of the grueling Whitney Trail, we made our way up a slightly smoky trail next to a roaring creek full of snow melt off and up Morgan Pass to Chickenshit Lake.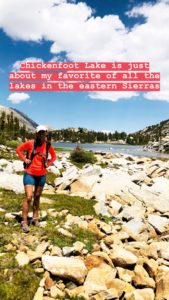 Or perhaps it's Chickenfoot Lake. After a day in which my dog was nothing but a bitch, I'll call it whatever I feel like.
From taking off three miles in the opposite direction of where we were fishing to getting in a skin tearing, growling brawl with her BFF all over a steak sandwich that was not even offered to the dogs anyways, this little bitch is quite lucky we didn't just choose to leave her at my favorite lake in the eastern sierras this afternoon.
But that's just not the kind of dog mom I am. Although on this summers day on the eight-mile hike I did utter the words "Bad dog" Way more then any dog mom wants to say that phrase in a twenty-four hour period. Sometimes I just don't understand why my dog child cannot behave herself?
Of course, this was six vacation days of fun before we left her in our tow car for an hour to go horseback riding and she choose to eat all the fancy spicy snacks and then destroy the driver's side door of the car. This is what I have to put up with because I took my dog on the best vacation of her life. Keep in mind this dog has constantly been left in the car the past three years when I go grocery shopping. Why she felt a need to destroy the car on this day; We will never know.
In between brawling with her BFF and destroying a Suzuki Carly had a great summer vacation fording creeks and swimming in rivers.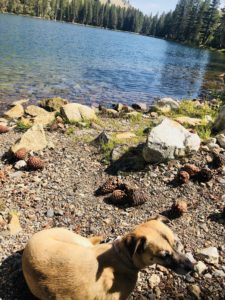 This is a direct quote from Talia. "Let's ford the creek like the Oregon Trail! Don't forget to feed your bison!"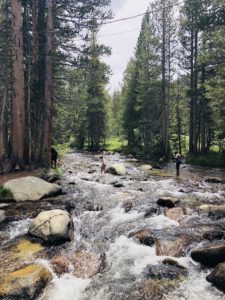 Luckily I've recently had my Typhoid shot so our Oregon Trail voyage was uneventful.
At least Carly chooses not to go walk about with her BFF (Sometimes) Mocha at nine p.m. As all of us tired hikers were relaxing by the campfire. This led to an all-out husky search, wandering drunkenly through camp at 9 p.m. Squeezing a stuffed rat and looking for a loose rambunctious husky dog. Oh, dogs; We can't live with them and we simply can't leave them at home when we go on a month long vacation.