I can see now why no hikers dare to trek up to the Laurel Lakes. I feel like after so many years hiking to all of the different lakes of the high sierra's, I've hiked to all of the most scenic lakes. Laurel Lakes beckoned me because it was something new that I hadn't done before. Even with very little internet knowledge from a hikers perspective for this OHV area, I was intrigued.
With a full month on my hands in the eastern Sierra's, I obviously have all my favorite hikes; Mammoth Crest and Thousand Islands Lakes being at the top of that list. Day one of our month-long smelly camper journey to the eastern Sierras, I already had that hikers wanderlust, that I specifically get each July to trek new trails. Luckily between Bishop and Mammoth Lakes, I was able to find a number of new trails near Aspendell and far back towards the JMT and Mcleod Lake. When I saw off-roaders accounts and backcountry photos of Laurel Lakes, I thought, yes I must hike here.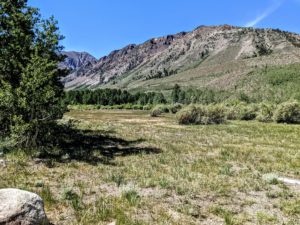 The Laurel Lakes, on foot, not in an RZR
Then I realized it is basically an OHV off-road trail. But the lake looked so pretty and the aspens and meadows looked so green and scenic. So what if some bro in a Polaris Razor was racing me up the shale sections of this back-country road. That is what I was telling myself anyway, as I left our campsite at New Shady Rest just after dawn. That bitch, google maps, leading me towards Sherwin Creek via a walk through private property through the very stinky Mammoth Water Department property. Oh, shit (Like literally, oh shit) I was not trekking through private property for this hiking adventure. Luckily I took a slight detour up the Mammoth cycle trail and soon found myself crossing Sherwin Creek with my thirsty pup who was so happy to get a drink of crystal clear creek water. We were only about forty-five minutes behind in our Laurel Lakes mountain trek what with the Mammoth Poo Factory detour, and the day was heating up fast. And thank God, we had left the stinky Mammoth Water District behind, and I could breathe in that fresh alpine air again.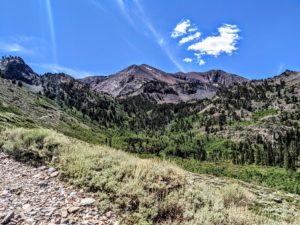 What with our shitty detour, my favorite adventure dog and I had already hiked an easy five miles by the time we joined up with the Sherwin Creek Road and Laurel Lakes Road junction. That is when we began following some very fresh bear prints up the steep mountain trail. I have seen quite a lot of bear tracks in my life and never come across any as fresh or easy to photograph as these. My dog was not impressed.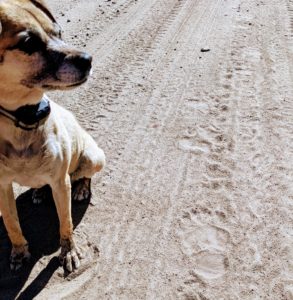 The walk along southern Sherwin Lake Road was just so gorgeous with creeks for the pup to jump into and meadows filled with scarlet columbines, purple nettle and white ranger buttons wildflowers. I was not at all expecting this section of trail to be so scenic and green. It was such an enjoyable way to start our hike because here comes hell (As our favorite workout instructor from Insanity Sean T likes to say)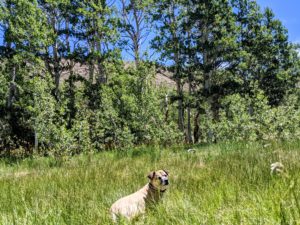 "That shit is bananas yo!" Another Sean T quote
My first sign that maybe the Laurel Lakes were not meant to be was the big ass road closed sign at the bottom of the canyon. Multiple Jeeps were staged down at the bottom of the canyon trying to decide what the hell to do. I had read online there was a fantastic washout in the first few miles of the road but had no idea it was so bad that the forest service would actually close the road down. As the sun shone down on us and I began to really sweat, we started the big climb up a rutted OHV road practically straight up in the hot, hot July sunshine. At this point, it was 77 degrees (According to my Android phone) but felt more like 85 as the sun-baked off the sandy dirt. The lush green meadows of purple wild Asters and stinky dickweed (I swear that may be a real wildflower) were miles behind us and the pup and I were both sweating profusely. I knew this trail would eventually hug the shoreline of a creek and I was thinking, where the hell is that damn creek?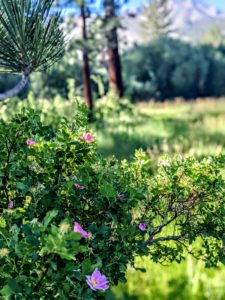 Trail report of Laurel Lakes for all you crazy hikers
This trail is unbelievably rocky. It's all in the sun. If I came back and did this again, I would do it in the fall. The aspens through the canyon are just gorgeous (Once you make it up the hills from hell) I'm sure in the autumn the colors as you head deeper into Laurel Canyon are just amazing.
Definitely bring lots of water if you attempt to hike this OHV road like us bad-asses. About two miles up is a cutoff to Laurel Creek where I was able to water my mongrel. The creek is so cold and pleasant to jump into and there are meadows full of wild purple lupine, scarlet columbines and mules ears at this point. The winds through that canyon were absorbed on a hot July day! Literally, we were fighting 60 miles per hour winds as we trekked up the shale canyon.
At this point, th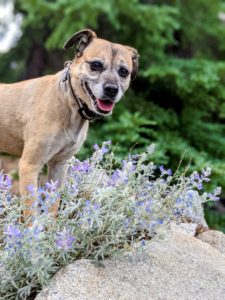 e road was all red shale and the kind of "Hiking trail" I felt like I would bust my knee soon. I hiked about 6.2 miles total in the scenic Laurel Canyon and I was about a mile from the lakes when I had enough of the hot, hot sun, the rocky shale road and the 60 miles per hour winds stealing my favorite hat. I could see the dirt road curving up through the aspens ahead to where the lake was but I had enough of this Laurel Lake adventure and decided to come back in the fall.
My wild mongrel agreed.