I never imagined when we planned our trip to the Amalfi Coast that I would travel to Italy and actually lose weight. How on earth could one ravenously hungry mountaineer possibly do that in the land of delicious platters of in house-made pasta and wood-fired pizzas? As a fan of all things authentic pizza and a lover of all things cheese, I was shocked to have no appetite whatsoever for six of the nine days we were in Italy. It was heartbreaking to just say no to cheese and pizza while on holiday in Rome and Venice. Thank the Lord, by the time we reached the Amalfi Coast, about six days into my Italian flu-aganza I was just beginning to feel a bit better.
Here I am at the Coliseum trying not to puke.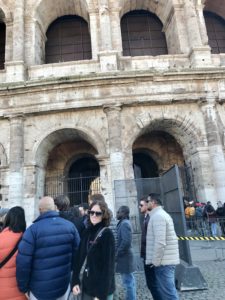 Here I am at the Roman Forum trying not to puke.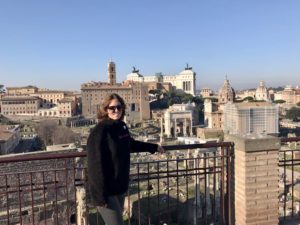 Here I am on a motorcycle in Goa trying not to puke (But that was mainly just because I was on the back of a motorbike, riding through the jungles of India, with no helmet.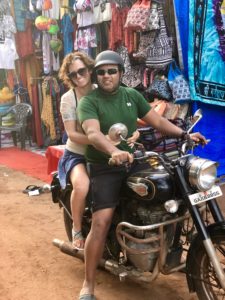 Okay, this motorbike jungle riding mayhem, may have been a week before we reached Venice, Italy. It was definitely a week before I picked up the norovirus from hell in Borough Market on our one-day layover in London. We had a fantastic day out in Borough Market one Wednesday in mid-January, taste-testing delicious spreadable spicy sausages, fantastic sheep's milk cheeses and yes, I'm pretty sure I may have rubbed some dirty, dirty germs all over my face. Thirty-six hours later I was in Venice throwing up all the white wine I had consumed the night before and also maybe crying on the toilet. It was not my finest hour. It was most definitely not my favorite Venice memory. But aside from that our Homeaway in Venice was nothing short of amazing.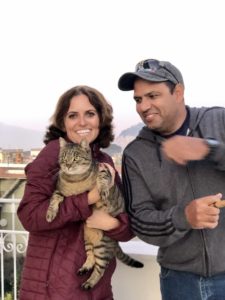 Our awesome Homeaway stay in Venice also came with a vacation cat. One thing about our worldwide travels, we always require a vacation cat. Even if he has a big attitude. I just so wish I could have spent just a few hours of our adventures in Venice not feeling like absolute death. But the good thing about being a hyper chipmunk is I still managed to rally, and have a good time and get out and walk the streets of Venice a few times and see all the sites.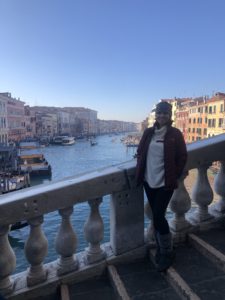 Our fantastic Homeaway was located in the Santa Croce area far away from the madness of the Grand Canal, the Rialto Bridge (I did not puke on) and St Mark's Square. Hyper like a chipmunk Amber would have loved this, strolling through the empty, not tourist-clogged alleyways of Venice, snapping shots of canals, the kitty cats of Venice and stopping to shove a rum raisin soaked zeppole or two at her face. 2020 Venice Amber just wanted to walk to St Mark's Square without puking or passing out. Normal hyper chipmunk Amber would have been thrilled to stay in this quiet neighborhood away from all the loud and bossy tourists clogging the streets of Venice. And there were a lot of tourists. Just how on earth did Venice get so crazy busy on a Tuesday? I was shocked at the crowds, the shops selling trinkets and just the general madness, Disney Stores and is that a Victoria secret? Even on the outskirts of St Mark's Square. Venice has sadly, become so touristy and commercialized. Is this Disneyland or a city of tiny little islands connected with bridges? Thank God our light and airy apartment in the Santa Croce was a step away from that madness and had everything we could want, including a delicious pizzeria just down the road, a mercado just around the corner and a washing machine for guests use in the apartment. For travelers who are spending a month on the road, all these things were a must. I mean, if I could actually eat delicious pizza.
The good news is by two days after I first got sick we were flying out of Venice, then taking two separate trains to make it to Rome and move on with our adventures in Italy. Thank the Lord I was less sick by then because otherwise I honestly have no idea how I would have made these travel plans work.
Now there are many ways you can travel from Venice to Rome to the Amalfi Coast. Driving is one way but the roads are hella crazy and stressful. I mean not quite as stressful as riding a motorcycle in Goa, India without a helmet but still pretty insane with traffic and crazed Italian drovers. The high-speed train between Rome and Naples is an excellent option. We choose to relax in first-class, enjoy a fine Italian coffee and watch the Italian scenery, farmlands and pizzerias go by at three hundred miles an hour. The train from Rome to Naples takes just over an hour. The slower and older second train we boarded from Naples to Sorrento was much more sketchy, covered in graffiti basically everywhere and reminded me of a train ride at a nineties amusement park. But we made it to Sorrento safety in one piece. There are porters you can pay at the Naples airport who will help you with your baggage and making the connecting trains for the price of a few euros. When in a rush, still partially ill and carrying a heavy suitcase through a crowded airport and not speaking Italian, basically at all, this was well worth a few Euros. This helped us reach our fantastic VRBO in Sorrento just that much quicker.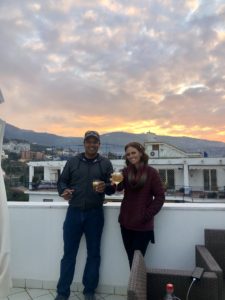 If you ever, ever travel to Sorrento, Italy we had the experience at staying at an exceptional VRBO on the top floor of a four-story building, giving us amazing views of all of Sorrento including active volcano Mount Vesuvius. The apartment is set up so that most of the living space is the outdoor open-air patio that has just exceptional views of the city. In winter, unfortunately, it was just too cold to be out on the patio later in the evening, but every day we were in Sorrento, we enjoyed our morning coffee out on the rooftop patio, watching the sunrise over the bustling town, and we made it back to the apartment every evening in time for sunset, and happy hour, of course.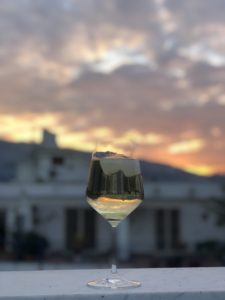 Downstairs just outside the door of the most awesome apartment ever, is the best pizza I have ever had in my life and a grove of orange trees owned by the owner of the apartment. He encouraged us to pick as many oranges as we pleased and I used the juicer available in the apartment to make the best home squeezed fresh OJ I have had in years. It was the perfect way to begin each day in Sorrento before exploring the Amalfi Coast. And let's face it, is there anything that can help one get over a sickness other than fresh-squeezed organic citrus?
Did I mention the pizza? Now that we are back home in California, I have to try to make this pistachio cream pizza with ricotta cheese and shrimp. Unfortunately, we didn't get a chance to have a lot of fresh seafood while on holiday on the Amalfi Coast, but these little shrimps that studded this pizza tasted like they were just pulled out, over there, from the Tyrrhenian Sea. I'm an expert on fresh-caught shrimp and these were some of the best I have had in years.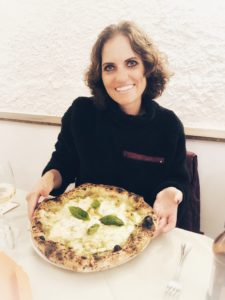 The only real issue we had with staying in Sorrento in winter is everything was shut down. We had a hell of a time finding restaurants that were walking distance to our apartment and actually open in the winter months. There was one grocery market right next to our apartment and it was very small. A lot of the gelato shops in town were closed down for the chilly season as well as every restaurant that sounded amazing. If I went back to Sorrento again, I would definitely want to visit in the spring or the fall, almost the offseason. We would have loved to have taken a ship out to Capri and checked out the Blue Grotto and has a chance to swim in the Tyrrhenian Sea but it just didn't seem worth it to take a ship across the open water, where I would more than likely get seasick. Let's save barfing on the high seas of the Amalfi Coast for a future trip! Instead, we drove to Mount Vesuvius, hiked up a freezing cold mountain and my boyfriend offered to throw me in if I didn't stop being sick and become more fun.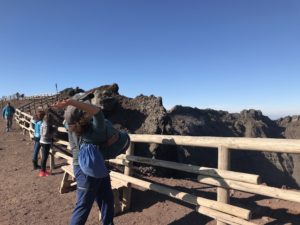 Then we road tripped it down the Amalfi Coast to the quaint seaside town of Ravello in our way to big for Italy rental car. After visiting Ravello for breakfast we are pretty sure Ravello in Italy means "Cat town" After we parked, paid for parking (You have to pay for parking literally everywhere in Italy. Hold on to those one euro coins!) we wandered over to try to say hello to the sleepy residents of Ravello. They did not like us. These were obviously not house cats and they wanted nothing to do with humans. They looked a bit rough and straggly.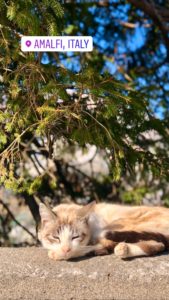 As I mentioned before, this is the offseason on the Amalfi Coast. There was literally one restaurant in this tiny town that was open. The menu was not great but they had tables lined up in the square in the hazy winter sunshine and we were happy to relax in the sun and sip a cappuccino. Then our food began to arrive. All of a sudden we were surrounded by two very friendly cats, one of which was a tiny starving kitten. Obviously we were the only tourists at the outdoor restaurant and the only one feeding the cats. At one point, the tiny kitten got so aggressive that he jumped on the table! By the time we finished breakfast, we had about six cats surrounding our table, glaring at us that way that cats do. Obviously we had ordered just enough food for us, not counting the army of cats and kittens. After leaving behind the army of angry felines we jumped back in our behemoth of a rental car and started driving back up the crazy scry beautiful winding roads of the Amalfi Highway. I'm from southern California; I've driven the Pacific Highway on the edge of massive treacherous cliffs in Big Sur. I live in a mountain forest with winding mountain roads and I've driven the dangerous no rules, no laws roads of Mexico. I'm not a stranger to scary driving situations but the tiny one-lane highway of the Amalfi Coast took the cake.
If you visit the Amalfi Coast and plan on driving, rent the smallest car that fits your belongings.
We decided to drive back to Rome on our last day in Sorrento to catch our flight back to London. Because of this decision we had to rent a larger vehicle that would fit the three of us and our three large suitcases. So basically we were driving the largest vehicle on the Amalfi Coast, and the Citron we rented was actually not large at all compared to American cars. The drive felt challenging and okay, perhaps terrifying at times, as we zoomed around the one-lane highway on the sheer face of a cliff five hundred feet above the ocean. It was an extremely gorgeous once in a lifetime experience.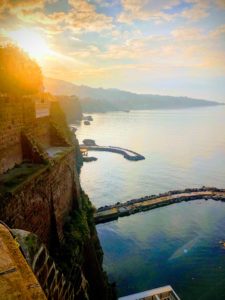 After holding on for dear life (As I like to go on terrifying mountain drives I was ready to eat some gelato by the time we finished our gorgeous hike through the woods and walked down into the heart of Amalfi. We have this way, on vacation of scheduling the fun so we are always ready for lunch at 1 p.m. Which is a recipe for disaster while traveling through Italy. This is siesta time for the locals and it's hard to find a restaurant to serve lunch. Which is how we found ourselves with the most delicious gelato ever for our lunchtime treat.
Eat gelato every chance you get.
The gelato in Italy is beyond amazing. I truly wish I had more than one gelato while in Italy but I just had no appetite the entire time we were there. The one gelato place we did go to in Amalfi was out of this world good. I ordered the Kinder Candy gelato because I basically can never say no to Kinder Candy. My boyfriend, however, had the dark chocolate gelato which honestly looked a little scary, it was a dark almost black color. His dark chocolate gelato was by far the best gelato I have ever had in my entire life. So if you see dark chocolate gelato; Yes, that is the one!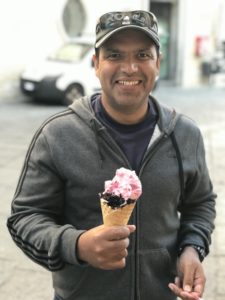 When in Italy, go for a hike!
Besides eating gelato and being terrified on the gorgeous drive along the tiny winding roads of the Amalfi Coast, the Amalfi Coast offers some awesome hiking opportunities like Il Vallone delle Ferriere and Sentiero Degli Dei, or "Path of the Gods", either of these hikes is a great way to get outdoors on the Amalfi Coast and inhale that fresh sea air (and maybe work off some of that pasta and gelato)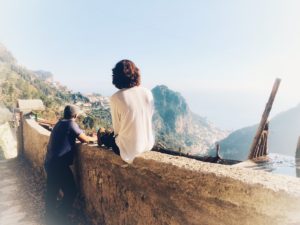 The hike up to the reserve starts in the town of Amalfi. You literally hike up the hill back into the town and the orange groves. If you hike up high enough, about a thousand feet elevation gain and two-point-five miles you get a splendid view over the orange groves of the town of Amalfi and the ocean down below. You pass by an abandoned paper mill on the route with old stone buildings which are a bitch to climb on.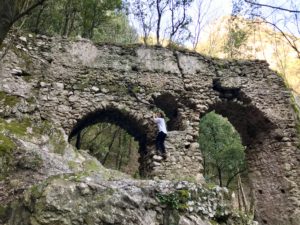 We only had a few days to explore the Amalfi Coast but we really made the most of it. The Amalfi Coast is a well known, crowded as hell summertime destination but exploring her sites during the winter months was an awesome way to see a more local friendly version of towns like Sorrento and Ravello.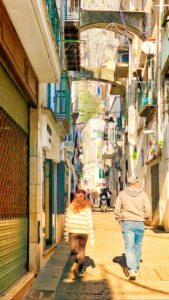 Now that I'm back at home in the U.S. my heart is so, so sad that I wasted most of my hours in Venice deathly ill before we made it to Sorrento. In 2002 I remember all the food we ate in Venice was out of this world good. But luckily I found a recipe for rum raisin soaked fritters just like the ones I used to devour on the outskirts of St Mark's Square. I so wish throughout our tour of Venice and Amalfi I had been more myself, and by that I definitely mean hungry! It's shocking to think I went to Italy and actually lost weight! Who the hell does that?
I might not have been able to eat my weight in pasta in our two weeks in Italy but I did have a great time exploring the streets, coasts and highways of this amazing region.