Vacation in the high Sierras means hiding from swarms of mosquitos, day drinking to forget about said mosquitos, nights at the carnival riding the Party Pooper and babysitting two pups who are not always on their best behavior.
Vacation; Day five. Eastern Sierras.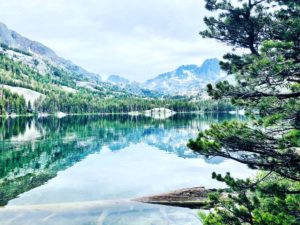 Let's go for a little hike. To a big ass mountain. It will be fun. I might have told our friends that Ediza Lake is one of the easiest long hikes in the eastern Sierras and while that may be true, it was still a fourteen-mile round trip hike that left us all walking like donkeys by the time we went out for pizza in Mammoth Lakes that evening. I really do think they did have a fantastic time, even if they might have thought I was a crazy person many miles in for dragging them into this mosquito filled forest.
To be fair; I have never, ever hiked in the eastern Sierras when the bugs have been this terrible. I did get a lot more mosquito bites last year when we were in Telluride, Colorado, I literally looked like I had syphilis. For some reason, these terrible eastern Sierras mosquitos may bite me by the thousands, but the bites don't really show up and they don't itch. It's just odd. But I'm not complaining. At least I don't look like I have syphilis this summer; Which is not a good bikini body look.
Trying to look like I don't have syphilis
Ediza Lake is one of my absolute favorite hikes in the eastern Sierras. It's only fourteen miles round trip and one of the easiest fourteen-mile hikes between Bishop and Tahoe. Unless you are more or less a beginner hiker or a husky dog on a hot and humid day. If either of these sound familiar then a fourteen-mile hike may have you in the mood to "Flop" by mile nine.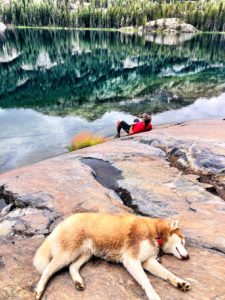 To flop "When one lays down to sleep on a rock in the sun lakeside; Flopping works best after a ten mile or more hike or on a very hot day, in which flopping usually takes place in the shade. Do not confuse flopping with napping. Flopping is much more severe and comes right after extreme exhaustion "
As gorgeous as Ediza Lake is, I was not at all prepared for the hordes of angry and hungry mosquitos. Natural Lemongrass eucalyptus oil did not help one bit and I actually conceded to use DEET and just pray I don't get cancer.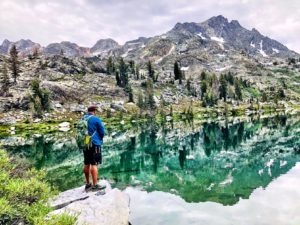 With clouds of mosquitos like these now you know why we drink? Hours after leaving Ediza Lake and Agnew Meadows behind us we were back at the condo sipping Bailey's spiked coffee and relaxing in the jacuzzi. (Mosquito free at last; Yes!) Now, this is what I call vacation! It was a relaxing forty-five minutes before shenanigans began.
By shenanigans, I mean that I tried to pretend that I'm not thirty-eight and that I can indeed ride carnival rides. I tried this once before two years ago at Knott's Berry Farm, by riding the calmest roller coaster they had and I still didn't two hours afterwards trying not to puke.
But tonight after two glasses of white wine, a big hike under my boots and adventure in m heart I felt like I could do anything! Like, ride the Party Pooper! Or maybe it was called the Zipper. Two glasses of California's finest Pinot Grigio from Costco, Amber cannot recall.
As we wandered the tiny small town carnival by the condo in Mammoth with two exhausted from hiking and sometimes fighting each other, dogs, who were not at all happy to be at their first carnival, my boyfriend made a smart decision and said
"You guys go ride the Party Pooper. I'll watch the dogs"
Drunk on white wine in the summertime Amber thought this was a fine idea. (Why am I such a lightweight?) Let me give you some pointers on carnival rides for adults. When your friend tells you to stop spinning the ride, they usually mean it's for an important reason, like where the fuck us the port a potty and I mean right now?
The exhausted dogs and I agreed that it was time to leave the bright lights of the carnival. Summertime in the eastern Sierras are better spent on dusty alpine trails then under the lights and spinning rides of small-town carnivals when you are thirty-eight. I would rather be bitten by one hundred mosquitos then ride the Party Pooper again.